Skyline Basketball No Longer Flying Under the Radar
December 6, 2018 by Sam Brennan, Arizona State University
---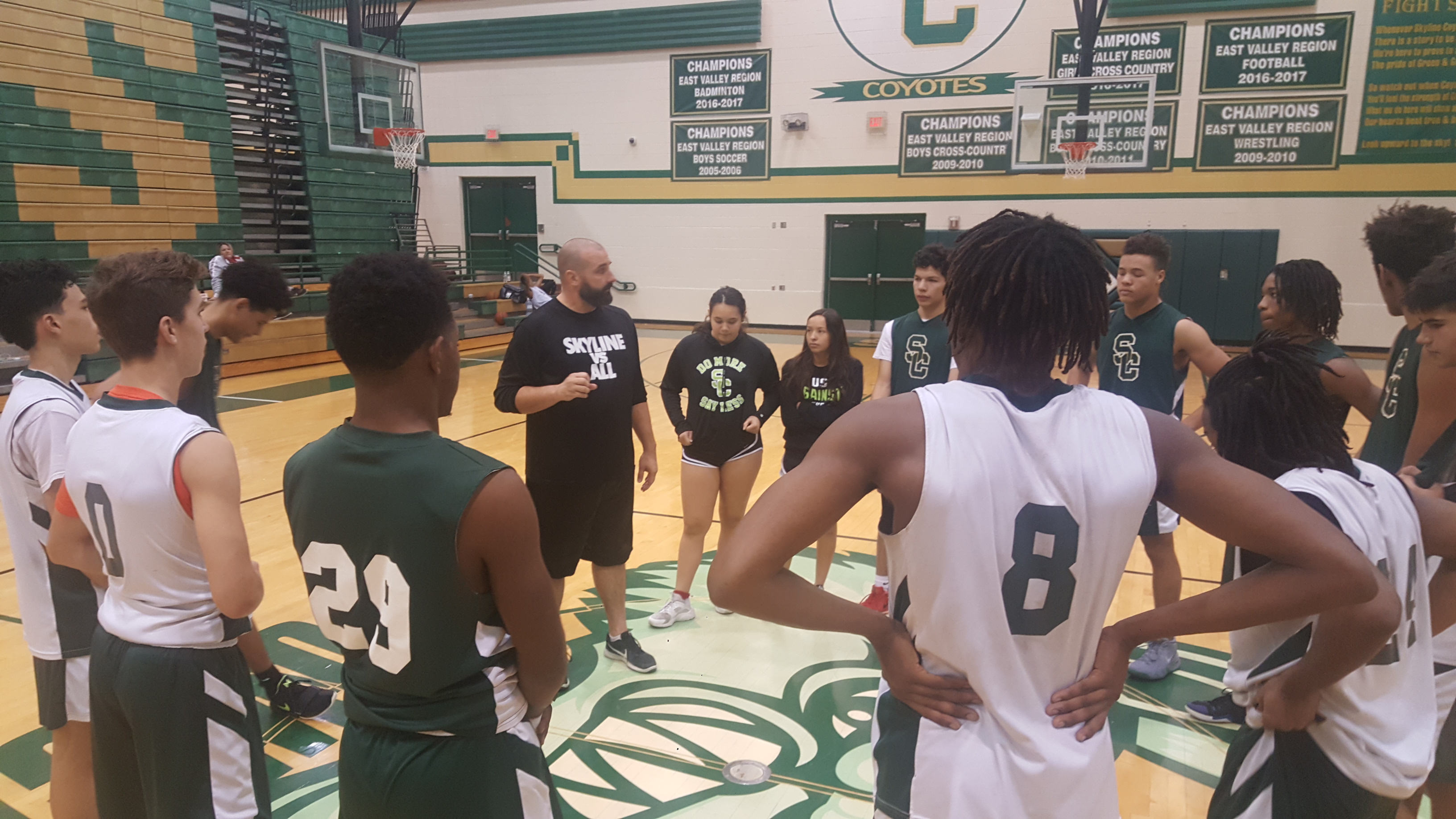 When James Capriotti applied for the job as Skyline's head boys' basketball coach, he didn't know where the school was located. In fact, he had never even heard of it.
Now entering his fourth year at Skyline, Capriotti has put the Coyotes basketball program on the map. Coming off the school's first playoff appearance and playoff win, Skyline basketball is gaining momentum and is looking to make some noise in the Arizona high school basketball scene.
It wasn't instant success with Capriotti however. In his first year as head coach, Skyline struggled and finished the season with a record of 3 wins and 22 losses.
Capriotti came from coaching the Marcos de Niza JV team that had only suffered one loss in its 2013-14 and 2014-15 seasons. He said the things he did at Marcos de Niza just didn't transfer to what he wanted to put in place at Skyline.
"Losing a lot of games in a row was bad for my psyche," Capriotti said. "I started second guessing myself like was I the right guy for the job?"
It was definitely a rough start to his career at Skyline but as most coaches will say, the best thing that comes from losing is learning.
Relieved that his first season was over, Capriotti said the difficult season gave him a new perspective on what he needed to do to make the program successful.
"I learned that every program is different and the trials and errors we went through that first year definitely made me a better coach," Capriotti said.
With one year under his belt, Capriotti became more familiar with the talent and had gotten Skyline's athletes to "buy in" to what he was trying to do with the program.
In his second year, Capriotti lead the Coyotes to a 12-14 season; nearly a nine win improvement from his rookie season at Skyline.
In its third season with Capriotti at the helm Skyline finished the regular season with a 14-13 record. That record would be good enough to give Skyline basketball its first playoff appearance in the school's 18-year history.
Skyline beat Tucson 65-59 in the play-in game but eventually lost to Mountain Pointe 88-56 in the first round of the state tournament.
"Those were our short-term goals and I think we reached them," Capriotti said.
But as the win percentage increases each season, so do the expectations.
"As we move forward our goals are much loftier," Capriotti said.
The program's motto this season is "Do more, say less". It is a phrase that was used by the University of Michigan men's basketball team in its March Madness run earlier this year.
"That's what we want to do. We want to do more," Capriotti said. "We're not satisfied anymore with being the first team to make the playoffs or the first team in school history to win a playoff game."
Tyree Tyler is a junior in his second year on the varsity team. He brought those goals to light.
"We trust each other, coach trusts us, and he feels that we can win a championship," Tyler said.
Since the team's preliminary goals of making the playoffs and winning in the playoffs, Capriotti said the goal is to not only make it to a state final four but win there.
"Our goal now is to get to that final four and have a little magic happen and compete for a state championship. We are dead set on being the first program in Skyline history to win a ring," Capriotti said.
Capriotti said now that Skyline has started to have some success, other teams are beginning to notice. The team cannot fly under the radar anymore.
"We are no longer a mystery," Capriotti said. "Now teams are going to put in the effort to prepare for us."
Perhaps one of the most difficult aspects of building a successful high school basketball program is the fact that it is against the rules to recruit players.
Due to this, coaches must build a philosophy and program that appeals to incoming freshman. The biggest key to success is for coaches to develop the talent that they do have.
Capriotti's son, Dominic, is in his first year at Skyline and is playing on the varsity team.
"I'm learning a lot from all the older guys that have been playing high school basketball longer than me and it's a good learning experience," Dominic Capriotti said.
Skyline's roster has only two seniors however, the team has plenty of experience.
Capriotti has a number of players that have been at Skyline since their freshman year that are becoming lethal weapons on the floor and large factors in the Coyotes' success.
Dayton Harris is a junior and one of the captains of the squad. Harris has been put on a number of player of the year watch-lists prior to the 2018-19 season.
Last season, Harris was first team all-region as a sophomore. He averaged 11 points and just over four assists per game.
"[Dayton] is our leader, our heart and our highest IQ player," Capriotti said about Harris. "When he's functioning on all cylinders, the guys rally around him."
As talented as Harris may be, he said one of the reasons the team clicks is because of the players' relationship with one another.
"This year's team, we have a bond. I feel like I can look down the bench, look down at my teammates and we're all a family," Harris said.
Another one of those family members is sophomore Patrick Herrera. Herrera played on the varsity team as a freshman and introduced himself as a deadly sniper from three-point range.
In 2017-18 Herrera shot 41 percent from three, leading the team in three-pointers made with 76.
"Last year coach Cap gave me a lot of freedom as a freshman which, probably, a lot of coaches don't do," Herrera said.
Anyone watching a Skyline basketball game can see the range Herrera is given permission to shoot from by his coach. Capriotti will yell, "pop it!" from the bench if Herrera has even a sliver of room, albeit five feet behind the three-point line.
"He stays completely steady," Capriotti said regarding Herrera. "He is one of the guys that I can go to all the time and know exactly what I'm going to get from him."
Capriotti isn't the only one who has that kind of faith in Herrera's abilities.
"All my teammates, they have a lot of confidence in me and they give me the ball," Herrera said.
While the majority of Skyline's roster is homegrown, there are a few pieces that have come in from elsewhere. One of those players is 6-foot-6-inch Tanner Poeschl.
Capriotti said Poeschl will add some length to the lineup, can stretch the floor and even shoot the three.
"He just has a knack for where the ball is going to be," Capriotti said about Poeschl. "He is the game changer for us."
Due to the fact that Poeschl came to Skyline from another Arizona school, he is forced to sit out the first nine games of the Coyotes' season. Capriotti is eager, however, to get him into the lineup and see what he can do to help the team.
Hopes are high to say the least regarding Skyline's season this year. The Coyotes are considered a favorite in the 6A East Valley region, but it won't come without a fight.
Skyline has started the season 5-1.
When talking about his career at Skyline, Capriotti said he didn't know if it would last another five years or 15 years, but one thing is for sure: he will never be able to put as much energy and love into another basketball program than he has at Skyline.
---