AIA December Executive Board Meeting
December 10, 2018 by Les Willsey, AZPreps365
---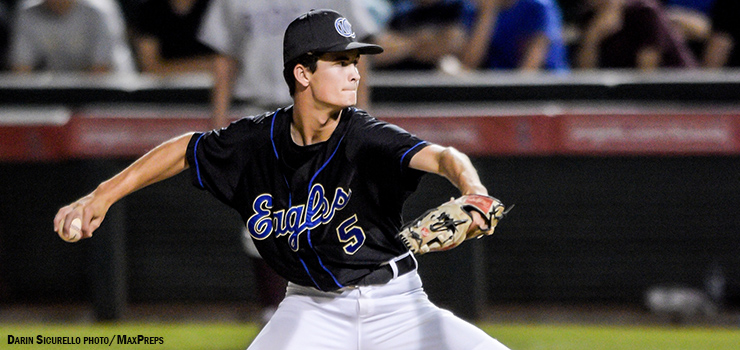 6A baseball will be allowed a 16-team, double-elimination baseball state tournament beginning with the 2019-2020 season.
The AIA executive board on Monday at its December meeting approved a request from the 6A Conference to return to the double-elimination tournament that was in effect from 2006-2011 at the 5A level (then the state's largest conference).
The last six seasons double elimination has not commenced until the tournament was pared to eight teams. The tournament format from last year stays in effect this year - play-in games, single-elimination first round and double-elimination quarterfinals forward. In all cases the championship game remains one game for the title even if the unbeaten team suffers its first loss.
6A argued that its conference generally has the pitching depth needed to accommodate double-elimination and that it helps the top 8 seeds from losing their advantage if beaten in their first game. Coaches generally favored the format from 2006 to 2011.
The board was somewhat concerned adding the extra games of a complete double-elimination tourney hasn't been cost effective in the past, but is willing to add extra loser's brackets games if played at high school sites. Schools with lights also might help in those games if they are played at 6 or 7 rather than usual 4 p.m. starts to accommodate better attendance.
MORE NOTES
Mingus Union appeared before the board seeking to have 2018 football forfeits rescinded after presenting evidence a player thought not to have had a current physical on file did indeed receive a physical in the required time frame. The board did rescind those forfeits.
Mingus still received a warning from the board for the violation initially of not having the physical on file. Mingus won the 4A Grand Canyon Region title and reached the conference quarterfinals. At least seven schools Mingus defeated during the season supported rescinding the forfeits.
Other school violations dealt with on Monday by the board:
Advisement to Washington HS boys basketball.
Advisement to Holbrook HS to boys basketball and spiritiline.
Advisement to Poston Butte HS girls soccer.
Advisement to Glendale HS spiritline;
Warning to Palo Verde HS girls basketball.
Warning to Coronado HS girls soccer.
PROSPECTIVE NEW MEMBER SCHOOLS
Executive Director David Hines and Assistant Executive Director Joe Paddock will visit six new schools in January who have or will submit applications to become members. They are:
West Point HS (Tolleson); Desert Heights Prep Academy (North Phoenix); Lincoln Prep Academy (Chandler); St. Paul II (Avondale); Basis Phoenix (Phoenix) and Eastmark HS (Queen Creek).
---