BOYS SOCCER: Rincon improves to 2-0 at the TUSD Invite
December 12, 2018 by Andy Morales, AZPreps365
---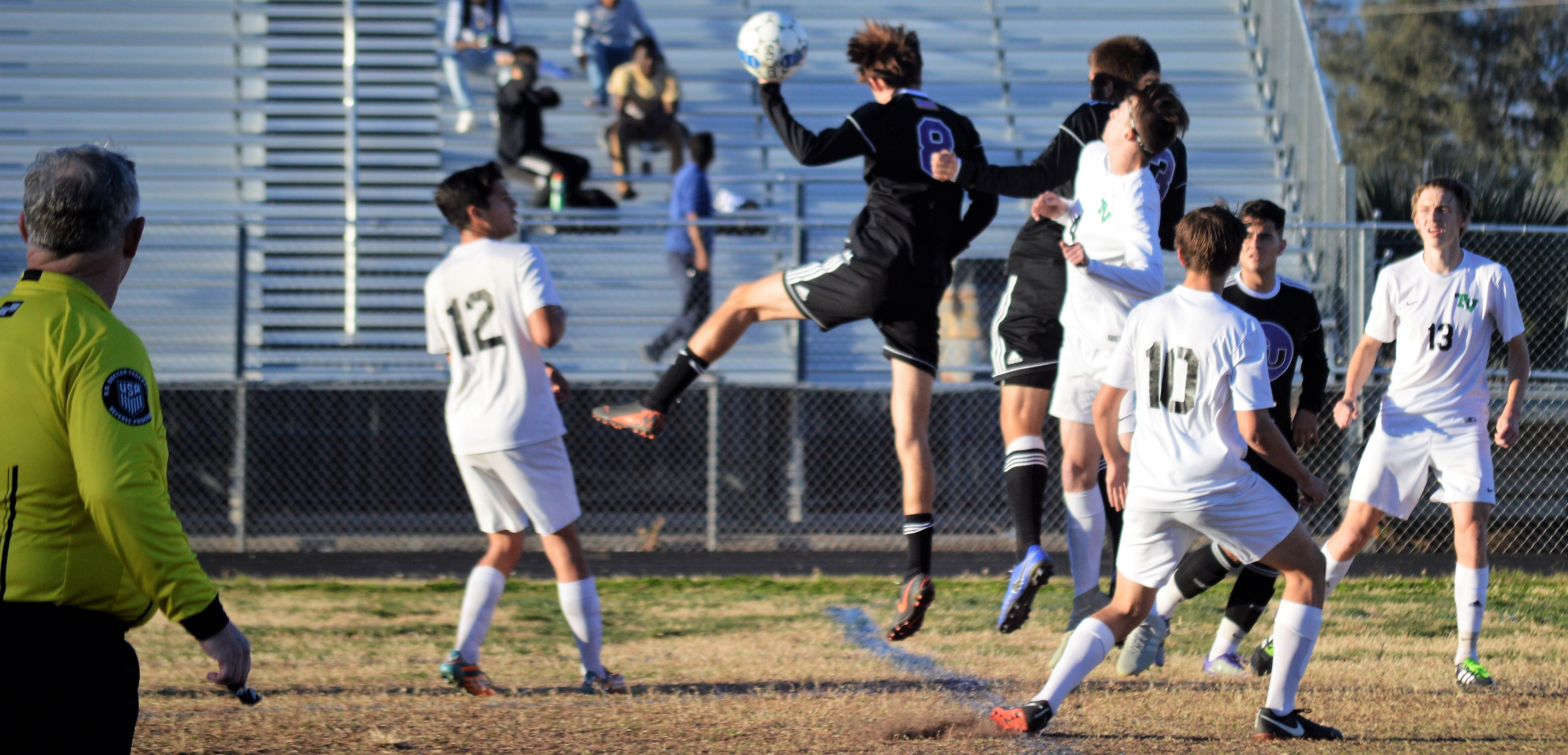 Rincon/University improved to 7-2 overall and 1-1 in power-ranking games thanks to a 3-0 win over Tanque Verde Wednesday at the TUSD Boys Soccer Invitational taking place this week at Palo Verde High School and Catalina High School.
The victory gave the Rangers a 2-0 mark in the tournament along with Sahuarita. The two teams will not meet in pool play but could possibly meet up during bracket play on Saturday depending on results from Thursday night.
Tanque Verde is 1-1 at the tournament and an even 5-5-1 overall. The Hawks are 2-1 in power-ranking matches with both wins coming in region play.
Abdullahi Mohamed hit Carlos Nava in the 36th minute to put the Rangers up 1-0 after a scoreless first half. Mohamed put his team up 2-0 three minutes later on a pass from Nick Sivertson. Sam Lossou put the game away with a penalty kick in the 51st minute.
Pool play continues Thursday night to decide the seeding for Saturday.
Sam Lossou hits on a PK in the 51st to Give Rincon a 3-0 lead over Tanque Verde #azpreps365 pic.twitter.com/3ns0OjoRaX

— Andy Morales (@AZPreps365Andy) December 13, 2018
Tuesday, Dec. 11
Catalina over Flowing Wells, 2-1
Tanque Verde over Palo Verde, PK 4-3
Sahuarita over Vista Grande, 1-0
Rincon/UHS over Sahuaro, 5-1
Wednesday, Dec. 12
Rincon/UHS over Tanque Verde, 3-0
Sahuarita over Catalina, PK 4-2
Palo Verde over Sahuaro, 1-1 (PK 4-1)
Flowing Wells over Vista Grande, 3-0
Thursday, Dec. 13
Sahuarita vs. Flowing Wells at Catalina, 4 p.m.
Rincon/UHS at Palo Verde, 4 p.m.
Vista Grande at Catalina, 5:30 p.m.
Sahuaro vs. Tanque Verde, 5:30 p.m.
Saturday, Dec. 15
Bracket Play at Catalina: Noon – 4 p.m.
---