Summer Fox & Jose Maldonado break 1,000 career points; Robert Burries gets closer to 3,000
December 15, 2018 by Andy Morales, AZPreps365
---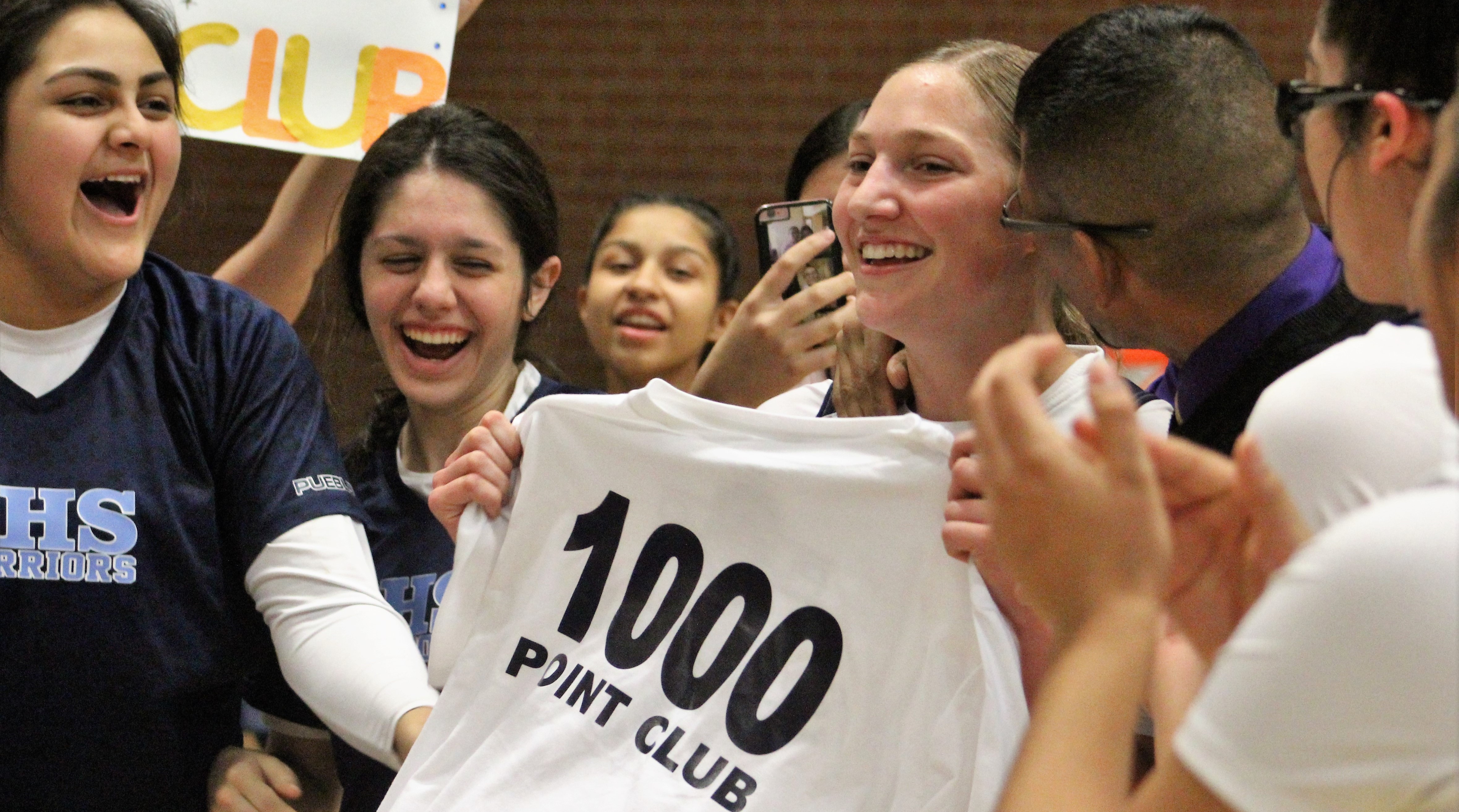 It was milestone night in Tucson with two basketball standouts passing the 1,000-point career mark at opposite ends of the city. Pueblo standout Summer Fox passed the milestone in a 60-49 loss at home to Sabino and St. Augustine senior Jose Maldonado did the same in an 83-40 win against San Miguel across town.
Fox scored 224 of her career points as a freshman at Sabino before transferring over to Pueblo on the far west side of Tucson. Fox became the fourth player from Pueblo to reach 1,000 points in the last couple of years. Ilyssa Diamond Galindo graduated with 1,475 career points last year and fellow 2018 graduate Alicia Reyes finished with 1,402. Araceli Loya ended with 1,207 in 2017.
Pueblo is now 10-3 overall and 6-2 in power-ranking games. The Warriors will open up 4A Gila Region play at Palo Verde (7-4, 6-1) on Thursday, Dec. 20 and Sabino (6-4, 5-0) will open up 3A South Region play after the winter break.
"I'm excited and nervous," Fox said before the game. "My coach keeps saying it's just three points, you can do it but I know it's a very tense feeling."
Fox signed on to play for Black Hills State last Wednesday in a ceremony held at Pueblo. NAU assistant coach Kellee Barney was on hand to watch Sabino and Pueblo. Barney was an assistant at Arizona from 2002 to 2008.
Maldonado helped move St. Augustine to 10-2 overall, 4-1 in ranking games and 2-1 in the 2A South Region. Former St. Augustine standout Andrew Reyna finishing with 1,418 career points last year. In an odd coincidence, Reyna and Loya reached 1,000 points on the same night in 2016.
St. Augustine travels to San Carlos (1-9, 1-5) next Tuesday, Dec. 18 and San Miguel (1-8, 1-5) hosts San Carlos on Friday, Dec. 21.
@StAWolves Jose Maldonado breaks 1,000 career points. pic.twitter.com/MvsOuB6zUJ

— Andy Morales (@AZPreps365Andy) December 15, 2018
State-wide, Globe senior Robert Burries has 2,709 career points which puts him fifth all-time for Arizona. Burries is averaging 34.1 points a game this year and, at that pace, Burries should break 3,000 career points in mid-January and he could set a new Arizona scoring mark by the last week of the season.
Gilbert senior Haley Cavinder has 1,828 career points and her twin sister Hanna Cavinder has 1,737. They should both break into the 2,000-career scoring club this season.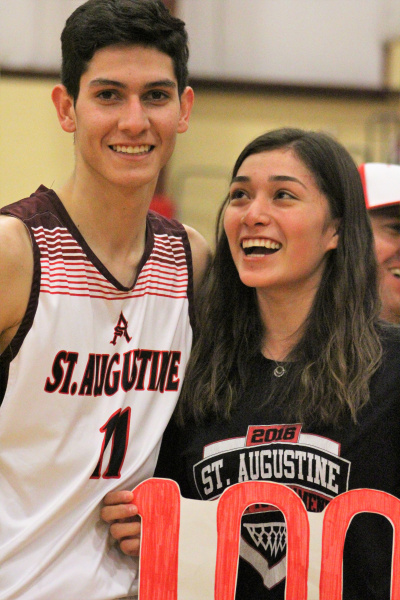 St. Augustine standout Joe Maldonado (Andy Morales/AZPreps365.com)
Arizona Career Scoring Leaders: Boys
1 Corey Hawkins, Estrella Foothills (3,154) 2007-10
2 Mike Bibby, Shadow Mountain (3,002) 1993-96
3 Terrell Stoglin, Santa Rita (2,901) 2007-10
4 Jerryd Bayless, St. Mary's (2,888) 2004-07
5 Robert Burries, Globe (2,709) 2015-present
6 Daniel Bejarano, North (2,642) 2007-10
7 Chuck Overton, Cholla (2,535) 1989-92
Arizona Career Scoring Leaders: Girls (ABCA)
1 Julie Brase, Catalina Foothills (2,913) 1994-1998
2 Kayla Pedersen, Red Mountain (2,611) 2003-2007
3 Christina Wirth, Seton Catholic (2,550) 2001-2005
4 Ashley Wirtzberger, Yuma Catholic/Gila Bend (2,505) 2006-2010
5 Alexis Cortez, Tucson (2,479) 2012-2016
6 Nicole Powell, Mountain Pointe (2,478) 1996-2000
7 Shaylee Gonzales, Mesquite (2,385) 2014-2018
8 Olivia Snyder, Green Fields (2,382) 2009-2013
9 Alyssa Wahl, Cibola (2,366) 1999-2003
10 Wendy Woudenberg, Scottsdale Christian (2,295) 2001-2005
11 Marie Folsom, Corona del Sol (2,270) 1990-1994
12 Brooke Jackson, Mesa Mountain View (2,250) 2003-2007
13 Lindsey VanAllen, Mesquite (2,249) 2014-2018
14 Desirae Gonzalez, Kingman (2,242) 2012-2016
15 Janae Gonzales, Sierra Linda (2,204) 2014-2018
16 Dymond Simon, St. Mary's (2,189) 2002-2006
17 Sydni Stallworth, Palo Verde (2,182) 2011-2015
18 Shawn Coder, Willcox (2,162) 1986-1990
19 Amy Showers, Camp Verde (2,161) 2001-2005
20 Bryce Nixon, Arcadia (2,122) 2014-2018
21 Najiyyah Pack, South Mountain (2,119) 2012-16
22 Sonia Bribiescas, Superior (2,109) 1984-1988
23 Paula Pyers, Santa Rita (2,082) 1980-1984
24 Theresa Wirth, Seton Catholic (2,080) 2007-2010
25 Kalie Matthes, O'Connor (2,068) 2008-2012
26 Camille Zimmerman, Tempe Prep (2,054) 2010-2014
26 Taneisha Gossett, Flowing Wells (2,043) 1990-1994
27 Taylor Chavez, Valley Vista (2,012) 2014-2018
---