Sunnyside, Desert Vista wrap up 2018 in style
December 31, 2018 by Jose Garcia, AZPreps365
---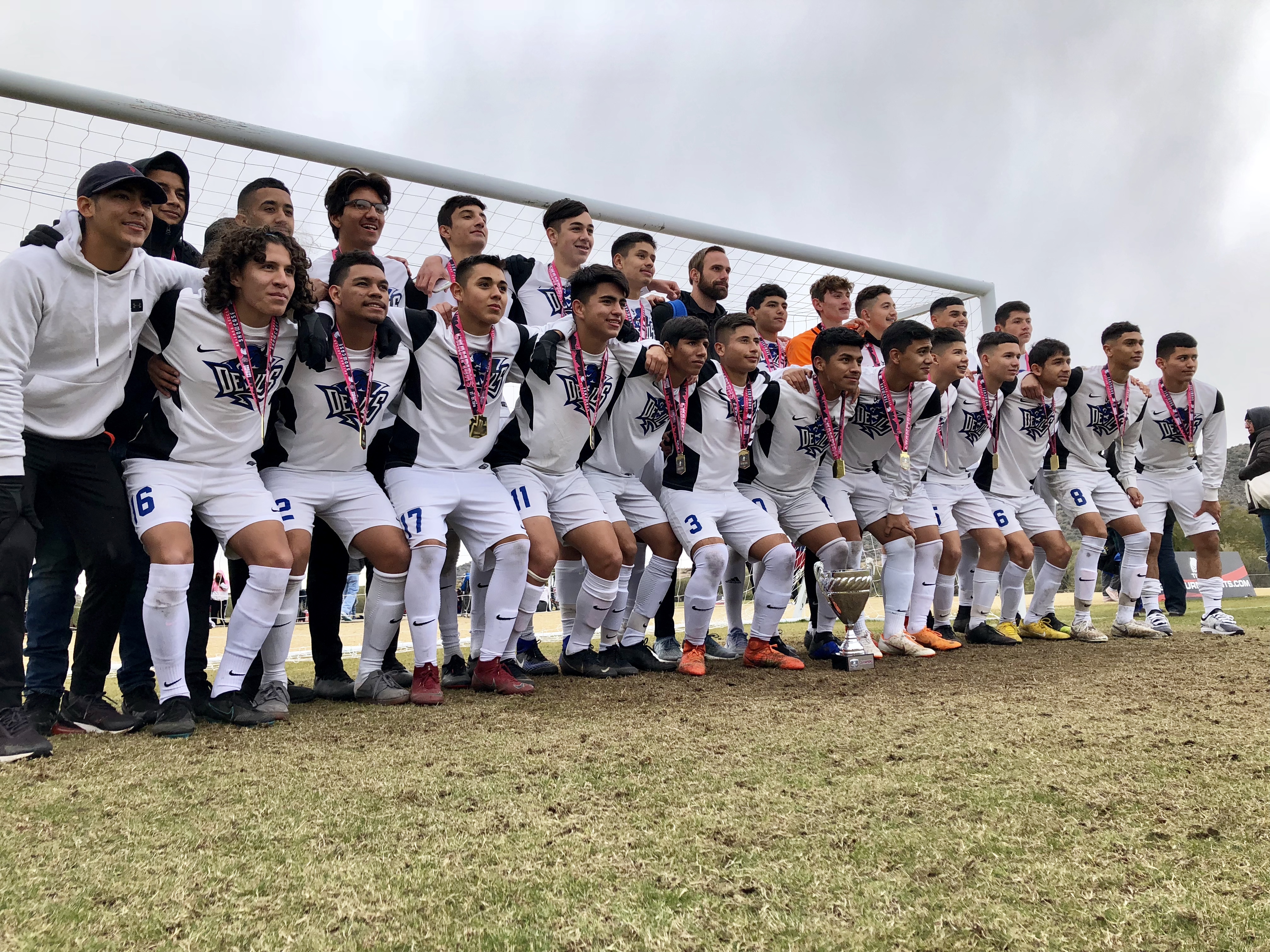 The Desert Vista girls and Sunnyside boys are heading into the second half of the season with a lot of momentum and medals and soccer scarfs wrapped around their necks.
It was cold Monday morning during the championship matches of the Arizona Soccer Showcase. But Desert Vista and Sunnyside are beginning to warm up to the fact that they are contenders.
They proved it by winning the premier divisions of the showcase at Phoenix's Reach 11. Desert Vista did so with a 2-0 win over Chaparral, and 5A Sunnyside may have a case for being the best boys team in the state regardless of classification after thumping 6A Brophy 5-1.
"To come up here and get the chance to play against teams that have a name, that means something," Sunnyside coach Casey O'Brien said. "Everybody thought we were Sunnyslope for the first three days of the tournament, so I hope that Sunnyside maybe made a name for itself. And that's all we are trying to do. Let people know that we have some talent where we are at, and hopefully get some eyes on our school. This is a great school and program and maybe people will wake up and start realizing that we are down there (Tucson)."
O'Brien, a San Diego native, won 17 and 18 matches in each of his first two seasons at the helm.
So far, his team is 15-0-1 this season and will now also head into the new year with the hopes of bringing home the program's first ever state title. Sunnyside defeated some quality teams, including defending 6A champ Desert Vista and California Downey, during the Arizona Soccer Showcase.
Sunnyside's Manuel Quiroz, the state leader in goals, added two more Monday to bring his total to 25.
"We played well and hard," Quiroz said. "We have a lot of talent."
The same can be said about Desert Vista.
It was lacking something before their tournament run started, however.
"That grit and confidence moving forward, I think that's one area we hesitated, not lacked, on," Desert Vista's state championship coach Marvin Hypolite said. "It was nice to see them move forward with confidence."
Desert Vista outscored its Arizona Showcase opponents 16-2, the result of a total team effort, Hypolite added.
It didn't take Desert Vista long to show off that new found confidence Monday, as the team scored shortly after the first whistle. Riley McElroy netted goal No. 1.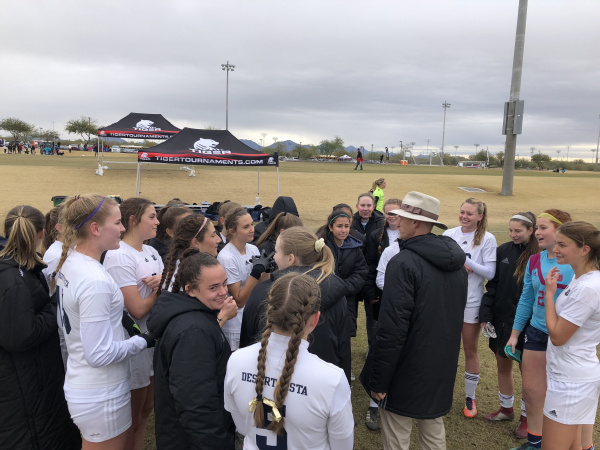 (Desert Vista)
The junior stepped in for injured captain Megan Brouse and responded.
One of Desert Vista's hard workers, sophomore forward Emma Green, scored the second goal in the second half.
"(Cassandra Bych) was dribbling down the left side and played it into the center, and I was on the far side of the goal after making a run and chipped it over the keeper into the far side of the goal," Green said. "I think we are a very close team. I love the team so much. Everyone is so fun. We just play really good as a team."
More AZ Showcase championship results
Girls
Maroon Division: Millennium 6-Notre Dame Belmont 0
Silver Division: Mountain View 1-Marana 0
Boys
Maroon: Cienega 3-Liberty 0
Silver: Higley 3-Willow Canyon 1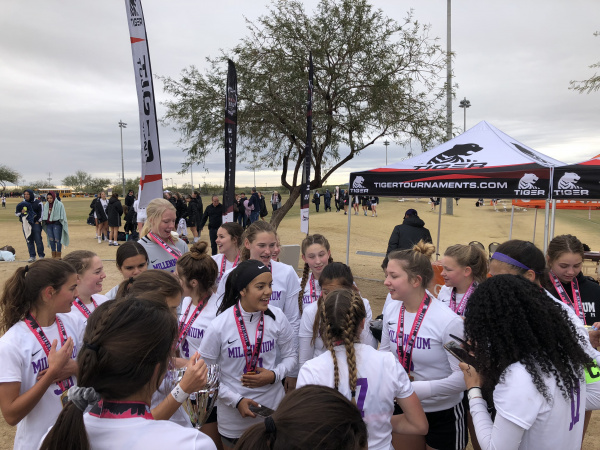 (Millennium)
---