Deer Valley celebrates region title with 20th win
February 6, 2019 by Tyler Dunn, Arizona State University
---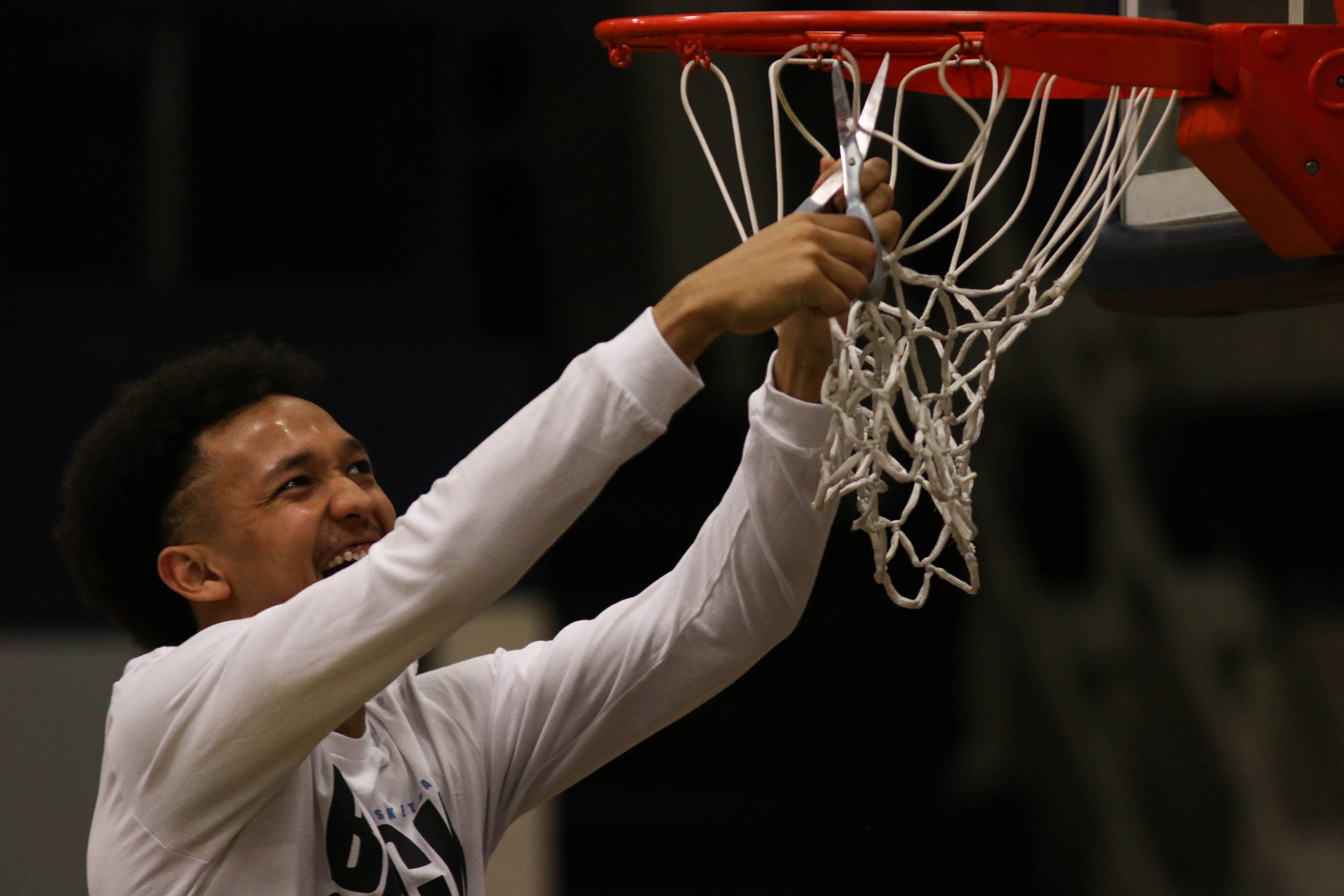 Deer Valley played like a team ready for a playoff run on Tuesday night, defeating Lake Havasu, 85-42, and capturing the 4A West Valley regional title in front of their home crowd.
It was the eighth consecutive win for the Skyhawks (20-4, 8-0), a stretch directly following a perilous three-game losing streak at the turn of the year.
Defense has been Deer Valley's calling card for much of its recent tear, with the team allowing less than 50 points in its previous four games.
That trend continued against the Knights (9-14, 2-6), with the length and tough interior play of the Skyhawks frustrating them throughout the game. Deer Valley's two tallest starters, Brandon Savage and Jaret Allen, listed at 6-foot-5 and 6-foot-4, respectively, were particular impediments for the smaller Lake Havasu squad.
"We're just going to get up and press them, use our length," Savage said of his team's pregame strategy. "They really couldn't get any easy layups on us."
Lake Havasu Coach Ted Darnell said his players knew the Skyhawks' game plan — they just didn't have an answer for it.
"We knew what we were going to get from them. Pressure," Darnell said. "Our kids aren't very long, we're not very tall. We're just a group of guys [who] play hard and play for each other."
Time and again, Deer Valley succeeded in turning that pressure into points, including one highlight fast break from point guard Johnny Diaz. Dribbling hard to the basket from halfcourt, Diaz tossed a no-look alley-oop off the backboard to a trailing Savage for a flashy layup.
Diaz pushed the pace throughout the evening and ended with 12 points on 4-of-9 shooting. Jackson Leyba, a sophomore, finished with a game-high 13 points. Savage collected an efficient eight points and five rebounds.
The Skyhawks celebrated after the game with a wardrobe change — donning shirts that read "Back to Back, 2018 to 2019 Champs" — and a cutting of the net as regional champs.
"Feels good," Savage said as he and his teammates each tore off pieces of hard-fought nylon. "We did it again. Got to keep on, keep working. Job ain't done."
Deer Valley Coach Jed Dunn said he is proud of this team, which he admits may not be as talented as last year's 5A state runnerups. But he also doesn't think the team is playing as well as their late-season record indicates. To him, they have been too reliant on their big men to make stops. Dunn would rather not depend on that size, as it won't always be as much of a strength in the playoffs.
"The game against Peoria was beautiful, 36-32," Dunn said. "I like games like that. I don't like to play in games like that, but I like to coach games like that."
Deer Valley will play next Tuesday against a yet-to-be-determined opponent in the first round of the 4A conference playoffs.
---