Boys hoops: McClintock avenges loss to Cactus Shadows
February 5, 2019 by Les Willsey, AZPreps365
---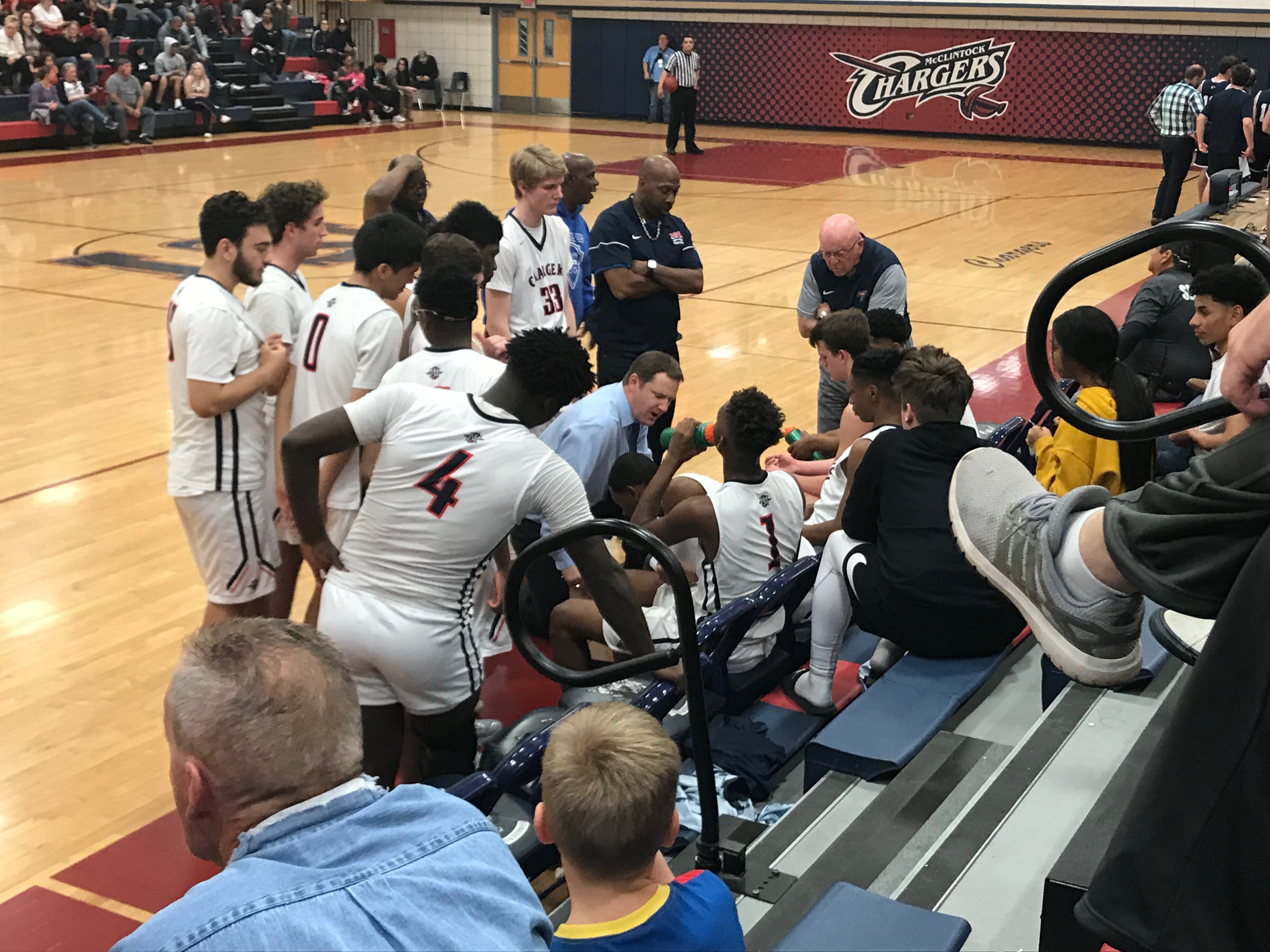 McClintock boys basketball coach Sam Dentz chose not to make it a big deal in chatting with his team about their last meeting with Cactus Shadows when a double-digit halftime lead ended up falling by the wayside in a one-point loss.
McClintock led by 13 at halftime and 14 after three quarters. The lead slipped to 10 in the third period a couple times and once in the final period. A few possessions got away from the Chargers in the early moments of the fourth quarter and Dentz took no chances.
"We talked about (last game with them) briefly," Dentz said. "I called three timeouts in the last quarter and reminded them to just keep it simple."
No. 5 McClintock navigated its lead much better at the close of this one and notched a 69-47 victory over No. 2 Cactus Shadows in a 5A contest at Doc Zinke Gymnasium.
Cactus Shadows had its eight-game winning streak end. The Falcons still sport a shiny 22-3 record overall. McClintock won for the ninth time in 10 games since the Christmas break and is 21-5 overall.
The teams finish the regular season tield for first in the Northeast Valley Region. Technically the region title goes to Cactus Shadows with a better record (winning percentage) in games against 5A opponents (16-2 for Cactus Shadows and 14-2 for McClintock).
Senior Josh Baker ripped the nets for 24 points in his final regular-season home game to lead McClintock. Fellow seniors Donovan Williams with 13 and Chance Garland with 10 made sure the Chargers will get at least one home playoff game at state when the final power rankings are released on Wednesday.
Baker scored 15 of his 24 points in the first half on 5 of 9 shooting from the field and 4 of 4 from the free-throw line.
McClintock built its lead with decent shooting and even better work on the boards, particularly on the offensive end. The Chargers converted five second or third chance buckets on possessions in the first half and shot 48 percent from the field. Armani Williams, Donovan Williams, Jalen Calvert and Baker (two) combined for the extra offensive punch on the boards.
"I didn't feeling we were making a lot of shots, so we needed to crash the boards like we did," Dentz said. "We stayed calm for the most part. It was a big game for seeding so we'll see how this effects things."
Cactus Shadows lone offensive force in the first half was senior guard CJ Nnorom. Nnorom had 11 points in the half and finished with 18. Seniors Duncan Hearn and Sam Goulet chipped in with 12 and 11 points, respectively.
---