Seniors lead Perry in a redemption win against Chandler on senior night
February 6, 2019 by Brandon Genson, Arizona State University
---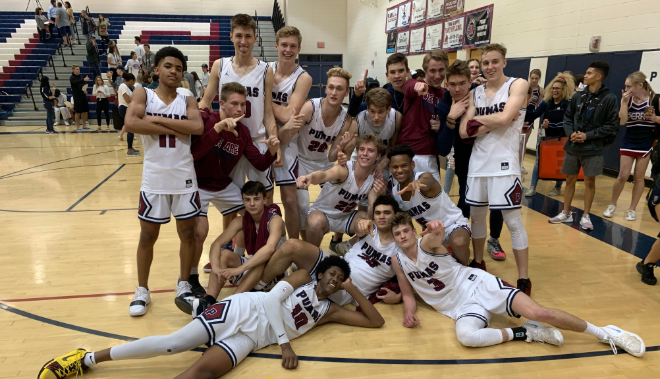 With balloons, cardboard cutouts of their headshots and their families accompanying them at half court, seven seniors were recognized ahead of Perry's final regular season game of the year against Chandler Tuesday.
On senior night, it was only fitting that seniors led the way in their 55-54 victory over a Chandler team that handed them their last loss on Jan. 18.
"We always have really close games with them and just to be able to win that close on senior night is just something you can't forget," senior guard Jalen Williams said.
Senior night introductions were met with energy, but both teams started off the game slowly. The energy picked up in the second quarter. Senior forward Kyle Patterson scored eight of his 20 points as Perry took a six-point lead into the half.
"We knew it was going to be a tough game coming in," Patterson said. "And we had to execute on offense and I feel like we made that adjustment and made the crucial stops on defense to play on tonight."
While the seniors were the driving force behind their upset win, sophomore guard Christian Tucker was a spark plug for Perry's offense, contributing nine points.
"Christian really came in and gave us a spurt tonight," head coach Sam Duane said. "He really, he really made a stride tonight."
Perry fell behind late, but a late surge capped off by four made free throws from Williams would seal the win for Perry. Williams finished with 16 points.
In addition to 36 combined points from Patterson and Williams, seniors Miles Houston and Bauer Bongard combined for 10 points.
"We made a lot of adjustments. I was proud of our guys tonight," Sam Duane said. "We really adjusted offensively and defensively to some things we needed to do and our guys kept their composure and the difference between now and early in the year, we're making the plays we need to win right now."
With the regular season wrapped up, Perry (13-5) is going into the 6A playoffs on a five-game win streak. With momentum on its side, the approach is the same.
"Trying to win every game, take every one at a time and don't get too far ahead," Williams said.
---