Bernal perseveres for Brophy soccer team
February 8, 2019 by Corey Kirk, Arizona State University
---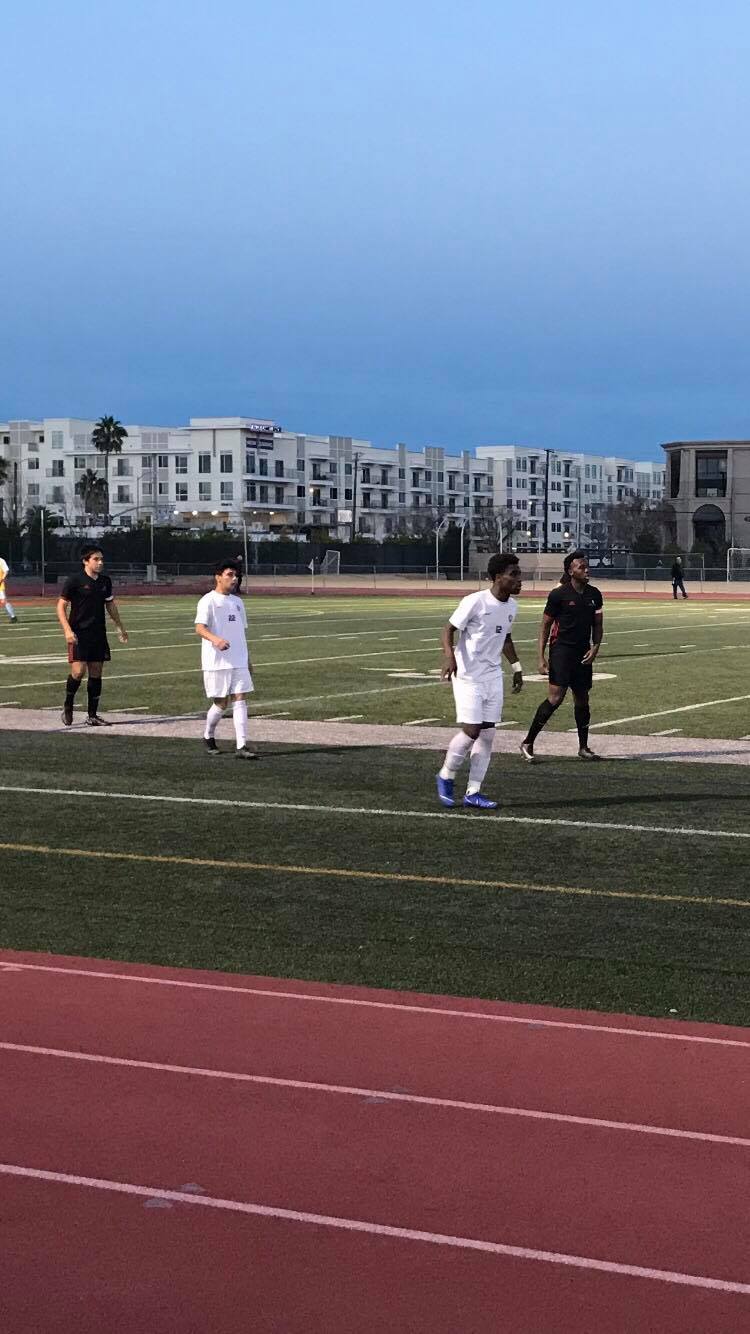 When the Brophy Broncos soccer team huddles before each game, they try to get hyped for what the next 80 minutes have to offer.
One voice that stands above the rest comes from senior defender and co-captain Corbin Bernal.
For someone to come back from a significant injury, it isn't hard to get motivated by the guy.
"It's hard to root against someone who has gone through what he has gone through and still kept working," said senior goalkeeper Nick Rau.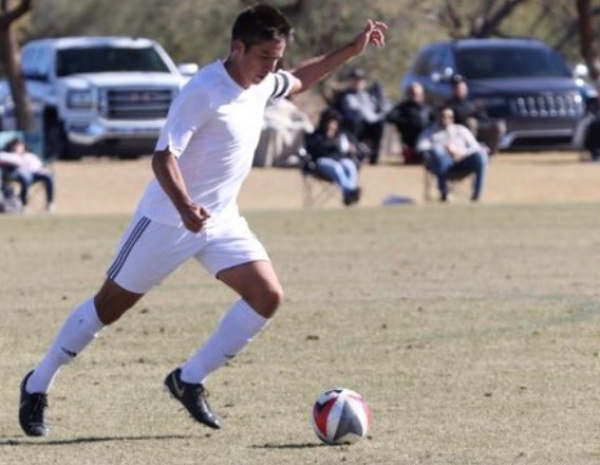 Corbin Bernal prepares to kick the ball in a game for Brophy College Preparatory in a game this past December. (Photo Courtesy of Corbin Bernal)
Soccer has been a part of Bernal's life for as long as he can remember.
"Ever since I could walk my parents said I would always have a ball at my feet," Bernal said. "Running around the backyard, I always gravitated to kicking the ball around."
Once Bernal turned 7 years old, he proceeded to be a part of some of the club level organizations throughout the Valley. What Bernal found the most exciting is the amount of traveling he was able to do.
"It was always fun to find a new place and play against some of the top teams in the western part of the United States," he said.
Going into high school, Bernal had all the intention to try out for the Broncos, but made the decision to stick with club soccer his freshman year with the intention to come back next year.
However, those plans derailed during a play in the middle of a game in April 2016 as he tore his ACL attempting to leap for the ball. The recovery process was going to make him miss his entire sophomore season that Bernal could of had at Brophy. Friends felt terrible seeing Bernal get hurt.
"We felt awful because out of all the players on the team, he was probably the one who loved the sport the most," Rau said.
After major surgery, Bernal's recovery lasted nearly 10 months. What got him through this tough time was the love from home, as well as the Brophy community.
"I had help with my bags, and walking to my class," Bernal said. "It was super supportive."
Brophy head coach Paul Allen was impressed to see the outlook Bernal maintained throughout his recovery.
"Those hurdles happen. It's a part of life. But he took it with a grain of salt," Allen said. "He always stayed positive."
Once he was cleared to play, Bernal was able to prepare for the 2017-2018 season. Rau couldn't help but be impressed with how well he was able to work with the team.
"I think he really had the desire to show that he deserved to be on the team and he made the most of it," Rau said.
Allen saw the potential, and immediately gave Bernal a spot on the team and the minutes he thought he deserved.
"He earned a starting spot pretty much from the beginning of the season," Allen said.
Bernal was able to play an important part on a successful season for the Broncos, as they made it into the 6A state finals.
His teammates felt he deserved the role of co-captain for the leadership he showed on the field going into senior year. Rau says Bernal has traits that anyone would want in their captain.
"He's definitely not afraid to speak up and tell kids how to improve," Rau said. "He shows the motivation he has to stick with the sport."
After helping lead the Broncos to a 15-3-2 record this season, Bernal went down with another knee injury against Hamilton High in the last regular season game that could end the rest of his career at Brophy.
Even though he may not be able to play in the upcoming playoffs, Allen stills sees Bernal fulfilling his duties.
"I look at him as a captain coach on the sidelines, keeping people's spirits up, talking to people and trying to help." Allen said.
Bernal is choosing to maintain a positive perspective.
"I am thankful every day that I wake up and I am able to play this game," Bernal said. "I just loved every second of it."
Brophy will host San Luis (7-5, 1-3) at 2 p.m. on Saturday in the first round of the 6A tournament.
---