The Franks put family first
February 11, 2019 by Bradey King, Arizona State University
---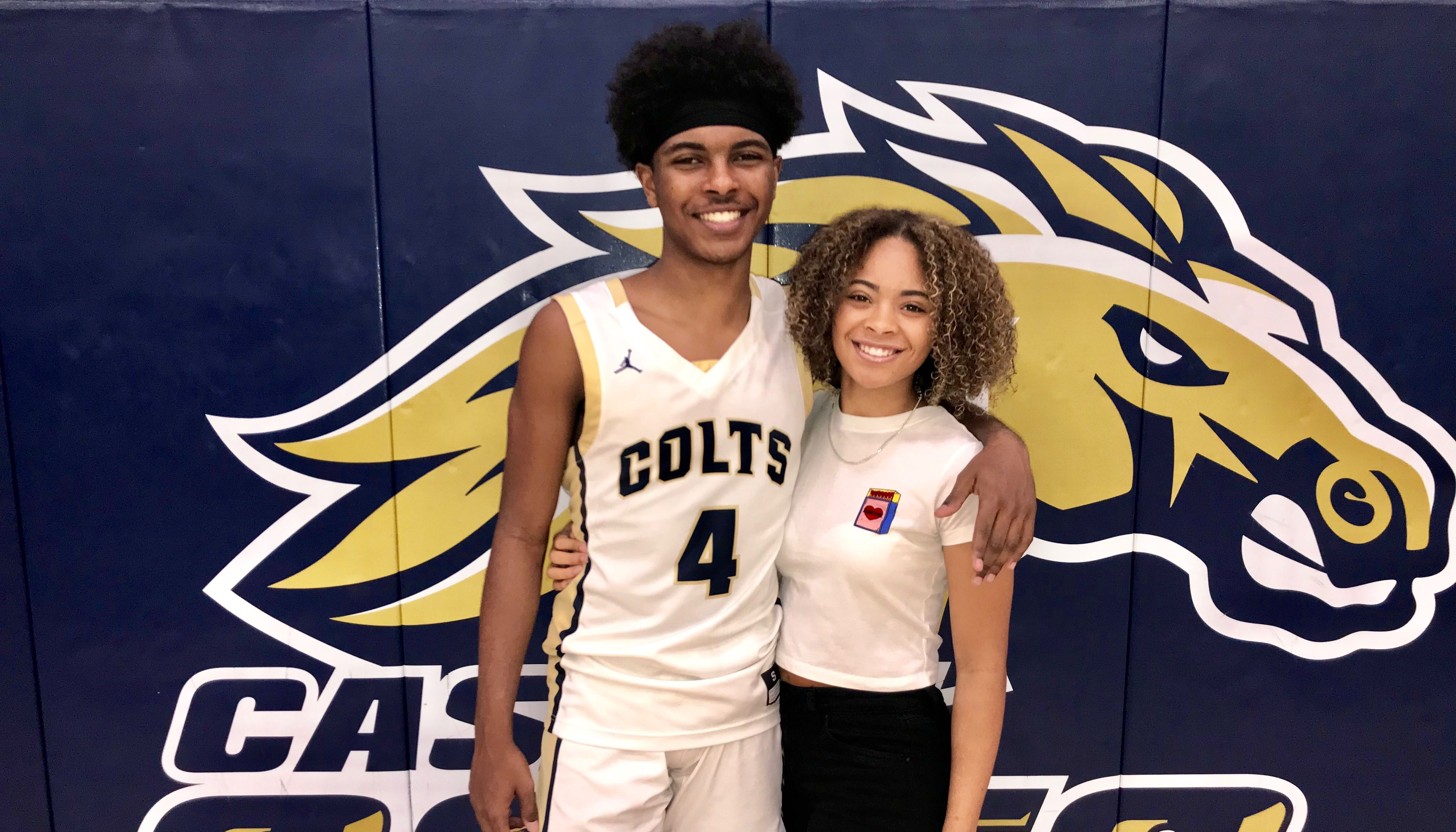 How do the Franks siblings gracefully balance the demands of basketball, school and a social life? Their answer is simple: each other.
Deven, a 16-year-old junior, is just 13 months older than his sister, Autymn, and not only is their age gap tight, so is their bond. It helps that the two share a similar passion for basketball.
Both are starting point guards on their respective Casteel High School basketball teams. A typical night at the Franks house is spent on their backyard basketball court playing one-on-one and working on their jumpers.
"I feel like we have to have the closest relationship in the family," Deven said. "I tell her everything, she tells me everything. We just have a collaborative relationship."
Although Autymn is a tough player by nature and showcased that by playing through the pain of tendonitis in her foot for most of last season, guarding her big brother at home over the years has shaped her into the ultimate defensive threat. She was recently voted 2nd Team All- Region and was runner up in the Defensive Player of the Year voting, despite standing at just 5-foot-2.
"I learn a lot from him (Deven) just watching him play. I love watching him play," Autymn said. "At times we're competitive, but most of the time we're just supporting each other and trying to help each other."
While Autymn rules the defensive side of the court, Deven loves driving to the hoop and pulling up from the three-point line. He fell in love with basketball at 3 years old and his mom recalls him still being in diapers when he started watching VHS tapes of Michael Jordan.
Deven is currently the top scorer on his team, averaging 16.6 points per game. He also earned "Player of the Game" twice this season and was just named to 1st Team in San Tan Region awards.
As the end of his junior season approaches, college ball is on Deven's mind. And it is his dream to play at the next level.
Casteel head coach Brett Huston says Deven is sometimes overlooked because of his smaller 5-foot-11, 156-pound frame, but Huston believes that won't stop him from succeeding at the college level.
"Deven's biggest challenge is his perceived stature, but when he steps on the court you realize the size of his heart more than makes up for it," Huston said. "Some college coach is going to feel like he's hit the jackpot with Deven. He's a coach's dream."
Deven and Autymn excel in athletics and academics and stay humble through it all. The duo credit a lot of who they've become to their parents.
"I look up to my parents the most," Autymn said. "They're just good role models. They've raised us very well and they're our No. 1 fans."
Deven agreed and didn't skip a beat when asked about who biggest inspiration is.
"Definitely my Dad," Deven said. "Just to see how successful he is as a person and everything like that, it makes me want to follow his footsteps."
Deven's dad, Matthew Franks, felt honored by his son's answer. Matthew, who works in the finance and medical field, was a skilled athlete in his day and coached Deven from the get-go. However, he quit coaching after Deven's sixth grade year to hand him over to coaches who do it for a living.
"My role (now) is to show up at the games, cheer them on, and then when we get home, I try to give them both advice on things we can work on a little differently," Matthew said. "My philosophy has always been, as long as they give 100 percent in no matter what they do, whether they fail or succeed, I'm going to be there, my wife's going to be there, and our family is going to support them."
Though no longer a coach, Matthew spends tons of quality time with Deven and Autymn in the backyard.
"I'm the best rebounder in the house," Matthew said laughing. "But I will also tell you I'm still the best shooter in the house as well."
While the athletic abilities might come from dad, their mom, Jafra Franks, is the glue that holds it all together and acts as an accountability coach, pushing her kids to be the best they can be.
"They'll be sitting there, and I'll be like, 'hey so you did your 500 shots today,'" Jafra said. "I just plant the seed, add a little water and then they'll figure it out. And then the next thing you know, you'll hear the ball bouncing in the backyard."
Jafra and Matthew do everything possible to support their kids emotionally and financially and they have their hands full with the two in high school, as well as two younger ones, ages 12 and 6.
Jafra has always told her kids, "I will open every single door, but I can't push you through it. You've gotta put that work in."
Any outsider can easily see that the parents have done a great job instilling a strong work ethic and values of kindness and humility in Autymn and Deven. Coach Huston can attest to that as well.
"Deven's been blessed with a mother and father who fuel his fire," Huston said. "They're committed to providing him with every opportunity they can to help him achieve his dream. But they understand it's his dream, not theirs. It makes a huge difference in allowing Deven to take ownership over his goals and development."
Daniel Trageser, Casteel's head girls basketball coach, was hired just last year and had similar thoughts on Autymn.
"Autymn has a tremendous motor and drive," Trageser said. "She currently takes five honor classes and maintains a 4.5 GPA while also playing at a high level."
Autymn has medical school in her sights and would love if a basketball scholarship helped her get there.
Both kids certainly have their parents, coaches and teammates in their corner. And on top of all that, their brother-sister bond is a rare case, one in which they equally challenge and support each other day in and day out.
"They just feed off of each other," their mom added.
And as long as they keep doing that, it's safe to say we can expect big things from the Franks siblings as they continue to chase their dreams.
---