Bourgade baseball: back to the basics under Briguglio
February 11, 2019 by Matthew Roy, Arizona State University
---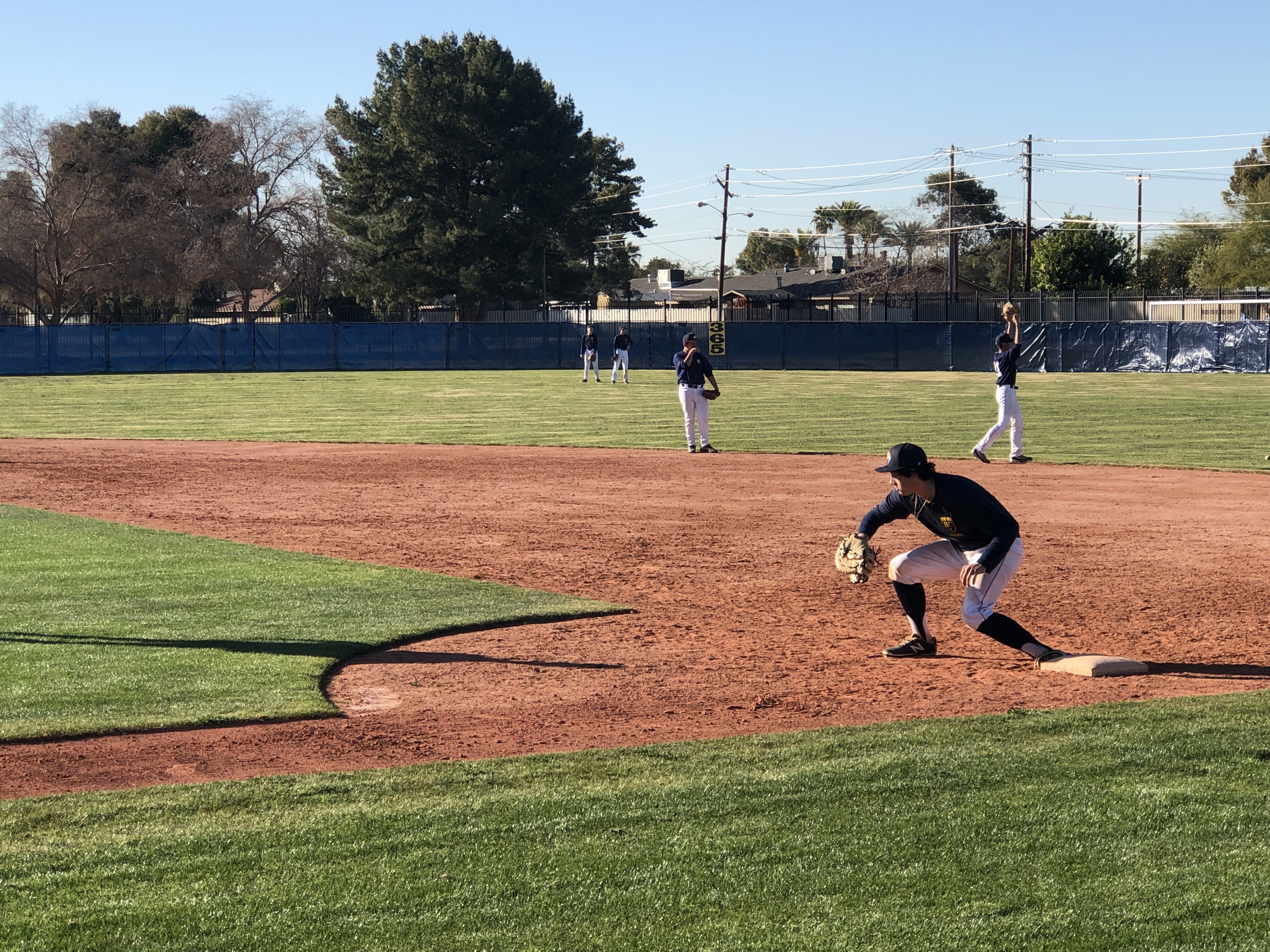 Just about 23 months ago, longtime Bourgade Catholic High School varsity baseball coach Greg Henke passed away suddenly during the season due to an unknown illness. The kids were distraught. The school was saddened. And the team was reeling.
The Golden Eagles finished that year with a record of 7-11 after starting out 5-5 under Henke. After the season ended, Bourgade hired a longtime Fountain Hills high school coach to take control of the program in wake of the tragedy. Enter coach Michael Briguglio.
Briguglio has coached in the Phoenix area for 36 years and has a winning percentage of .724. He has led teams to 19 state elite eight appearances, 16 final fours, 12 regional championships and four state titles.
Briguglio believes he is the guy for this job.
"This is just my second year here," Briguglio said. "The year before, they had 12 seniors. So last year was just a struggle for accountability and concentrating on every drill that we do."
Coach B, as the players call him, had a good first year at the helm of BCHS. The team improved their record by one win, going 8-10.
He said it is a mindset change. Briguglio does not want his kids thinking of just being good anymore. He wants them to think about being great.
A complete culture change in the wake of a tragedy has been tough for the kids, but Briguglio describes his coaching style as "demanding" and "intense," and the kids have responded.
"We used to have a good coach in Coach Henke but then he passed away, but then we got Coach B and he has definitely pushed us more than I have ever been pushed," junior first basemen and pitcher Calvin Kahler said. "He does stuff that I have never done before like hitting with fungos or out here doing cut-off drills. Just the basic stuff. He takes it back to the basics."
The team has responded to the new coaching staff and Briguglio, even though he is a self-described baseball "lifer" and an "old school" guy.
He said he still teaches the importance of bunting, the sacrifice squeeze, the hit-and-run and solid baserunning. He doesn't worry about "launch angles," he said with a smile.
"There is a lot more hustle out here this time and a lot more determination out here now," junior catcher Mason McDowell said. "Last year, we would have a little bit more fun but this is work now. We are ready to get after it."
This season is going to be challenging for the Golden Eagles as they face yet another change. They are moving up a division from 2A to 3A and they know that means a more difficult schedule.
"Coming in, we would know the caliber of each team that we were playing," McDowell said. "Now, with new teams in a new division and new faces, we are basically going to a new country."
The Golden Eagles are hosting two tournaments at home to start off the season, which means their first 10 games will all be on their home field, and that is a huge advantage to get adjusted to the 3A region, Briguglio said.
Kahler lauded the 2A division that BCHS was in last year, saying that the top teams there are as good as the top teams in the 3A Metro division.
The difference now, is that every team is that good. The division is much more balanced, Kahler said.
"At 3A, there is more depth of teams," Briguglio said. "You have more difficult games whereas in 2A, the better teams are just as good as the top teams here [in 3A]. But there is a tougher middle."
Overall, McDowell, Kahler and Briguglio have one goal for the season: make the playoffs.
Anything can happen when a team makes the tournament, Briguglio said.
This school won a state title under Henke in 2010, now Briguglio and these kids are aiming to make their own mark.
BCHS's first game is Feb. 20 at home against the Dysart Demons at 3 p.m.
---