Gaming goes varsity: official high school esports competitions kick off in Arizona in 2019
February 12, 2019 by Seth Polansky, AZPreps365
---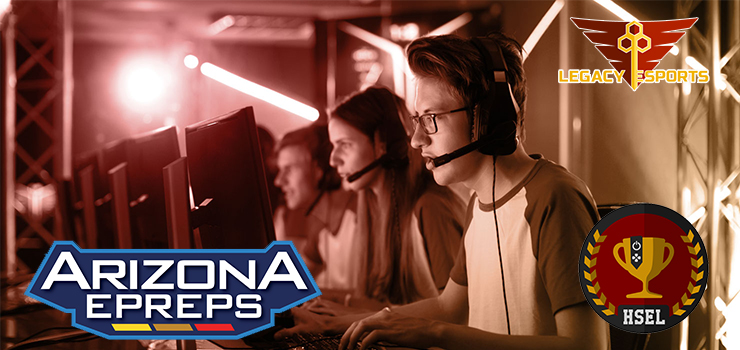 CHICAGO – February 12, 2019 - In the spring of 2019, high school students in Arizona will finally be able to compete for the state title—in esports. In partnership with the Arizona Interscholastic Association, Legacy Esports and High School Esports League announced today the official high school esports competitions in Arizona powered by HSEL's Varsity Esports platform.
Participating students will now be able to experience the prestige that comes along with competing at the varsity level of any high school sport or activity. Winners will go down in history as the inaugural state champions, with all of the glory that comes along with earning the title; medals, trophies, banners, etc.
For the inaugural season, students will have the opportunity to compete in Blizzard Entertainment's critically acclaimed competitive game, Overwatch®, bringing one of the most popular esports titles to high schools in Arizona. With teams of six players and a variety of game modes and objectives, Overwatch® encourages teamwork, strategy and leadership. Get the full Spring season lineup and additional registration details at www.azpreps365.com/esports.
"With the continued growth of esports nationwide, we wanted to create a structured format for high school students to compete for a state championship in Arizona, no different than any other sport or activity," said Brian Bolitho, Director of Business Development for the Arizona Interscholastic Association. "We are excited to partner with Legacy Esports and HSEL as they are best suited to provide the esports platform that best fits our mission and vision."
"Legacy is very excited for the partnerships with the state associations, as well as with High School Esports League, who is powering the experience." said Andrew Barnett, CEO of Legacy Esports. "We feel strongly that the competitions will provide an educational and meaningful experience for the students, teachers, and parents that are involved"
"HSEL started as a passion project with the dream of bringing high school esports to the varsity level, and we've been operating for years building the infrastructure and community to make it happen," said Mason Mullenioux, CEO of High School Esports League. "It's incredibly gratifying to see state high school organizations begin to embrace competitive gaming, and we're fired up to be part of bringing it to life."
###
STATE ATHLETIC ASSOCIATION PARTNERS
Legacy Esports creates opportunities for students to grow and excel as team players, leaders, and champions. Legacy Esports' team of experienced professionals in the education, sports and gaming industries work with athletic and activities associations across the country to create custom league and tournament plans that focus on engaging, inclusive, and community-oriented gameplay. For more information on Legacy Esports visit: www.legacyesports.com
High School Esports League was founded in 2013 to bridge the gap between competitive gaming and education. Now with more than 1,300 partnered high schools and 30,000 students across North America, HSEL aims to help students reach their fullest potential through fun, competitive gaming communities, competitions, and educational opportunities. For more on High School Esports League visit: www.highschoolesportsleague.com
About the Arizona Interscholastic Association
The AIA is a voluntary association of public and private Arizona high schools. Since 1913, the organization has created and sustained interscholastic activities that encourage maximum student participation by providing AIA member schools with an even playing field to ensure fair and equitable competition. The AIA believes that providing interscholastic activities for Arizona high school students creates personal development opportunities with a balanced focus on academics and extracurricular activities.
Through its Arizona member schools, the AIA reaches more than 100,000 participants in high school activity programs. The organization hosts 5,000 championship contests and maintains officiating for more than 45,000 regular season games. For more information, visit www.azpreps365.com and www.aiaonline.org.
---