South Mountain hopes to create winning tradition
February 12, 2019 by Carson Field, Arizona State University
---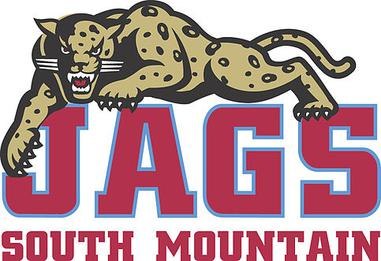 When Mohamed El Nounw stepped onto the practice field for the first time as South Mountain's softball coach, one word embodied his ambitions for the program: develop.
"The main thing is building a program from the ground up," El Nounw said. "Just kind of changing the image of what it's been in the past."
Success hasn't come easy for the Jaguars in recent memory. Over the past five seasons, South Mountain has gone 3-87, among the worst records in the nation during that span.
El Nounw has been at South Mountain for three seasons as an assistant football coach; however, this is his first season coaching softball at any level.
Before El Nounw took the job, the sport's future at South Mountain was in jeopardy.
"They really thought there wasn't going to be any softball but it turns out a lot of girls were interested," senior infielder Carla Orduno said. "It's nice of him to come in last minute, so that's a great help for everybody."
Just a few weeks into his new position, El Nounw has seen glimpses of hope in a once-depleted program.
"When I took the job two weeks ago, we had about 14 to 15 girls cleared," El Nounw said. "We now have more than 50 girls cleared and a couple managers.
"That's been a huge improvement."
El Nounw will not cut any players this season, spreading the 50 players among the varsity and junior varsity squads.
For years, keeping girls in the program has been an obstacle for the Jaguars. This season, however, South Mountain returns several seniors, providing much-needed leadership to a rebuilding group.
"We have a couple seniors that came back this year to play, which will be really beneficial for us," El Nounw said.
One of those seniors, shortstop Nadia Torres, has dreams larger than this season — she hopes to play at the collegiate level. In spite of the program's struggles during her career, Torres is confident South Mountain has prepared her well enough to earn a spot at the next level.
"I really want to play college ball," Torres said. "SMHS is giving me a lot of experiences and they help you out with everything."
As a junior, Torres hit .256 batting while contributing seven RBIs.
Though most of South Mountain's leadership will come from the upperclassmen, freshman catcher Alaianna Gomez is expected to become an everyday player. Her goal is to serve as a catalyst from day one.
"I want to set an example for the girls coming into high school next year," Gomez said. "I plan to play with energy but also show good sportsmanship."
South Mountain has yet to play a game in the 2019 season, so it's difficult to pinpoint the team's strengths. But one thing has become evident to El Nounw through the first few weeks of practice — the girls positivity.
"The girls are all very positive, even with the girls who have never played before," El Nounw said. "The girls have all really come together and the ones who have played before are really coming forward and taking these girls under their wings."
Of South Mountain's 18 defeats a year ago, 17 came by double digits. The worst deficit came on opening day in a 29-run loss to Trevor G. Browne High School.
But El Nounw is hopeful the team will show more fight in his first year.
"Our goal is to learn how to compete," El Nounw said. "You look at the scores from the past, and they haven't been very good.
"I've surrounded myself with some people that are going to help me develop these girls into what we need them to be."
On Feb. 26, a new era of South Mountain softball begins. The Jaguars head across the valley to Casteel for a matchup with the Colts.
Success in El Nounw's first year isn't guaranteed, but he has in place a blueprint to develop a competitive program.
---