Phoenix Country Day's Daniel Gomez has a bright future
February 12, 2019 by Nick White, Arizona State University
---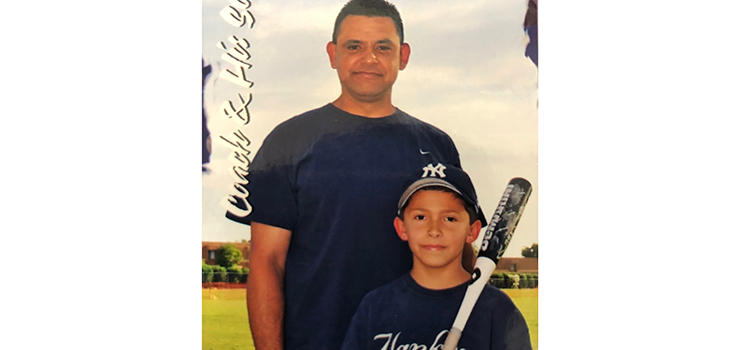 Phoenix Country Day School is known for its academic success but Daniel Gomez wants to add sports powerhouse to the equation.
At the age of 3, Gomez Jr. made two-step layups on a regular size basket. And on the baseball field he regularly hit every corners as a pitcher, hard for even the best big leaguers to accomplish.
Gomez now is a leader for PCDS in baseball and basketball, preparing himself to make a decision in the next year or so.
Last year he hit .397 for the Eagles on a team that went only 8-13. This season they return four juniors and three seniors.
"This is the oldest team we have had, I think there is a really good chance of us making playoffs after a rebuilding year last year," said Gomez Jr.
Before Gomez hits the diamond he will finish up basketball. PCDS heads into the playoffs as the 13th seed.
At 15-8 the Eagles play Glendale Prep in a play-in game on Wednesday.
Last year, as only a sophomore, Gomez averaged 5.2 points playing in 30 games, receiving all-region honorable mention. This year he averages 9.1 points and 5.3 rebounds earning second team all-region honors.
"I think he is better on the baseball diamond but he practices basketball year round," said Gomez Jr.'s father, Daniel Gomez Sr.
Since basketball and baseball overlap, Gomez Jr. must pick one he wants to focus on.
"I think basketball playoffs is more of a priority at this time, but the baseball coach understands that, which makes it easier on me," said Gomez Jr.
Gomez Jr. ability to balance sports and life sets him apart.
"My dad is big on letting me have my space and getting away from the game to make sure I can clear my head when need be," said Gomez Jr.
Outside athletics Gomez loves spending time with his family and friends.
"I feel there is too much pressure on some kids that I wanted to be different and let him be a kid while he still can," said Gomez Sr.
In the classroom Gomez Jr. boasts a 3.3 grade point average and knows the importance a good education can have while choosing a college to play at.
"I would like to stay home and go to ASU but that possibility has not presented itself yet so I will go where I can to play," said Gomez Jr.
Since he loves sports, Gomez Jr. wants to study either sports journalism or get into coaching.
"Whichever sport gets me further I am going to focus on that. Ideally I would like to play both at the next level."
As his time nears to make a decision for college Gomez Sr. knows his son will make the best decision for himself.
"I know he wants to stay close and I do too but I know he is willing to move if that means he can chase his dreams," said Gomez Sr.
---