5A girls hoops semi: Gilbert pulls away in 2nd half to top Horizon
February 18, 2019 by Les Willsey, AZPreps365
---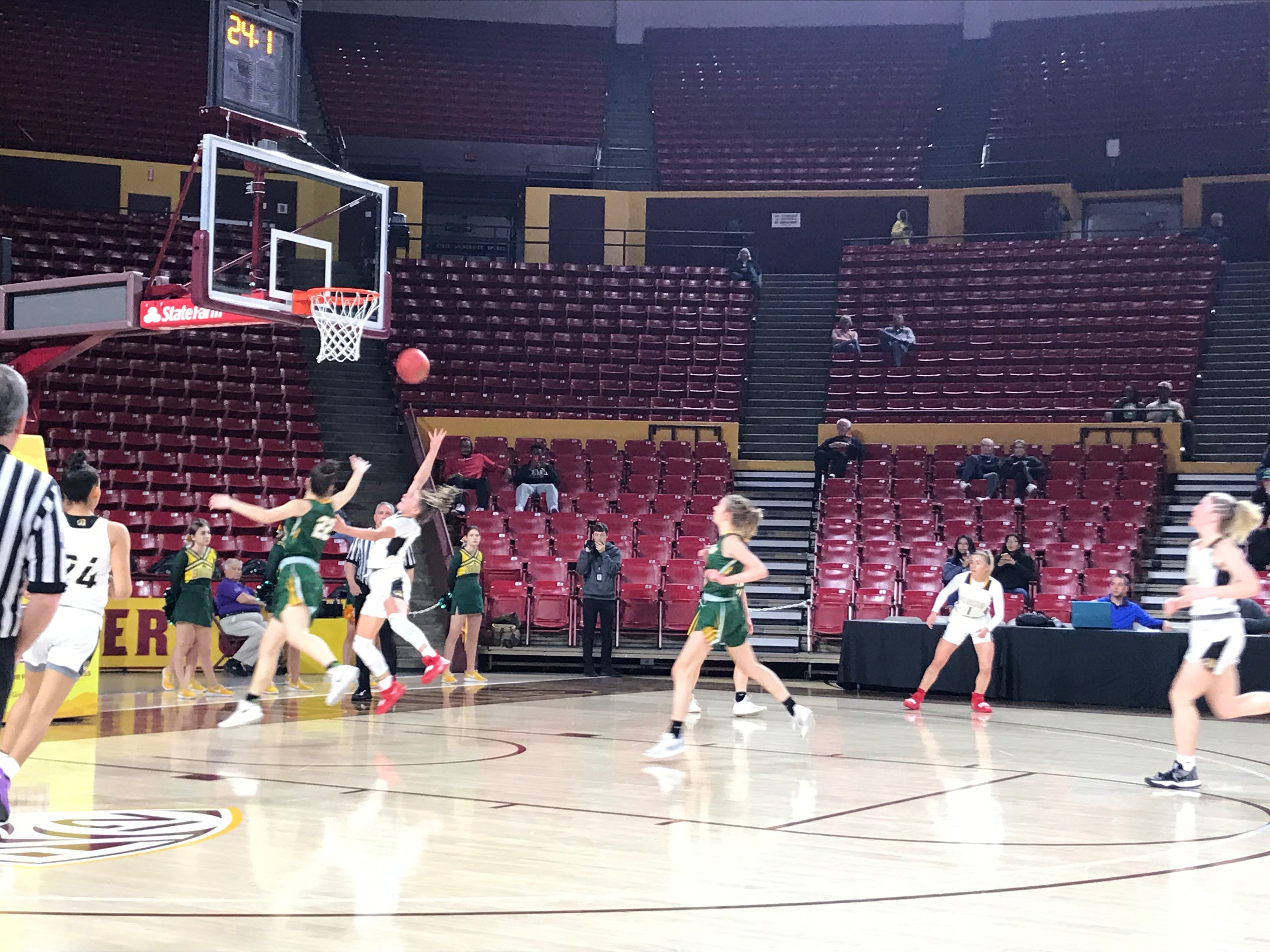 Their shoes were showing some wear as the season came to an end so Hanna and Haley Cavinder bought a new pair for the stretch run -- Senior Night and the playoffs.
The shoes are a can't miss bright red, but those don't matter all that much. It's the player(s) wearing them.
The senior twins were their usuall selves and got plently of help from their Gilbert starting and reserve teammates in topping No. 3 Horizon, 68-52, in a 5A semifinal girls basketball game at Wells Fargo Arena.
"We started seeing tears in our shoes so we found a Dick Sporting Goods gift card and got some new ones," the pair said almost in unison with four games of use from them so far.
No. 2 Gilbert (25-5) advances to the title game against No. 1 Millennium on Monday Feb. 25 at 6 p.m. at Wells Fargo Arena. MIllennium bested Casteel, 63-35. It's Gilbert's first trip to the final since it won in 1992. Horizon's season ended with a sparkling 28-3 record.
The Cavinders scored 14 of Gilbert's 17 points in the first quarter and the Tigers' lead was four at stanza's end. Haley Cavinder finished with a team-high 25 points and Hanna Cavinder added 17. The twins, who have played all 119 games Gilbert has played since they came aboard as freshmen in 2016, were steady throughout. Hanna added eight rebounds and six assists and Haley grabbed seven rebounds.
From the second quarter on assistance began seeping in and that made the Tigers difficult to reel in.
Starter guard and junior AJ Johnson connected on a three in the second period and reserve senior guard Symone Humphrey did the same. The rebounding prowess of senior post Brynn Wade kicked in as she ruled the boards. The Tigers lead increased to 33-27 at half.
Gilbert started to pull away as the third period waned. The Tigers outscored Horizon, 16-7, in the quarter and the advantage was double-digits for good.
In the third period, junior Leah Millman tallied twice for layups off nice assists. Humphrey sank two more threes in the first three minutes of the final quarter ensuring the outcome was out of reach.
Humphrey joined the Cavinders in double figures with 11 points, making 3 of 4 three-point field goals. Wade didn't score for her average (12 ppg) ending with five. She pulled down 15 rebounds leading a 41-24 edge over the Huskies.
The Cavinders and Wade weren't satisfied with a 33-27 lead at half. It was made known during the break.
"They made sure everyone knew we had to have all our stuff in order for the second half," Gilbert coach Kyle Pedersen said. "We got contributions from everywhere. We know everyone wants to try and take away the twins and bump with Brynn. The other players knew they would get chances, and we wanted them to take advantage."
Horizon, which was bidding for its first title-game appearance in the sport in school history, kept it close for better than 2 1/2 quarters led by seniors Alyssa Alvarez (team-high 25 points) and Jacey Carter (17 points). Both shot better than 50 percent from the field in the first half, but were a combined 4 of 18 in the second half (22 percent).
Gilbert's will be making its first title game appearance since 1992.
Horizon was bidding for its first-ever girls basketball title game appearance.
---