Seton robotics finds success through support
February 18, 2019 by Tanner Puckett, Arizona State University
---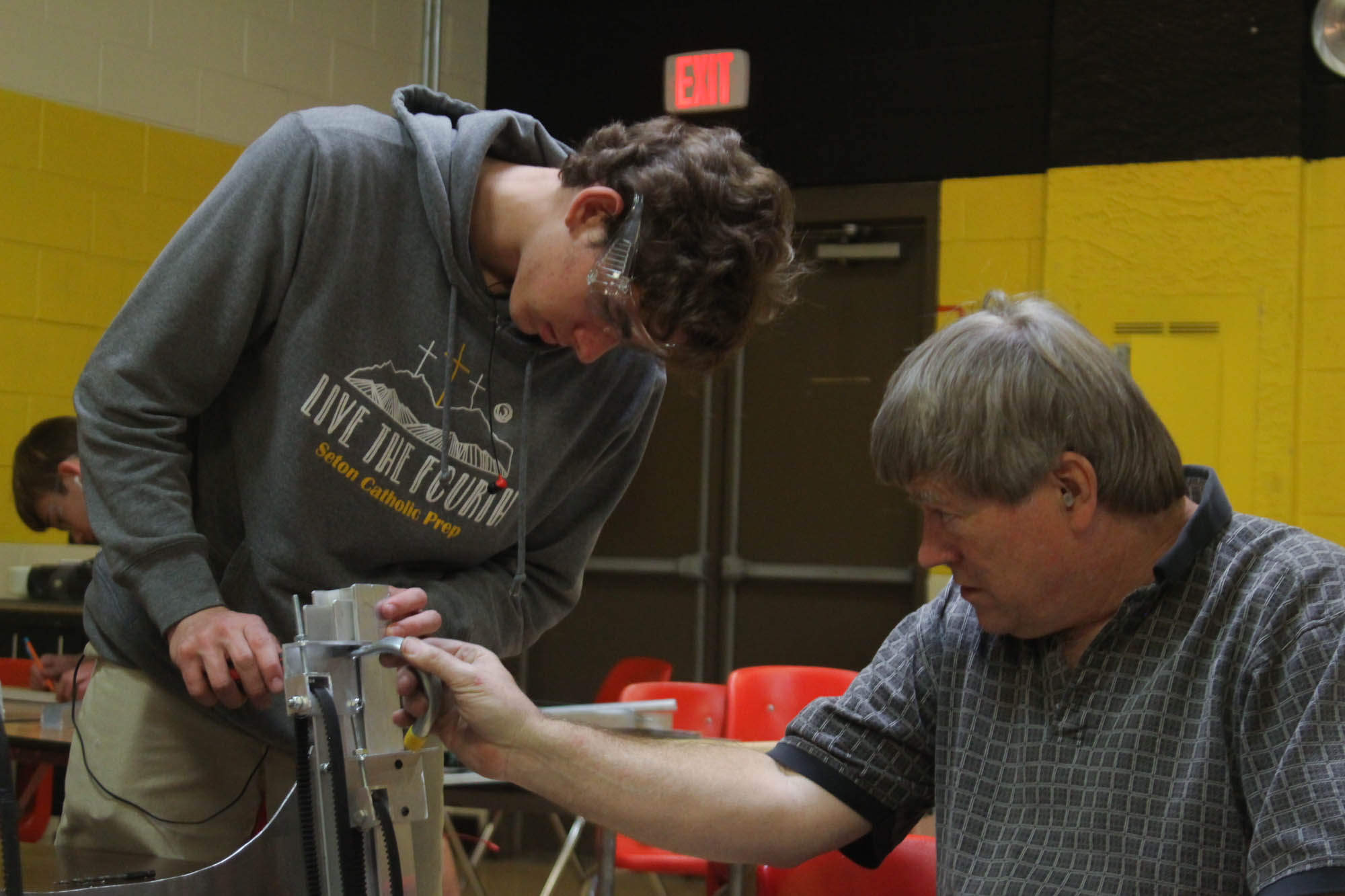 Long hours of training, analysis and preparation aren't reserved for courts, fields and diamonds.
In the Seton Catholic Prep cafeteria, on the other side of a wall of folded tables and stacked chairs, a group of students are hard at work on a different kind of contest.
Instead of training to take the field themselves, these students are building their competitor.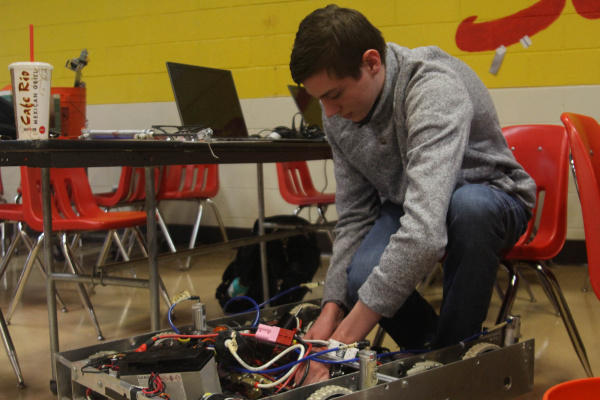 A team member works with the motor of the robot. Students work on all portions of the process, from building the chassis to programming the machine. (Photo: Tanner Puckett/AZPreps365)
Competitive robotics is part varsity sport, part curriculum.
For Inspiration and Recognition of Science and Technology (FIRST) calls it the "sport for the mind." The youth organization has run the largest international robotics competition for high schools since 1992, with 3,790 teams from 26 countries.
"It seems like a simple game, but it's not," team mentor Ron Gordon said. "Every year, the game is different. The only thing that stays the same is the size of the field."
According to FIRST's website, this year's game simulates loading a spaceship on Mars, with robots mounting circular panels and flinging cargo into a structure.
Gordon says the program's goal is to use practical application to get kids excited about STEM (science, technology, engineering and mathematics).
"A lot of kids come in here and don't know one end of the screwdriver from the other," he said. At the end of their four years, students are proficient with computer-aided design software, programming and a host of different tools.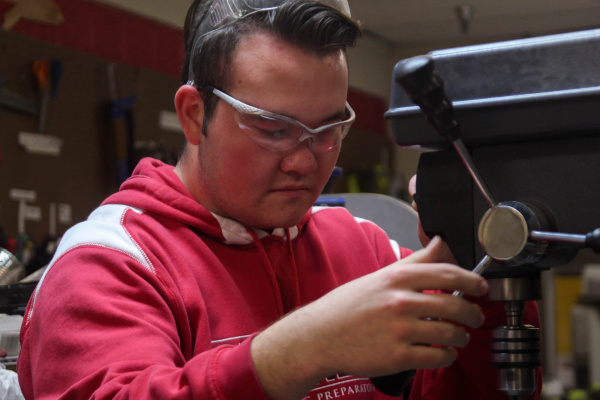 Every team member gets the chance to work with machinery during their time in the club, like this drill press used by a Seton student. (Photo: Tanner Puckett/AZPreps365)
That knowledge is put to the test as students are given six weeks to build their robot. Though the team officially meets twice a week, some team members put in work every day.
The space feels like a machine shop, as voices compete with the sound of lathes, laser cutters and music. Laptops sit open, screens filled with code.
"We want the kids to do it, even if it's not pretty," mentor and founder Bernie McBryan said. "We want to teach them a can-do attitude so they can go out and change the world."
Seton's kids-first approach isn't always the standard for robotics teams.
Outsourcing isn't forbidden in the FIRST Robotics Competition (FRC). Teams can send their robots to professional shops or exclusively use adult volunteers.
The mentors view themselves as learning resources, not hired hands. "The kids can do it, we just haven't taught them yet," McBryan said.
McBryan and Gordon offer a wealth of knowledge, coming from Boeing and IBM, respectively.
McBryan's focus on students comes from a 16-year history as a mentor to Team 1212 — one that saw his five daughters pass through Seton, with his oldest serving as the catalyst for the program's founding.
When Kate McBryan was a senior, she came home with a flyer for FRC and asked her father to lead a team.
That rookie group built its robot in the McBryan living room, learning on the fly and dealing with noise complaints from neighbors. They placed eighth.
Last spring, the team won an award for creativity in design at the FRC Arizona West Regional. In the fall, they took home a shared first place at the Sanghi Foundation's FRC Arizona State Championship.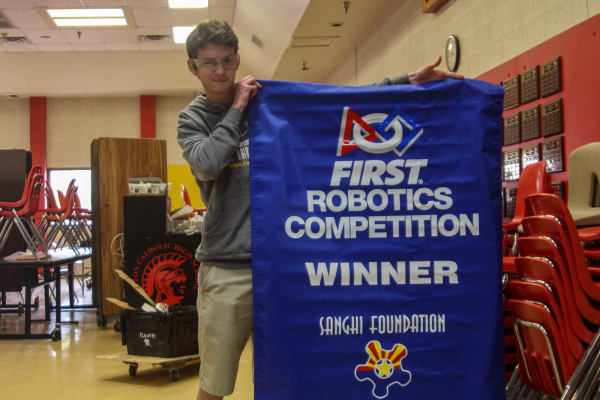 Matthew Halfmann, senior and team vice president, holds the banner from Seton's victory at the Sanghi Foundation's FRC Arizona State Championship. (Photo: Tanner Puckett/AZPreps365)
Seton is different than typical teams.
They have a smaller group with 10 to 20 students instead of the usual 30 to 50.
They have less than 500 square feet of dedicated space in the cafeteria. They make more room by pushing tables and chairs out of the way after the school day.
The team relies on versatility and a strong alumni network.
"You have to learn how to do everything. You can't have teams that work on each individual component," said Phillip Warren, former Seton student and current team mentor.
Warren is one of many Seton graduates who have found success and stayed connected.
Kate McBryan earned her doctorate in aerospace engineering from the University of Maryland. She's since volunteered as a mentor at Seton.
The same way their alumni give to them, the team gives back to the community.
Since 2014, Team 1212 has partnered with Advanced Therapy Solutions to modify Power Wheels for children living with disabilities. The annual "Kids in Motion" derby will be held this spring.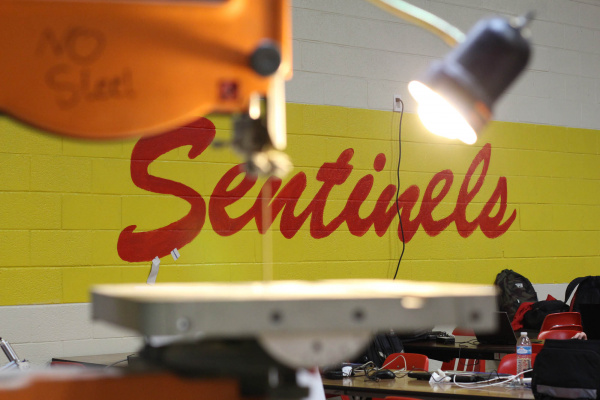 Lamplight and the hum of machinery fills the Seton lunch room as the team prepares for the FRC deadline, known as "Stop Build Day." (Photo: Tanner Puckett/AZPreps365)
For now, the team is working feverishly. FRC teams worldwide stop working at the same time, at 9:59 p.m. MST today. They'll put their robots in a sealed bag, not touched again until the competition.
"Bag night is one of the best days of the year," said Matthew Halfmann, senior and team vice president.
Seton's regional competition takes place in early April, but they won't stop preparing. They take an outside-the-box approach, building a second identical robot to practice the game and run drills with a stopwatch.
"Other teams would tell you that's insane, but we're insane," McBryan said.
After all, no great mind has existed without a touch of madness.
---