6A boys hoops: Hamilton tops Chandler in OT, 54-45
February 19, 2019 by Les Willsey, AZPreps365
---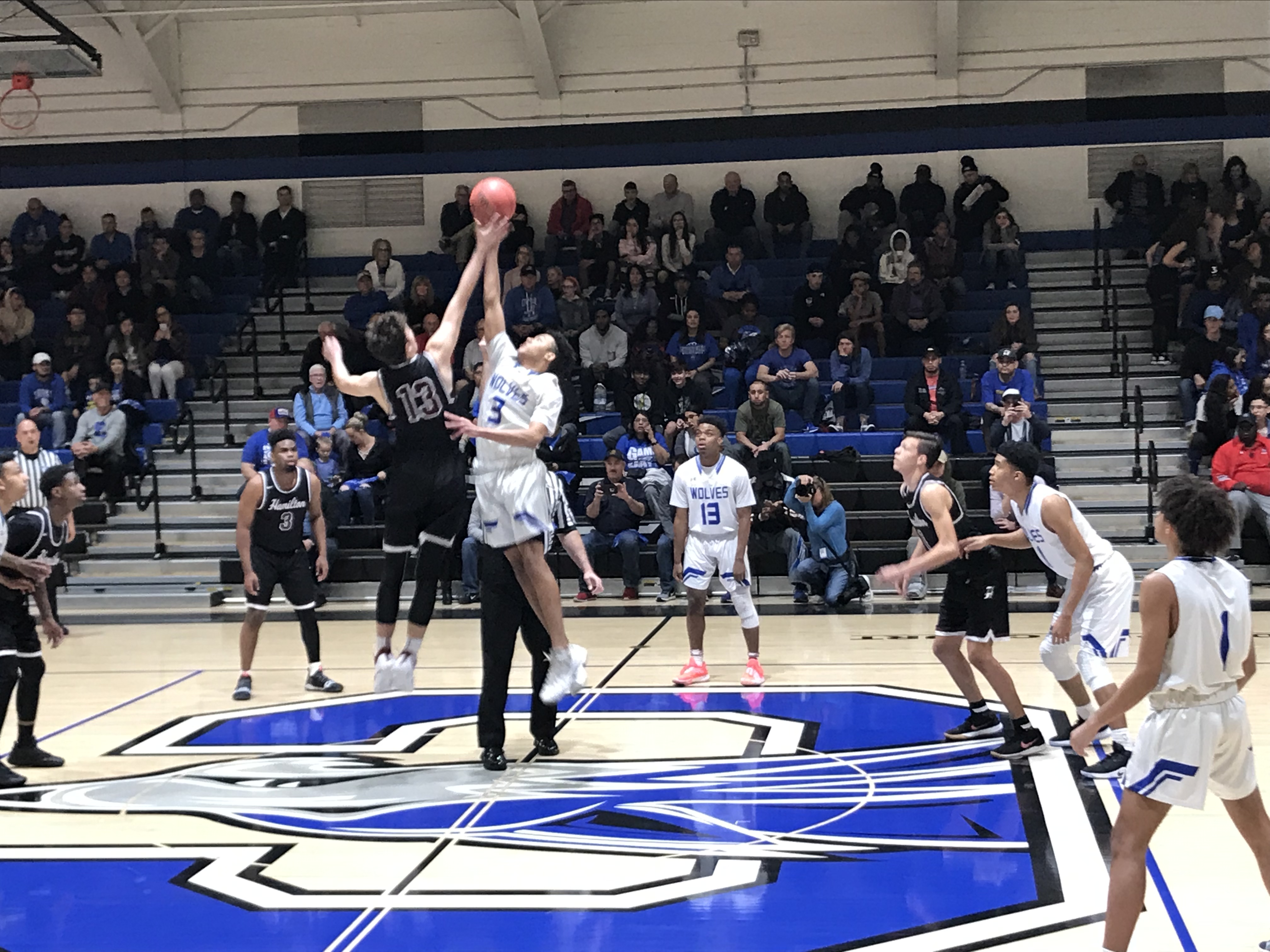 Hard to find a turning point in what was the third gut-wrenching matchup between #6 Hamilton and #3 Chandler this season. The first two in region play (each won one) were decidec by a total of four points.
Hamilton coach Doug Harris pointed to one after the overtime triumph by his Huskies and stuck with it, despite his team losing a chance to prevail in regulation.
"The three Omar (Knight) hit as the half ended, it was a great momentum shift," Harris said. "He took that shot with confidence. It changed our mindset, the karma, the rest of the game."
Hamilton led by two rather than trailing by one at intermission on Knight's trey at the halftime buzzer. The Huskies never trailed again and went on to take a 54-45 win in at Coy C. Payne Gymnasium. The first two meetings in region play (each won one) were decided by a total of four points.
Hamilton (17-8) moves on to the semifinals to face No. 2 Chaparral, a 77-75 winner over No. 7 Cesar Chavez. That game is Thursday at 4:30 at Wells Fargo Arena. It will be Hamilton's second trip ever to a semi. The only other was in 2008. Chandler finished 19-8 in its second consecutive final-eight appearance at state. Chandler knocked Hamilton from the playoffs last year.
The victory was more satisfying especially considering the final 0.4 seconds of regulation.
Hamilton appeared to have the game wrapped up at that point with a 39-37 lead after Chandler's Adrian Chandler and Kelly missed a shot each as time wound down. After a scramble for the rebound, on the last miss the ball went out of bounds possession to Hamilton with 0.4 to go.
Hamilton got too excited and at least one player ran onto the court and that precipitated a technical foul on Hamilton for a player coming off the bench. After the officials huddled to determine the call, Chandler sophomore Carson Kelly went to the line and sane both free throws to tie the game. Chandler also had a final possession, but Adrian Chandler's shot at the buzzer was off the mark.
Hamilton didn't let the last 0.4 get in its head. Jamar Brown and Malik Whitaker scored for the Huskies in the first 35 seconds of OT. for a 43-39 advantage. Hamilton's lead was never less than three in the extra session. Chandler was reduced to fouling the final two minutes and Hamilton made 11 of 14 free throws to close it out.
Whitaker scored eight of his game-high 18 points in overtime. Stocky senior guard Tyler Curvey added 12 points essentially operating as the Huskies' post-up player. All of Curvey's second-half buckets (three) were posting up.
Chandler, which relied heavily on its starters all season, was led by Kelly (10 points), Vean Simon and Isaiah Somers (9 each) and Chandler and Carl Wilson 8 points apiece. Simon fouled out in the final minute of regulation and Somers did the same in the final minute of OT.
---