The Protégé
February 20, 2019 by Tyler Dunn, Arizona State University
---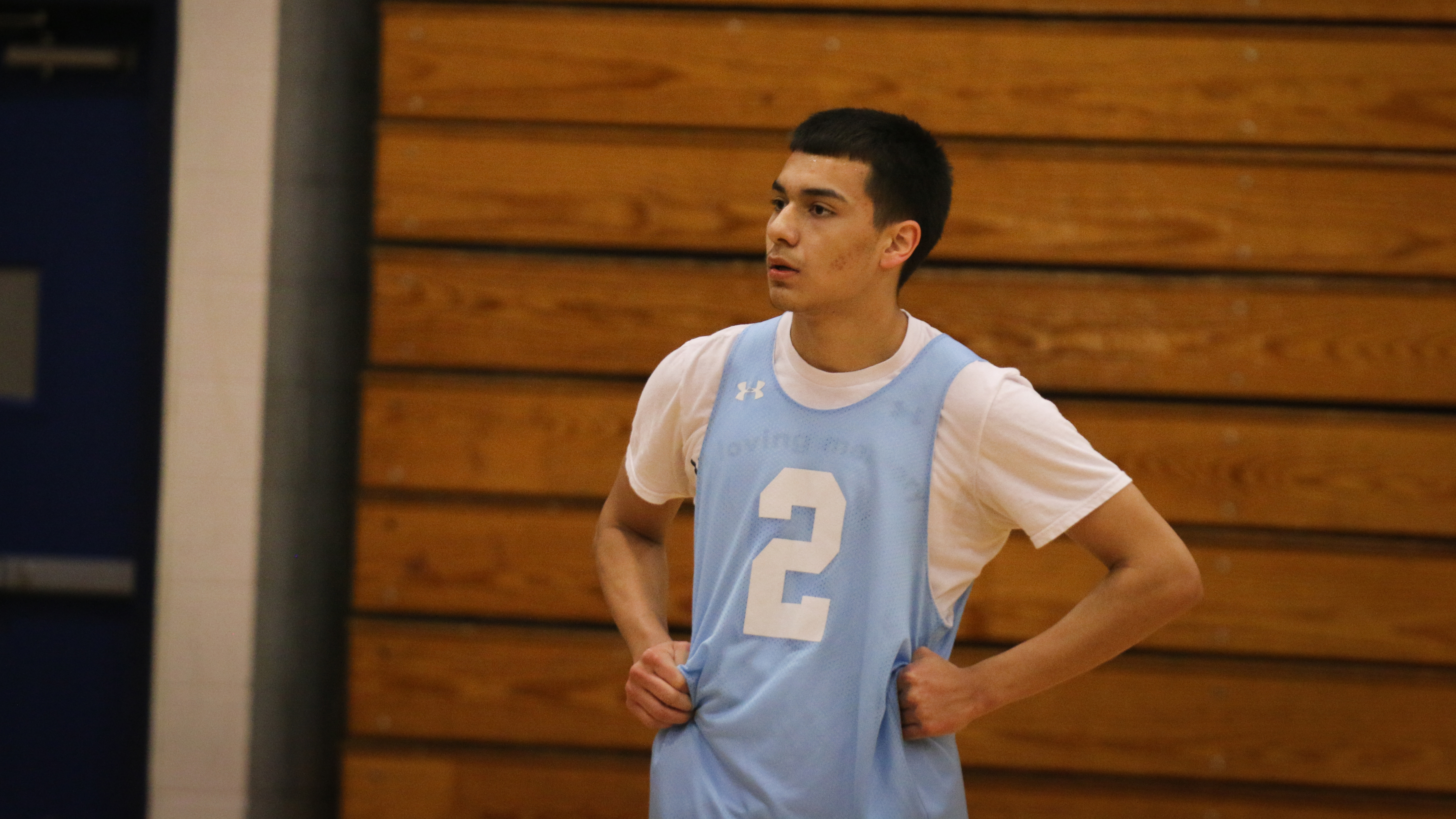 "Right here, right on that court right there," Jed Dunn said, pointing to the Deer Valley High hardwood he has coached on for the past 11 years.
"He would be over in the corner when he was like in the fifth or sixth grade when I coached his brother," Dunn said of his star pupil, senior point guard Johnny Diaz. "He'd be over there with the ball dribbling, and I knew then like, 'I'm gonna be coaching that kid.'"
What Dunn couldn't have known then is how close the two would grow to be, a relationship born and fostered on that court.
"He and I are connected," Dunn said. "You know, I love all my players. But he and I are more connected than most. We spend a lot of time together."
On weekends, Dunn will often get a text from Diaz for a game of one-on-one. It's a game that's been going on for four years, and there are specific rules.
"He gets unlimited dribbles," Diaz said.
"No, no, no, no, no, no, the dribbles are the same," Dunn interjected. "The difference is I get the ball when I make it and he doesn't."
Dunn maintains he has the lead on Diaz, but at 46 years old, he would like to keep it that way.
"This year he's up, I think, two or three, but over the course of four years, I'm definitely up," Dunn said. "And I'm not playing anymore because he'll just keep getting better and I'll keep getting older."
Dunn and Diaz are a fitting pair. A point guard on the 1990-91 University of Akron team, Dunn stands about 5-foot-7, same as Diaz. But watch them in practice and you'll see them stalk around, barking instructions like the biggest men in the gym.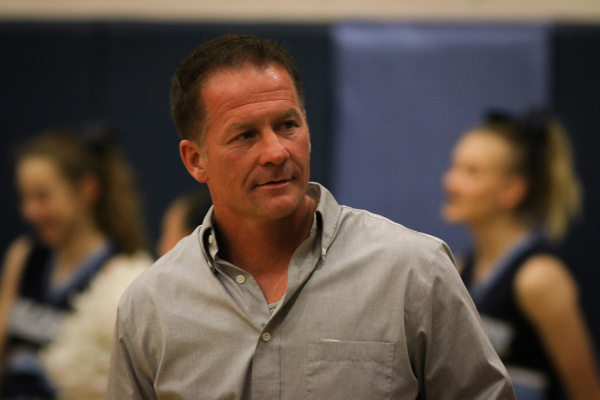 Coach Jed Dunn, in his 11th year atop the Deer Valley coaching staff, has his team deep in the playoffs for a second consecutive season. (Photo: Tyler Dunn/AZPreps365)
Dunn jokes that Diaz walked onto the court as a freshman thinking he was the best player on the team. He's not shy on bravado, is the point, but those close to Diaz say he has always just been a kid who's loved basketball. And by all accounts, he puts in the work.
"Grinds every day, up at 5 a.m., gets to the gym," said Michael Romero, Diaz's brother-in-law and Skyhawks front-row regular. "Gets up a couple shots before practice, in between practices get shots in."
Taking the Baton
Last year, the No. 1-seed Skyhawks were primed for a 5A state championship. The team was led by senior forward Bryce Davis and a trio of senior guards, and with a roster of plucky juniors behind them, Deer Valley jetted to a 26-2 record heading into the title game.
But things got away from them. The Skyhawks lost in a gritty game, 45-35, to Sunnyslope, who repeated as state champs.
It's understandable to think the Skyhawks missed their best opportunity at a title. Davis now plays for the University of the Incarnate Word, and by Dunn's own admission, last year's squad had more firepower than the one he coaches now.
But it's hard to quantify the value of experience, or the motivation taken from such a sobering loss.
The memory has left a mark on Diaz, who says he was in the gym every day last summer for what he knew would be another deep playoff run.
It would seem he spent his time wisely.
Diaz is Deer Valley's top scorer and facilitator, the engine that makes this version of the Skyhawks really purr. The offense is built around him, and when it gets going, it looks something like Isaiah Thomas's 2016-2017 Boston Celtics.
Like Thomas, he's as comfortable driving into much larger bodies inside as he is taking a three. He's been known to whip no-look passes to his teammates, and after an especially spicy finish, likes to flex his triceps as he swaggers for a few steps up the court.
He is Deer Valley's only real ballhandler, a true floor general, a maestro orchestrating from the top of the key.
"After all the seniors left last year, he picked up all the slack," senior forward Jalen Allen said of Diaz. "He's a good leader. Great scorer. Best leader on our team by far."
"The Little, Dirty Work"
The day before the Skyhawks played St. Mary's in the second round of the 4A state tournament, the mood was serious in the Deer Valley gym. The team was, at that time, 21-4, had won nine straight, and was the No. 2 seed in the conference.
They'd beaten No. 15-seed Saguaro handily in the first round, after which Diaz — still amped from the win and his own 26-point contribution — referred to Dunn as the "best coach in the state, hands down."
Diaz could well be right. His players, so many of them well-seasoned and fine-tuned, rotated cleanly through drills.
But when needed, Dunn stepped in. On this day, he was the maestro.
"Get your hands active!"
"That's a five-point swing because you didn't box out!"
After practice, Dunn spoke highly of St. Mary's and the team's coach, Damin Lopez. Forget the seeding, he said: this game would come down to toughness and experience.
Coach Jed Dunn runs a focused Deer Valley practice, with senior Johnny Diaz often acting as a player-coach on the court. (Photo: Tyler Dunn/AZPreps365)
As it turned out, Dunn was downright prescient. St. Mary's returned every blow the Skyhawks delivered for much of the game, and coming out of halftime down just two, the Knights went all out to stop Diaz, double-teaming him every chance they got.
It worked, until Diaz unleashed a new tool from his bag in the fourth quarter: moving without the ball.
"I told him to become a screener," Dunn said. "They're not going to show help off of that so if you set a screen, that should be open for a shot."
Dunn's coaching counterpunch worked to perfection: in the game's waning minutes, do-it-all seniors Malcolm Jackson and Ethan Cashion showed their mettle with some of the most impressive plays of the night. Deer Valley pulled away to a 67-52 victory.
"This year we have 11 seniors and there's like seven or eight of them that all do certain things on the floor," Dunn said, reflecting on his past two Skyhawk rosters. "They're not going to give you 20 points — Johnny's our main guy with that — but all those guys are going to give you rebounds, charges, the little dirty work."
The Sequel
Diaz wasn't the focal point of the offense down the stretch against St. Mary's. But as he made his way to the bench with just over a minute left, Dunn seemed to seek him out, hugging him first before anyone else could reach him.
For Diaz, and his 10 fellow seniors, that was the last game they will ever play on Deer Valley's court. At 4 p.m. Friday, for the semifinals against No. 11 Catalina, they will play at Grand Canyon University Arena. If they advance to the finals, they will play the following day at Gila River Arena.
"He knows that it's getting close to the end and so do I," Dunn said. "So it's been pretty emotional."
Dunn says he and Diaz have talked about the close of this chapter, one that started with a young kid dribbling in a corner, one that's finished with him finding "a second dad" in his coach.
"Our relationship is deep and deeper than anyone that I've coached here. It's because I'm able to coach him hard," Dunn said. "Generally, what happens is when you can't coach a kid hard, you stop coaching him. I can get on him about anything and it doesn't affect his game. That's why our relationship is the way it is."
Diaz hopes to continue on with basketball after graduation, having already received offers from at least five Arizona junior colleges. But first, he has one, and just maybe, two more high school games to play.
"We didn't finish last year and we still didn't do anything this year," Diaz said. "I want to finish the job."
---