4A Girls Soccer: Salpointe beats Catalina Foothills 2-1 in overtime to win championship
February 21, 2019 by Andy Morales, AZPreps365
---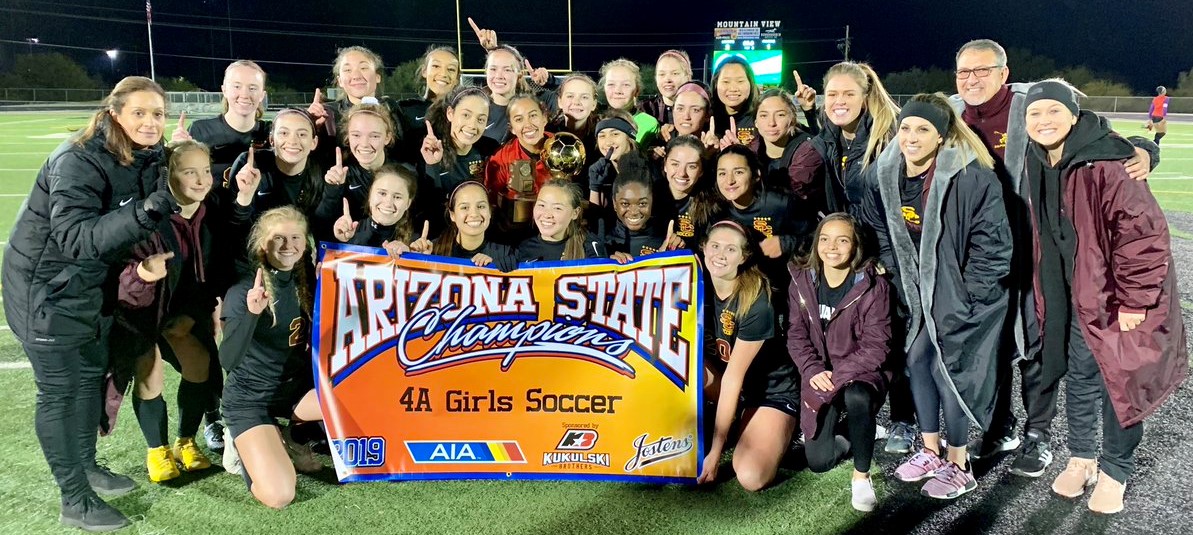 The numbers tend to run by like a blur whenever two of the state's most storied programs play each other in a state championship match and Wednesday night at Mountain View Marana proved no different when No. 3 Salpointe beat No. 5 Catalina Foothills 2-1 in overtime to win the 4A state championship. That final number fails to tell the complete story.
Salpointe (17-2) is on an incredible journey that includes four straight final appearances resulting in three straight championships. It was the first time a big school captured three straight soccer titles since Catalina Foothills completed the task. Technically, the Falcons brought home four titles in a row from 2010 to 2013 but that just gives the Lancers something else to shoot for.
@schsgsoccer @SalpointeLancer 4A state champions #AZPreps365 pic.twitter.com/6I2aa8aPO4

— Andy Morales (@AndyMorales8) February 21, 2019
Oddly, although it was the seventh state championship in Salpointe history, head coach Kelly Pierce became the first coach in program history to win multiple state championships. In fact, Pierce joins an elite group of three coaches from Southern Arizona with more than one title to their name. Former Catalina Foothills coach Charlie Kendrick leads all with seven, Alesha Kientzler won one with Salpointe and another with Sabino and Pierce just collected her second….as a coach. Pierce also collected two as a player, under Jill McCartney in 1998 and Kientzler in 1999.
"To be honest, I appreciate these last two championships more because it's hard to understand what this all means as a young player," Pierce said on the difference between winning as a player and as a coach.
"I'll remember this team for their heart and their grit," Pierce added. "They peaked at the right time and it was hard to play against girls you play club with. It's hard, but also fun. Not fun as a coach, but fun as a player. I can't take anything away from Catalina Foothills that's a really good team with some of the best players."
The Lancers sport seven seniors who have played in four state championship matches including standouts Kalista Kakou, Kate Connelly and Grace Kaufman-Fuller and Catalina Foothills (16-7) has three seniors who have played in the three semifinals and one state championship match, including one of the best players to come out of Southern Arizona in Tatianna Lizarraga, but this game was set off by a freshman in overtime.
Maci Brenier put the Lancers up 1-0 in the 85th minute, seemingly ending a flurry of scoreless action defined by excellent goaltending by Falcon sophomore Flavia Burrell. Burrell withstood a constant barrage in the second half to keep the Lancers at bay but Brenier broke through like a dream.
@schsgsoccer Macy Brenier freshman scores first goal tonight #AZPreps365 pic.twitter.com/XGd4hScVAW

— Andy Morales (@AZPreps365Andy) February 21, 2019
"I grew up wanting to be at Salpointe," Brenier said. "This has been my dream since I was so little and it came through tonight. I'm so excited."
Brenier's dad, Joe Bernier, is an assistant football coach at Salpointe and her mother, Jaime Brenier, coached the Spiritline at Salpointe and is the current Cheer and Mascot head coach at the University of Arizona.
The joy at the north end of the stadium didn't last long because Hannah Draper took an Ellie Robinson offering and headed it home to tie things up barely moments later, causing a celebration at the south end of the stadium.
Then, as both teams started to scramble and prepare for the second overtime period, sophomore Anissa Fernandez took a corner kick that had eyes of its own and was ultimately deflected off the far post into the net with 20 seconds left in the first overtime to give the Lancers a 2-1 lead they would hold for the final ten minutes.
As noted before, this was the third deep run for the Falcons in the last four years, all under the direction of head coach David Lemon. The team started the season out with a 3-5 record that helped lead to a low power-ranking, but that didn't last long.
"We were counted out early on," Lemon said. "After the Christmas break we went on a 12-game winning streak but you can tell they are two-time state champions and we are still trying to figure this out."
The massive win streak included victories over top-ten teams Canyon del Oro, Sahuaro and Salpointe that led to an undefeated record in the most difficult region in the state (4A Kino) and ultimately a No. 5 seed in the playoffs.
"We could have thrown in the towel after our start but they just fought back, beat Flagstaff and the top-ranked team in the state (Thunderbird) to get here and Salpointe was just better than us tonight."
The Falcons defeated No. 1 Thunderbird 4-0 in the semifinal round last Saturday and the Lancers took out No. 2 Arcadia 4-0 in the bottom half of the bracket, proving the top two trophies in the state belong in the south.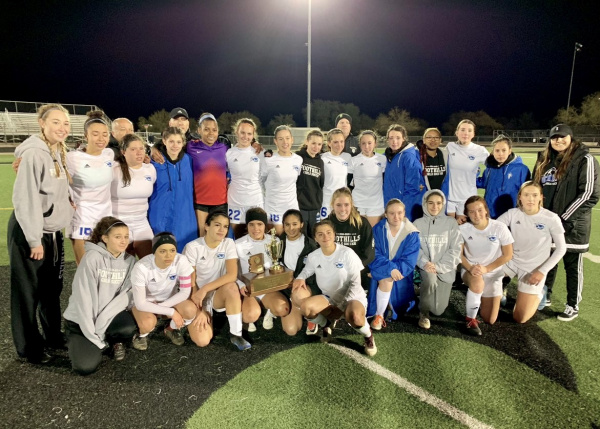 Catalina Foothills (Andy Morales/AZPreps365.com)
---