Pinnacle stunt team heads to nationals after missing states due to injuries
February 21, 2019 by Brie Peters, Arizona State University
---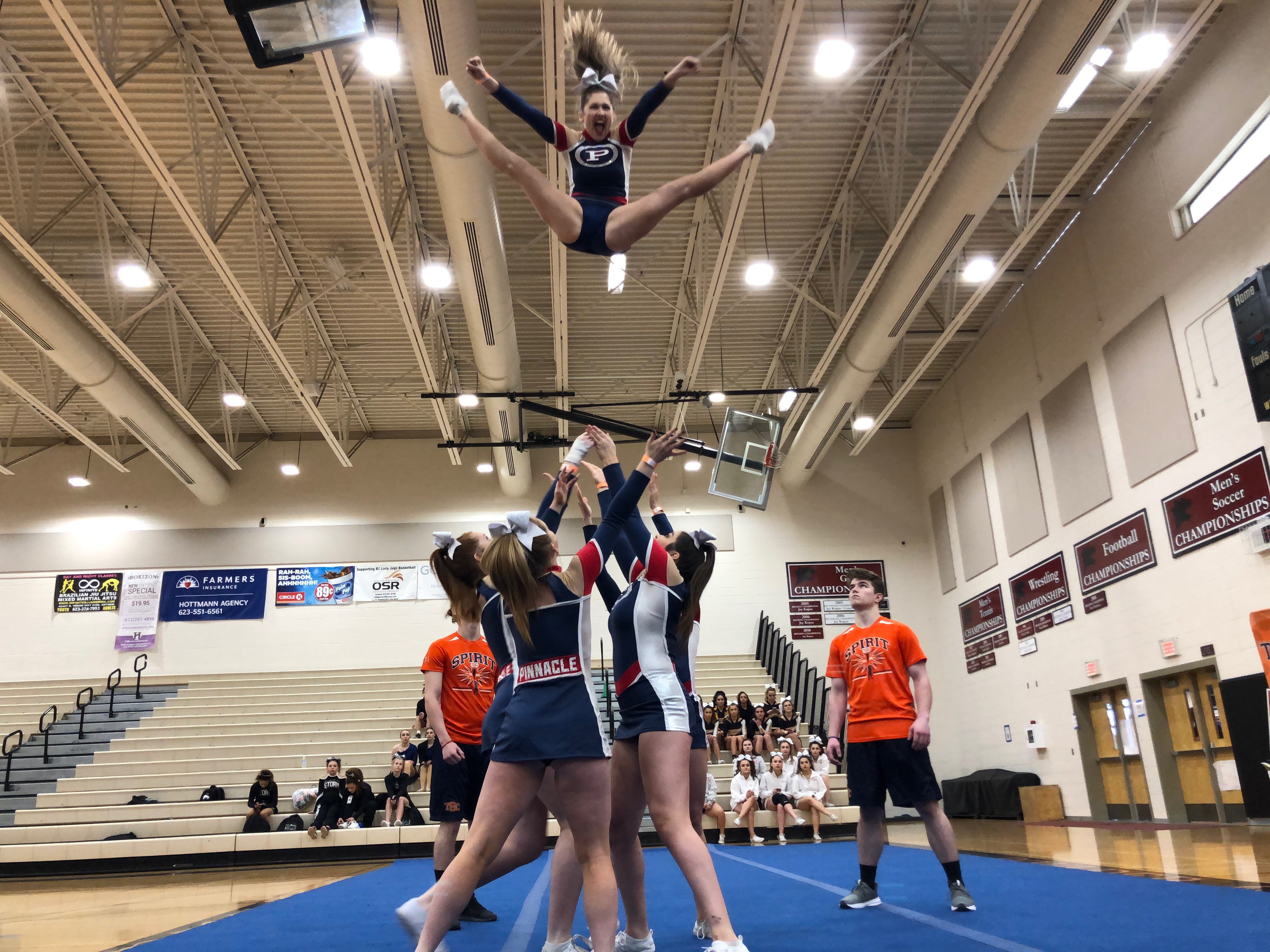 When people see cheerleaders, they see the show: the big bows, puffy pompoms and glitter. What they don't see are the injuries the girls are susceptible to when they hit the blue mat.
Foot injuries. Six concussions. A shoulder and back injury. They all forced the Pinnacle stunt team to miss the AIA State Spiritline Championships.
"It's hard to see girls getting injured," said senior main base Kate Schlesinger. "But it's been nice being able to push through it and be successful."
A healthier team takes aim at the the nationals this weekend in Anaheim, California.
"It makes the success more worth it and feels better knowing what we have been through and how far we've come ," said Madison Rader, a senior side base. "It's crazy to think that the routine that we are performing this weekend at nationals are what we're putting out there with what we've been through this year."
All five team members have been injured at some point during the season.
"There's a wave of concussions where all of a sudden, everyone got concussions in one month, but there are also girls who've had personal injuries since being on the team and they just get progressively get worse," said Rader.
Cheerleading is ranked highest in female sports for the number of catastrophic injuries, second overall in all sports, according to The National Center for Catastrophic Sports Injury Research at University of North Carolina.
"Being a cheerleader, it comes with injuries. You just have to expect it and everything we do is accident prone," said senior flyer Kenzie Sibbach.
"People think it's just for show," said Emily Shreiner, a junior flyer. "They don't know how hard we actually work and how many injuries come with all the hard work that we do."
Added Rader: "Even when you do everything right, freak stuff happens."
Schlesinger said careless mistakes cause most of the injuries. "It will be the simplest thing. You can hit the hardest stunt ever and it will hit perfect, and then you will be setting them down and they will twist their ankle. It never happens during the hard stuff."
The Pioneers have had to switch flyers the day before a performance due to the original flyer injuring an ankle.
The most serious injuries have been the concussions.
"It's different for everyone," said Rader. "Even if you feel fine, if one more thing happens to them then their previous concussion comes back worse. We try to push them and it's hard to find the line in between push through it, and knowing they medically can't. Not any one person can say whether you're good to go to back in because it's iffy - it's your brain. You have that for the rest of your life, whereas this ends."
The injuries also take a mental toll.
"After all the injuries, you just get more and more defeated after each one," said junior backspot Hannah Borland. "It takes more and more to come back after each injury, like as a team as a whole. It's a team sport, so one injury, in specific, really affects the whole entire team because in cheer, if one person goes down then you can't put a stunt up. So basically, after all the injuries, being able to work as a team, and not be as defeated is the most difficult."
The sport requires a high level of trust. Flyers are literally putting their lives in the hands of their bases and backspot. With each injury, it's back to having to build that trust.
The Pioneers remain optimistic about their performance at nationals, even though they didn't have the opportunity to compete at state.
"We've pushed through a lot this year," said Borland. "I feel like after overcoming all of these injuries, it's going to be great to go to nationals and put s routine on the floor that we could have done at state. Now, we get to show it off in front of so many more people."
---