6A girls soccer: Chaparral wins third consecutive title
February 21, 2019 by Les Willsey, AZPreps365
---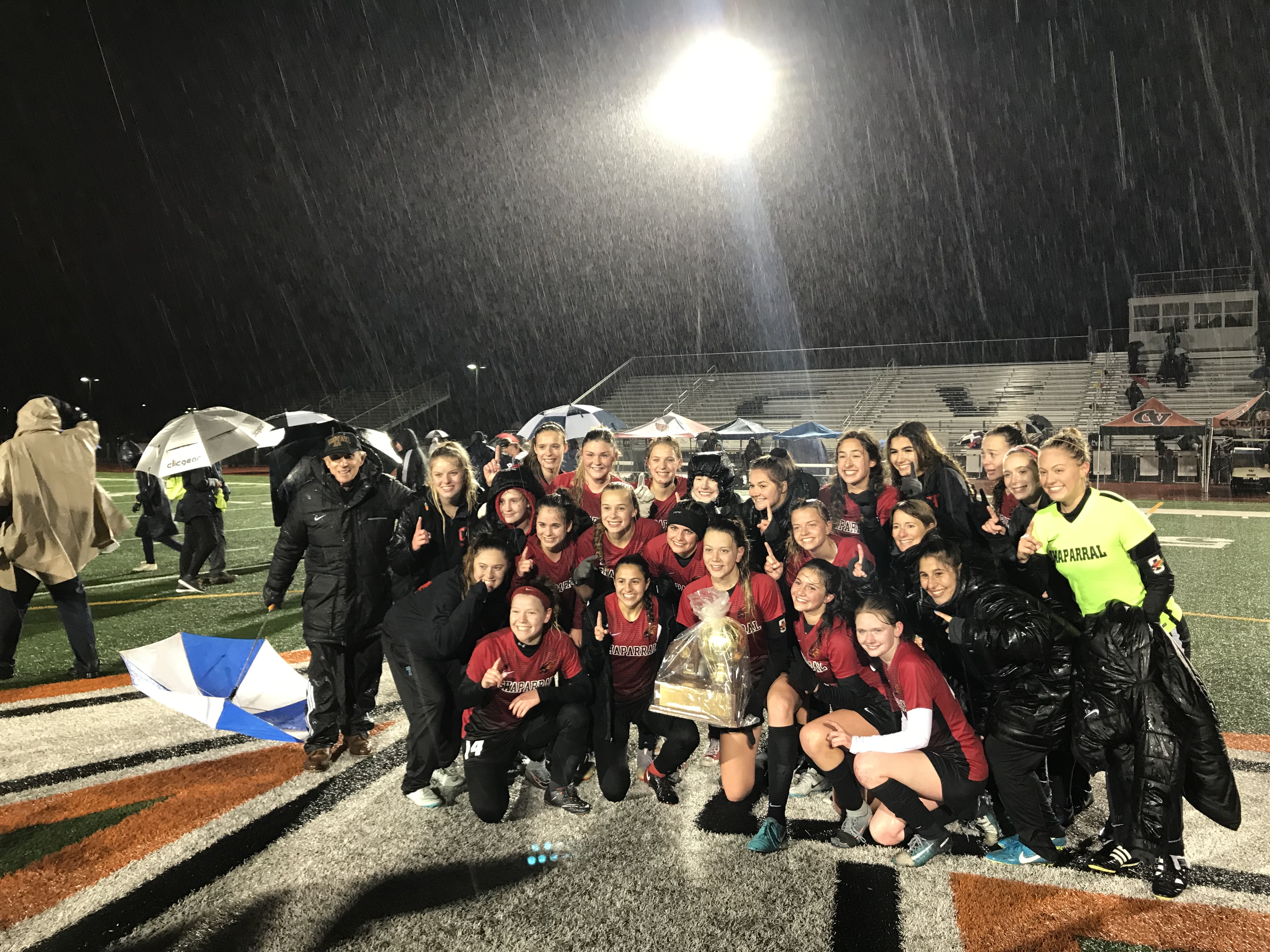 Chaparral brought the aura of championship soccer to its third consecutive championship match Thursday night. The aura shone bright despite rainy, bitter cold conditions at Campo Verde High School.
Senior Keely Bond cracked Perry's nearly invincible defense with both Chaparral goals and the Firebirds walked away with a 2-1 victory over the Pumas to win the 6A title and its third in a row.
Chaparral (21-2-2) proved in the tournament it could win in different ways. The Firebirds won 5-1, and 4-2 in the first two rounds, won in a shootout giving up one goal in the semis and coming within a minute of a shutout in the title game.
Perry lost for the first time this season to finish 22-1-3. The two goals it allowed doubled its season total coming into the match. Doesn't seem like the numbers of a state runner-up. Yet the Pumas finish runner-up for the second year in a row and third time in the last six.
Chaparral coach Robyn Carlson didn't think the move up a conference this year was a mountain her team couldn't climb even when the season began. The Firebirds two titles prior came in 5A.
"It doesn't matter," Carlson said. "There are good teams in 5A and 6A. You're always going to be challenged. This team almost always was able to do what was needed to win against our opponent."
The match began going Perry's way as possession time was solidly in its favor in the first half, but the game's first goal made it otherwise.
Chaparral led 1-0 at halftime thanks to Bond's shot that connected in the 23rd minute. Bond received the second of two touches from teammates and penetrated a small crease down the middle between three or four defenders from 15 yards out. It was only the second goal Perry allowed all year in 26 matches.
Chaparral's defense, sturdy in the first half was much the same in the second not allowing many chances despite Perry's ball control. If the cold and rain wasn't a back breaker to the team trailing 1-0 as time ran down, Chaparral's second goal in the 62nd minute seemed to do the trick.
Bond again tallied on a header off a corner kick from Chloe Steinhilber. That set piece was set up by a free kick from 25 yards out on a hand ball foul by Perry.
Perry averted a shutout by scoring in the final minute with Mikella Reed finding the back of the net with Chaparral possibly focus as time ran short and celebration danced in their heads at their end of the pitch.
---