3A girls hoops: Page repeats as champ with strong finish
February 23, 2019 by Les Willsey, AZPreps365
---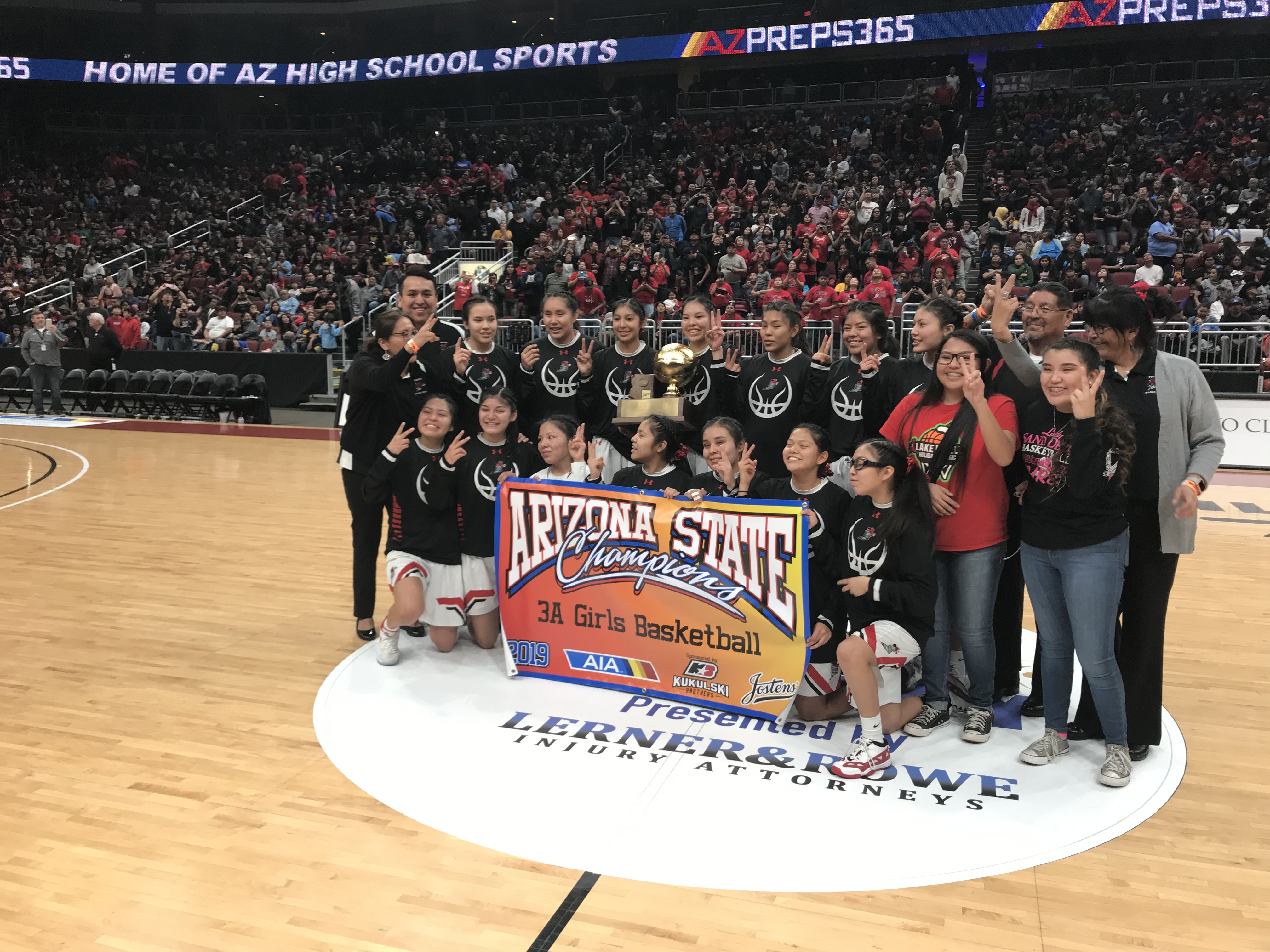 Defense is what makes Page and Holbrook roll and both played very well in that regard in their 3A girls title game Saturday at Gila River Arena.
The ultimate difference came in some fundamentals and Page's uptick on offense in the final period as the second-seeded Sand Devils outlasted No. 4 Holbrook, 46-33, to win repeat as state champ. Page has won six state titles in its history and been runner-up seven times. Holbrook was playing in the school's first girls hoops title game in its history.
"It was two good defenses coming together," Page coach Ryan Whitehorse said. "It came down to who wanted it more and who was more patient on offense. We were more patient the last quarter and let the game come to us. I think we had a little more energy at the end. I've told our girls great teams don't get tired."
Page (27-4) led the entire game - 9-5 after one, 16-11 at half and 26-20 through three quarters as the final score wasn't indicative of how close it was the majority of time. Page executed its offense more often than not in the final eight minutes and that took a six-point lead to 10 with four minutes left and Holbrook could not catch up
Six different players had a field goal in the final period for Page, which made 7 of 10 shots in the period all in half-court sets. Each starter was in that mix -- Camryn Nockideneh, Amy Yellowman, Mikala Bennally, Torrance Begay and Myka Taliman.
Page also was more adept shooting free throws. The Sand Devils were 13 of 20 (65 percent) while Holbrook (26-5) connected on only 7 of 19 (37 percent).
Bennally led Page with 11 points, nine rebounds and three steals. Yellowman added nine points and Nockideneh and Miquedah Taliman off the bench had eights each. Had Page's Meagen Fuller not made a three-point shot in the final 10 seconds the Sand Devils would have won without netting a three. They only attempted six.
"They are very good on defense," Holbrook coach Greg Perkins said. "We know that from all the times we've played them. They beat us at the free throw line. We had our chances. But you have to beat them. They don't make mistakes."
Holbrook's leading scorers this season have been junior Madison Chappell and sophomore Matehya Aberle at 11 and 10 points per game, respectively. Chappell finished with only two points - both from the free-throw line and was 0 for 9 from the field. Chappell grabbed a team-high 13 rebounds, had 5 steals and three assists. Aberle led all scorers with 14 points.
---