6A girls hoops championship: Hamilton defeats Xavier for second title
February 26, 2019 by Les Willsey, AZPreps365
---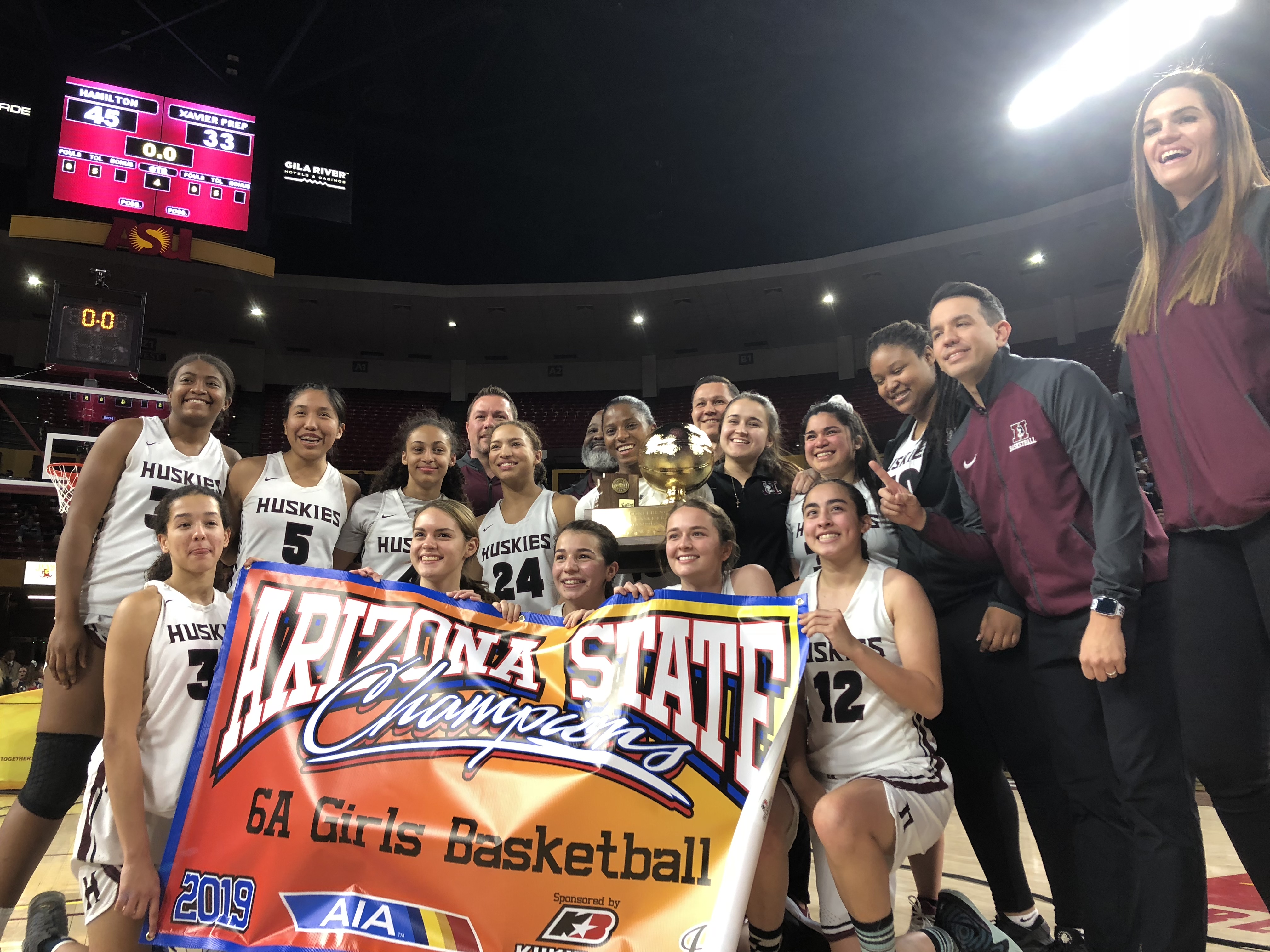 You never knew who was going to step up for Hamilton's girls basketball team on a given night this season because there were too many players in the mix that could.
Sophomore Amyah Reaves was one of the headliners Tuesday night scoring 12 points, grabbing seven rebounds and handing out four assists as the top-seeded Huskies defeated No. 2 Xavier Prep, 45-33, for the 6A title at Wells Fargo Arena.
Hamilton closed the season 26-5 in winning its second title in four years. Both are under current coach Trevor Neider, who took over the program in 2016. Xavier Prep finished 28-5 in taking home runner-up honors for the second year in row and fourth time in its history.
Reaves tied her season high in points and was steady with her game throughout. One of Hamilton's few seniors, Raelin Denning, is part of both championship teams. She played her final game to the tune of nine points and 10 rebounds.
"Winning two (titles) is amazing," Denning said. "I was a freshman when we won the first time so this one is better being able to play a lot and contribute."
Hamilton led all but 1 1/2 minutes of the game, but trailed once in the third period, 24-23, after a three-point play by Leilani McIntosh ending a brief run by Xavier with 3:54 left in the third quarter.
That lead lasted 40 seconds when Huskies' reserve guard DeShay Martinez swished a three from the left-baseline corner. That bucket began a 7-0 run and pushed the lead back to six where it didn't sway the rest of the way.
Xavier's top two scorers -- point guard Leilani McIntosh and wing Addie Putnam - were held in check. Hamilton's primary focus was on McIntosh.
"Our plan was to keep Leilani out of the paint and get rebounds," Neider said. "We hit some big shots when we needed them, and the defense was solid as it has been all season." Hamilton won the rebounding battle 44-32.
McIntosh totaled five points (4 of 13 shooting) and did not score until the six-minute mark of the third quarter. Putnam scored six points, but also had a tough night from the field (2 of 9). Paris Rasheed-Moore led Xavier with 13 points and 12 rebounds and she, too, struggled from the field (4 of 13).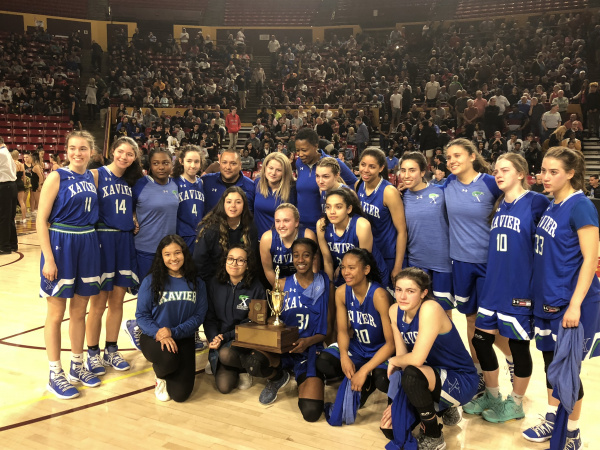 Hamilton ended up with a large advantage from the free-throw line (17 of 29) while Xavier was 6 of 10 for the game. Xavier was forced to foul in the final 90 seconds leading to 12 Hamilton free throws in the final 90 seconds.
Xavier coach Jennifer Gillom conceded it wasn't the Gators' night.
"We couldn't get shots to fall and not many calls," Gillom said. We got outrebounded and that made it hard for us to do what we wanted to do. We got into foul trouble and it made hard to play defense."
Junior Victoria Davis, the Huskies top scorer for the season at 11 per game, added six points , six rebounds and three assists. Sophomore Graciela Roybal checked in with eight points and most of her damage done at the free-throw line. Lots of contributions from a team nine to 10 players deep when totally healthy.
Both titles are speciall from Neider's vantage point.
"I think we had a little more talent the first time," Neider said. "This team once they bought in they worked and did what we asked."
Hamilton owned a 44-32 edge in rebounding and its defensive work limited Xavier to 26 percent shooting and just 3 of 22 from three-point range.
---