6A boys hoops championship: Pinnacle rises to its name again
February 26, 2019 by Les Willsey, AZPreps365
---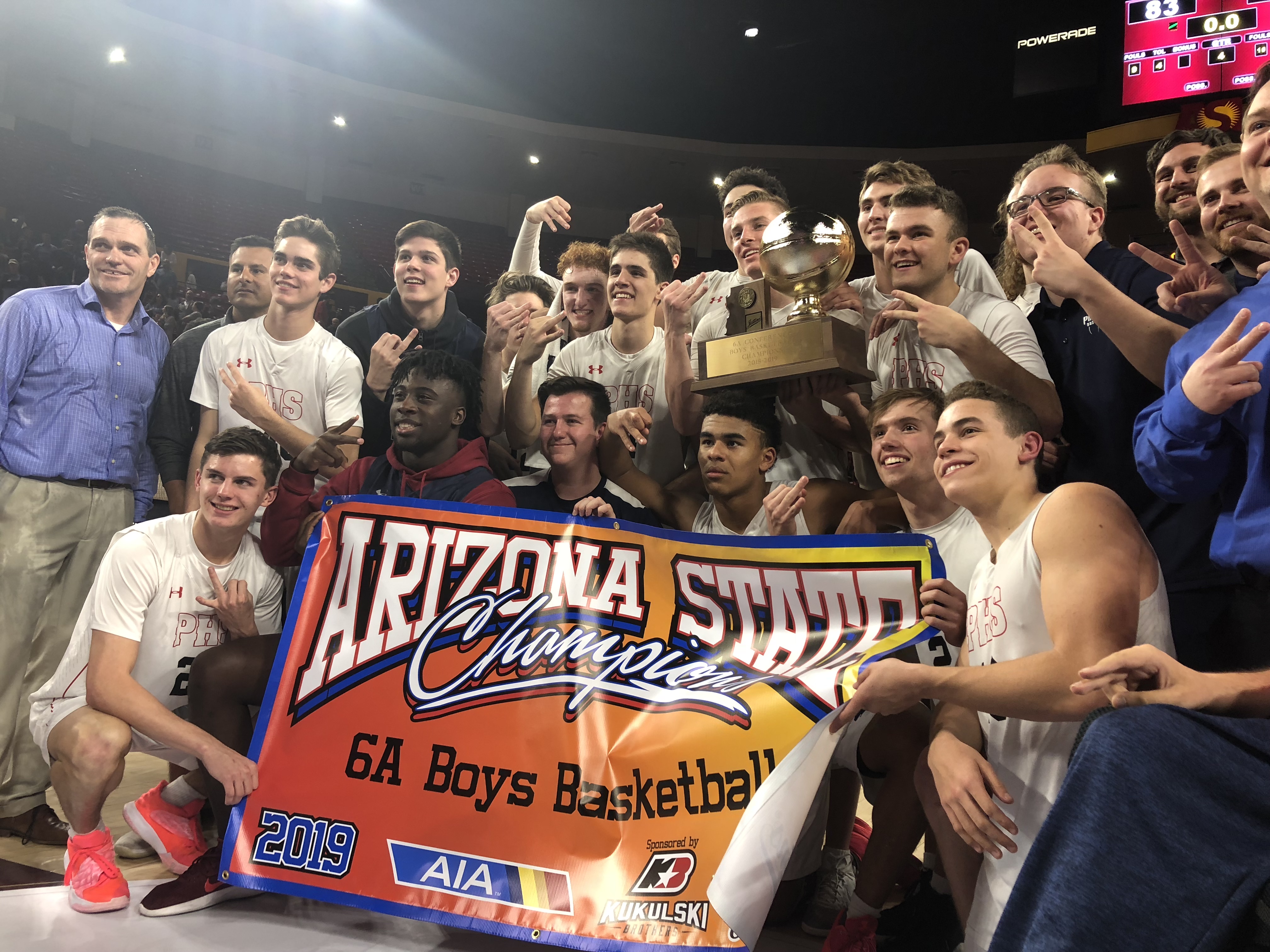 Pinnacle's frustrations early in the decade with back-to-back runner-up finishes to Corona del Sol (2013 and 2014) dissipated last year when it grabbed its first title.
On Tuesday night the Pioneers claimed the back-to-back variety more revered and remembered -- repeat titles.
Nico Mannion completed a briliant, yet truncated prep career with a dazzling at times finale in pacing No. 1 Pinnacle to an 83-64 victory over No. 2 Chaparral in the 6A title game at Wells Fargo Arena.
Pinnacle capped a 28-3 season by beating region-rival Chaparral (22-8) for the third time in as many meetings. The loss prevented Chaparral from winning its first boys basketball title in school history. Chaparral settled for a fourth runner-up trophy. Two of the other three were this decade in 5A-II (2010 and 2011) and the other in 1993.
Mannion, who reclassified to senior status prior to the season giving him just three years in a Pinnacle uniform, poured in 34 points, grabbed eight rebounds, had six assists and made seven steals.
The Pioneers were challenged for three quarters by Chaparral, but the game slipped away as the first minute of the final quarter passed. A 14-3 run over three minutes spelled doom with several turnovers burning the Firebirds.
Turnovers were Chaparral's downfall. Chparral had 23 compared to seven for Pinnacle.
"With the guys we have I don't feel pressure to score," Mannion said. "The run we made was with a lot of guys involved. We always seem to go on a run at some point."
Pinnacle coach Charlie Wilde, who saw his team defeat 5A champ Gilbert and 4A champ Shadow Mountain among their victories, anticipated a battle from Chaparral and wasn't disappointed.
"Chaparral shot it well and played right with us," Wilde said. "Beating a team three times isn't easy. We usually make a run and I was waiting for one. Fortunately it arrived in the last quarter. We're a good transition team and that helped in making the run."
Chaparral began the final period with a three-point play from Micah Burno to cut Pinnacle's lead to 57-54. The first of three Chaparral turnovers keyed the run .
Junior Marcus Libman, who played a game to remember with 19 points and just a few points shy of a season high, collected a steal and flipped the ball to Mannion for a dunk to begin the burst. Libman shot 50 percent from the field overall (7 of 14) and from three-point range (5 of 10).
"It's easy playing with Nico and Trent and these guys," Libman said. "I missed my first couple, but you've got to keep shooting. I felt good and was confident."
Senior guard Trent Brown, struggling with five points through three quarters, followed with only his second trey of the game. Brown totaled 13 points for the game. Keegan Schenk tallied on a layup off a neat Brown assist and the second turnover. Schenk next added two free throws.
Turnover three led to a nifty, scoop layup by Brown and Pinnacle's lead was 71-57 with 4:38 to go. That essentially finished Chaparral.
"We started pressing too much," Chaparral coach Dan Peterson said of the point where the contest slipped away. "We had too many live ball turnovers and they turned them into points. Things just ballooned out on us....
"We came here to win it, but it didn't happen. We can go forward, and learn from it."
Chaparral had four of its five starters connect for double figures and the fifth just missed. Leading the Firebirds was Alem Huseinovic (18), followed by Jordan Josephs (13), Alec Bryan (12) nd Blaise Threatt (10). Burno chipped in eight points.
---