Toros win first game of the season by mercy rule
February 26, 2019 by Claudia Faust, Arizona State University
---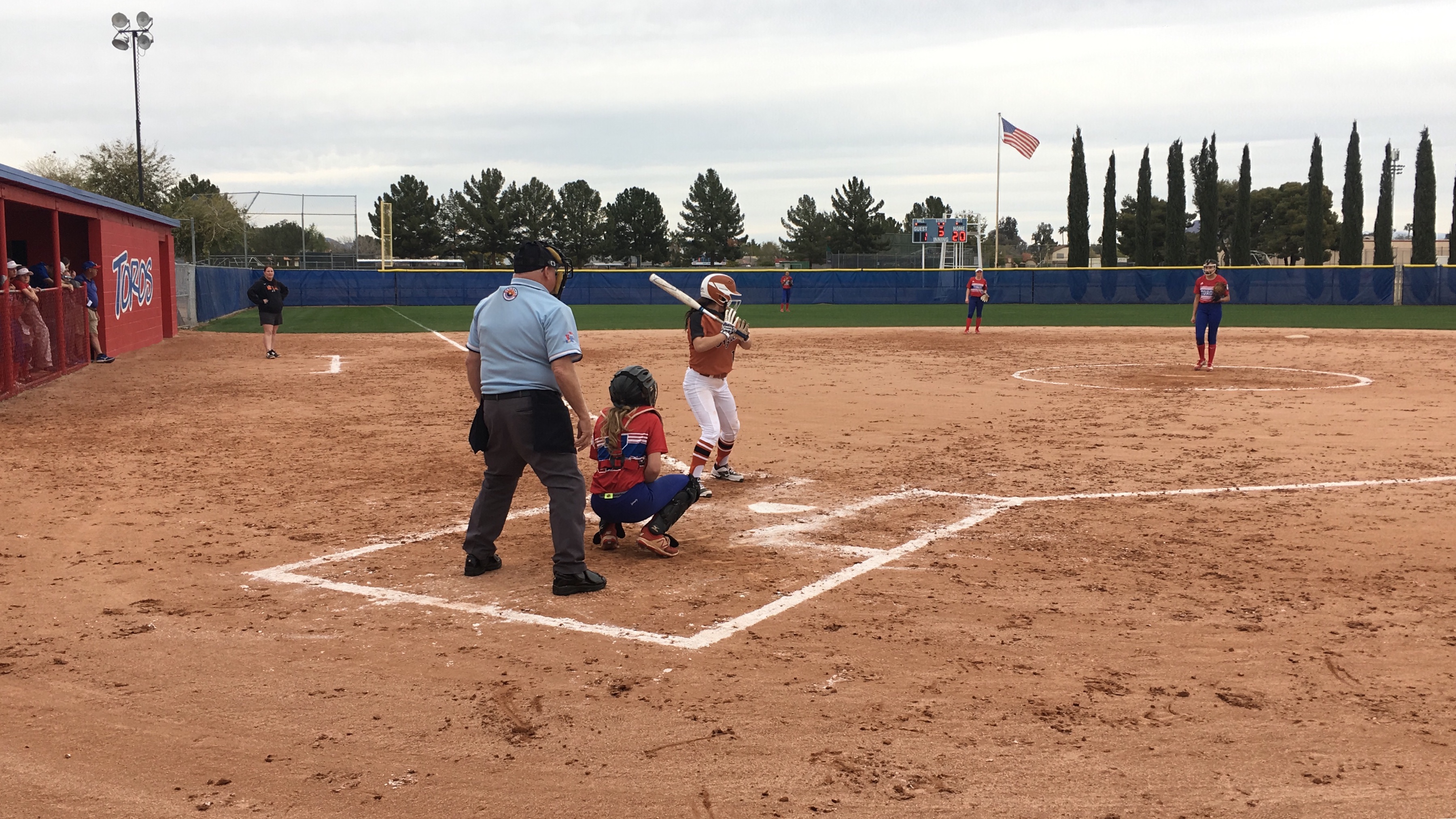 The Mountain View Toros were unstoppable in their first game of the season against Copper Canyon, beating the Aztecs 28-1 by mercy rule on Tuesday.
Aztecs coach Laura Melde knew the team would face a tough matchup against Mountain View. The Aztecs were 1-18 last season compared to the Toros 13-15 overall.
"I think the focus was to find the positive in every at-bat, every play and just moving every single pitch because we're on a softball field and we're on dirt and we get to play ball," Melde said.
Toros freshman Hina Huber was the starting pitcher and earned the win with four strikeouts in three innings of work.
Huber attributed part of her success to her U-16 pitching coach who was watching from the stands.
"Having him here made me think more about what I'm doing wrong and think, oh yeah, I can fix this much easier," Huber said. "I think overall today was really good. I started out a little bit nervous but when I calmed down I got everything alright."
Juniors Billee Lamoreaux and Jaiden Randall each pitched one inning, both striking out the side before ending the game in the middle of the fifth.
Toros catcher Kennedy Newton had the most memorable at-bats of the game. Newton blasted a two-run-homer over centerfield in the first inning and then hit another two-run-shot in the third inning.
"It felt really good and it is a really good start for the season, but I'm ready to keep on going," Newton said.
Newton and senior caption Afton Brown both had five RBIs and senior co-captain Kenzie Fox had three RBIs as a result of two doubles.
"It was good to play a game like this and see what everybody can do in a situation like that," Fox said. "It was more just bonding and coming together as a team cause the next games will be harder."
Toros head coach Joe Goodman was proud of the win but he is ready to move on and focus on the next matchup.
"It's more about focusing on the process, always doing everything right no matter who you're playing. You just do things right," Goodman said.
The Toros will have their first away game of the season against Corona del Sol on Monday.
"I'm really excited for Corona. They're a really good team. Last year they beat us and I'm ready to come back and win," Newton said.
---