Casteel softball wins big in home opener
February 26, 2019 by Bradey King, Arizona State University
---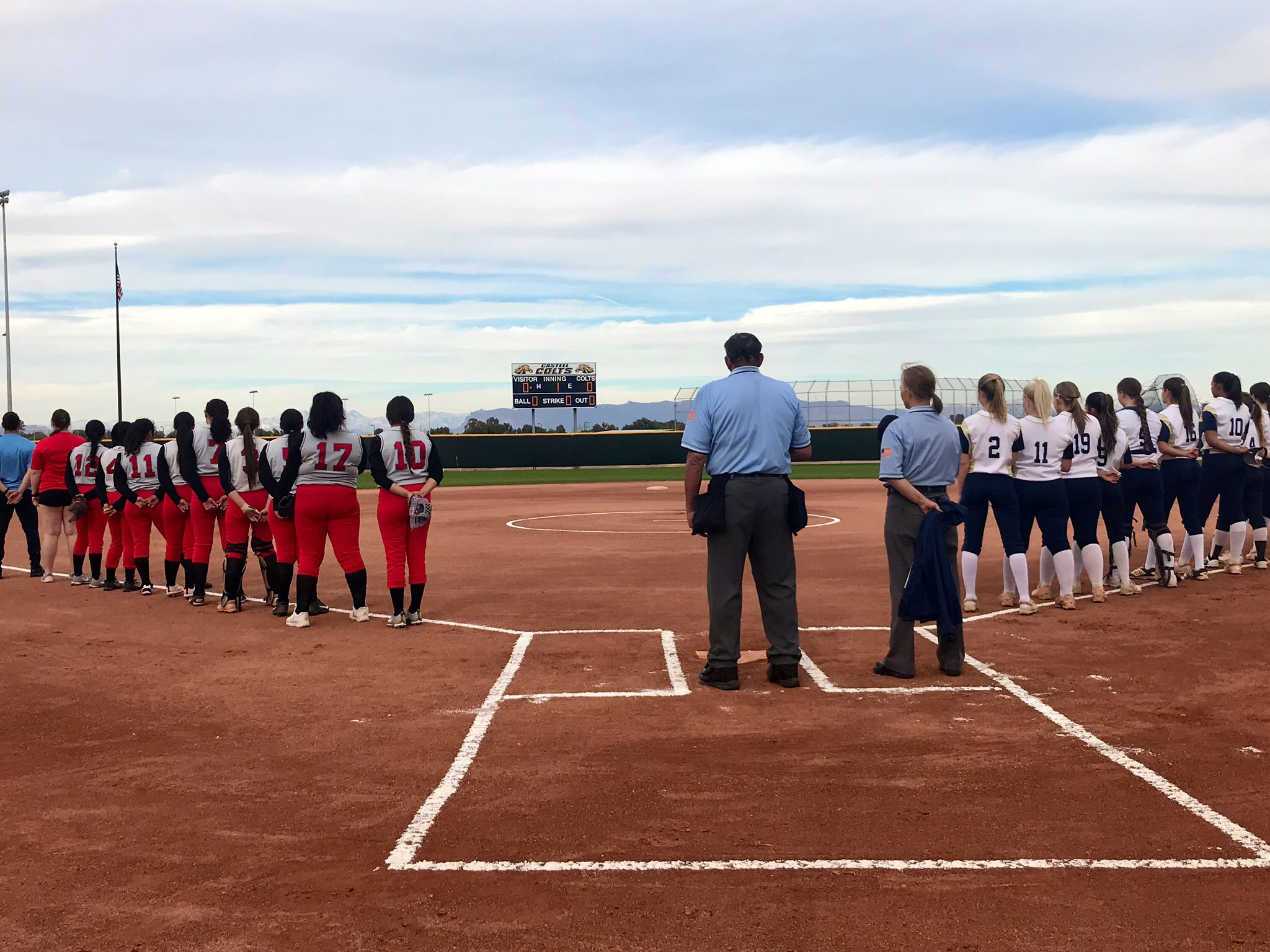 The Casteel softball team had some pep in their step from start to finish in Tuesday's home opener against South Mountain. The Colts run-ruled the Jaguars in five innings, 21-2.
"We're always really hyped for game days because we love the environment," said senior team captain Odalis "Odi" Jackson. "It's really nice to have a group of girls that actually want to be together."
Jackson is just one of the six seniors on the team that will represent Casteel's first-ever graduating class. Casteel coach Doug Hanson said the seniors are setting high expectations for future classes.
"I expect for them to lead and do the job that they've worked hard to get," Hanson said.
Though Casteel certainly has senior leadership, a few sophomores took the reins in the circle. Sophia Lishner started and struck out four of the seven batters she faced in two innings. Kate Wagner threw in the third and tallied two K's. And Lexi Halliburton followed suit, pitching two scoreless innings, nabbing five strikeouts to close out the victory.
The trio combined for 11 strikeouts and gave up just three hits.
While the defensive side of the game was quick and easy, the Colts' patience was tested on offense. The Jaguar pitching staff walked 14 batters, including seven in the first inning, helping the Colts take a 7-0 lead.
"It's good to get the win, it's always good to get the win," Hanson said, "but unfortunately there wasn't a lot of good pitches to hit, so we showed a lot of good patience today."
Lefty power hitter Brinkley Jensen said she was looking for a pitch just remotely close to the zone to hit. And when she finally got it, she crushed it out of the park.
"It felt really good to finally hit one over and get the first one of the season," Jensen said smiling, "I hope to hit more."
A few of Jensen's teammates took advantage of the limited strikes as well. Odi Jackson went 2-for-2 with three RBIs. Right behind Jackson in the lineup was freshman Jenna Kobernick, who also went 2-for-2 with a double and solo home run.
Hope Hanson and Morgan Norris tallied two RBI's each as well.
The big lead allowed Casteel to work on what Hanson calls "the small things," like lead-off timing and pitch selection.
The Colts hope to keep making strides on Thursday as they face the Kellis Cougars at home.
---