Softball: Gilbert final at-bat yields win over Horizon
February 27, 2019 by Les Willsey, AZPreps365
---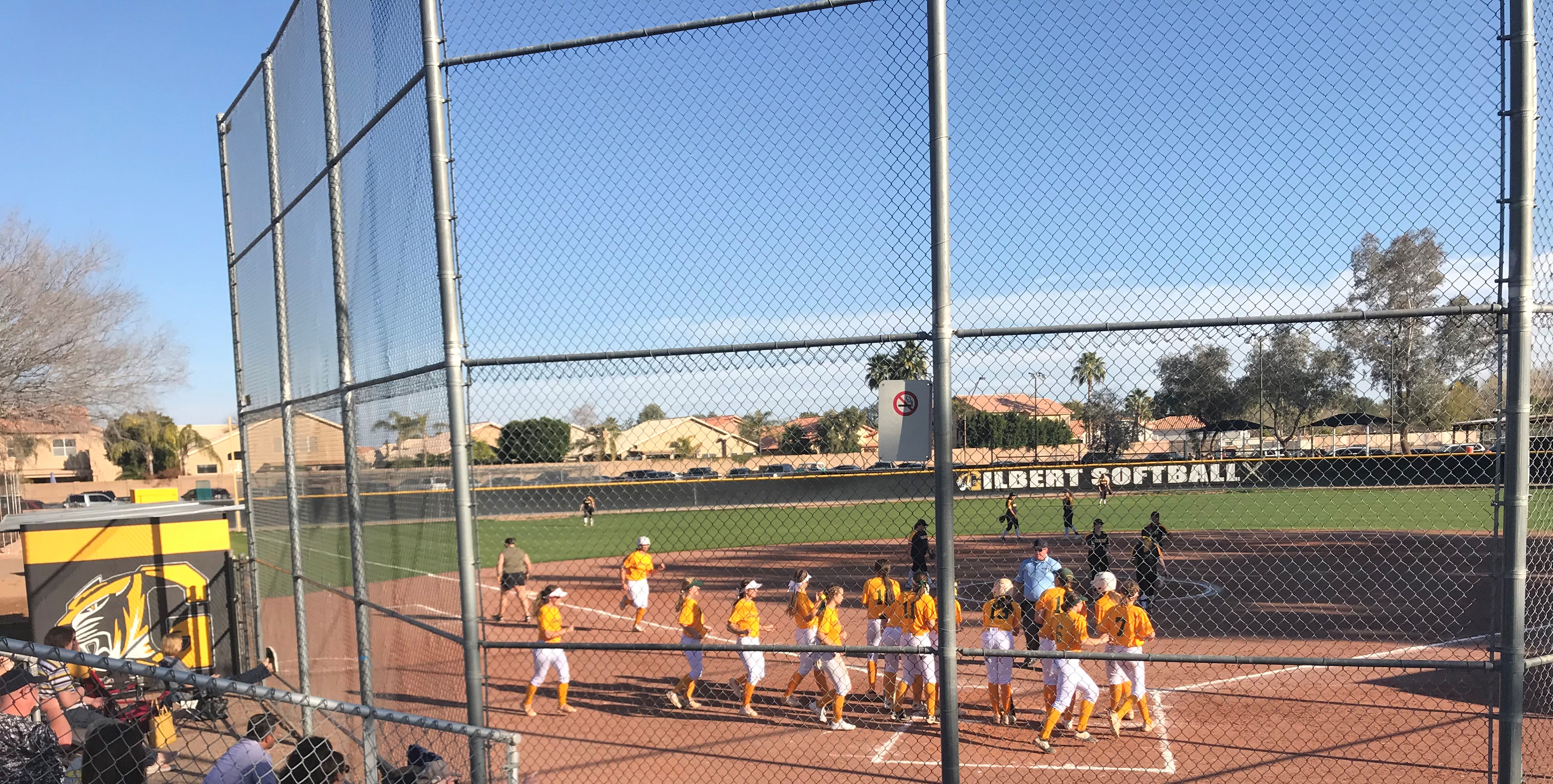 Gilbert's Alli Hall lofted a soft RBI single to left with two outs in the bottom of the seventh to give the host Tigers a somewhat surprising 9-8 victory over Horizon in a 5A non-region game on Wednesday afternoon.
Both teams lost their first power-point games of the season on Tuesday with Horizon falling to Pinnacle, 4-0, and Gilbert lost to Desert Ridge, 4-2.
Gilbert's bookend, crooked-number rallies were the tonic for the win.The Tigers erased a 2-0 deficit in their half of the first scoring five times. What was more satisfying for first-year coach Megan Zebe was watching a bunch of players chip in for the three-run rally in the last of the seventh and the five-run first.
"As a whole we're not going to overpower people," Zebe said. "It's nice to see some freshmen step up and some of our seniors to get this one. I think someone from all four classes contributed."
Horizon's gradual comeback from a 5-2 deficit after one inning looked certain to hold up as host Gilbert came to bat in the bottom of the seventh. Horizon ace Morgan Leinstock came on in relief in the bottom of the first to put a halt to Gilbert's five-run first with a strikeout. Leinstock yielded one run in 5 1-3 innings heading to the seventh with the Huskies now on top 8-6.
Gilbert had other plans. The Tigers pieced together the winning rally using two hits, a walk, a fielder's choice with no out recorded and Horizon's only two errors of the game to prevail.
Sophomore Cami Neal singled with one out to start the comeback. Freshman Jolee Benson tapped a comebacker that Leinstock mishandle and her throw to first was late and high. Junior Kyrstin Calleja slapped a grounder to short and Horizon shortstop Spencer Prigge's relay to second was late loading the bases.
Senior Tai Gonzales bounced to short that Spencer fielded cleanly, but the throw was high allowing Neal to score and cut the lead to 8-7. Leinstock got the second out next with a strikeout. The Tigers tied it at 8 as senior Kenna Prefach walked, forcing in the tying run. Hall ended it with her knock to left on a 1-2 count.
Gilbert had five players drive in runs and seven players managed at least one hit. Prefach, who went the distance in the circle in her first start of the season, drove in two runs as did Brooke Osborn (two-run double in the first), and Calleja (two-run single in the first). Gonzales and Hall had the other RBI.
Prigge, a sophomore, was the standout at the plate for Horizon with two hits, including a booming opposite field home run to left-center. Prigge knocked in another run with a single. Leinstock, who signed with ASU earlier this month, allowed four hits, three walks and fanned six in six innings. She allowed four runs, one earned.
---