Pinnacle ready for the Fawcett finale
February 28, 2019 by Erik Hansen, Arizona State University
---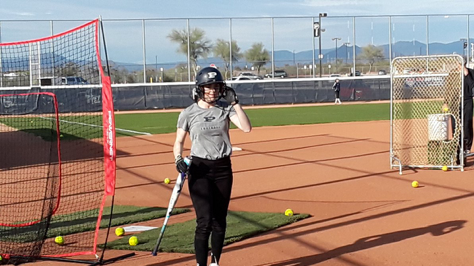 On the southern side of Pinnacle's softball field stands a murky blue storage container. Dubbed "The Snack Can," as it is converted into a concession stand for home games during the season.
The storage container usually has names of snacks and refreshments but now bears the names of who made the JV and varsity softball team.
As the names are wiped down in preparation for the season, one staple Pioneer name is erased for the final time: Fawcett.
Taylor Fawcett enters her final season with Pinnacle and marks the end of an era that started in 2014 with Kylee Fawcett. The era has spanned over three different head coaches and three state championship appearances.
Both players were "extremely respectful," according to coach Bobby Peña. "They try hard at everything they do, academics and athletics."
The siblings always seem to deliver when needed.
Kylee "had a lot of really good clutch hits in the playoffs," says Taylor.
Taylor delivered in the playoffs as well, with two RBIs in the championship win over Hamilton.
The sisters behave similarly, but their playing styles differ.
Kylee, who played from 2014 to 2016, was known for her defense in right field and was excellent at catching what coach Peña calls "sun balls."
That skill came in handy at around 5 p.m. on game day when the sun was right in her eye for 40 minutes.
Even more impressive, says Peña was that "she never made an error in right field."
Taylor is a pitcher's nightmare. Last season she batted over .400 and led the team in stolen bases.
She is a "very aggressive player," says assistant coach Jim Sgambati.
In 2016, both sisters played in the outfield. They got along very well.
"I loved playing with my sister," Taylor says. "She kind of showed me the ropes."
The duo could have played together longer but as clearly as Kylee saw softballs in the sun, she saw her future career. To much dismay but understanding from coaches and teammates, Kylee did not play her senior year to pursue a nursing degree.
"She was starting to come into her own as an athlete," says Peña.
Taylor is taking a different route.
She has signed her national letter of intent and will play softball for Division 1 University of Louisiana-Lafayette.
She first has her last season at Pinnacle ahead – finishing the Fawcett legacy.
---