Baseball: Mesquite dumps Highland in short order
February 28, 2019 by Les Willsey, AZPreps365
---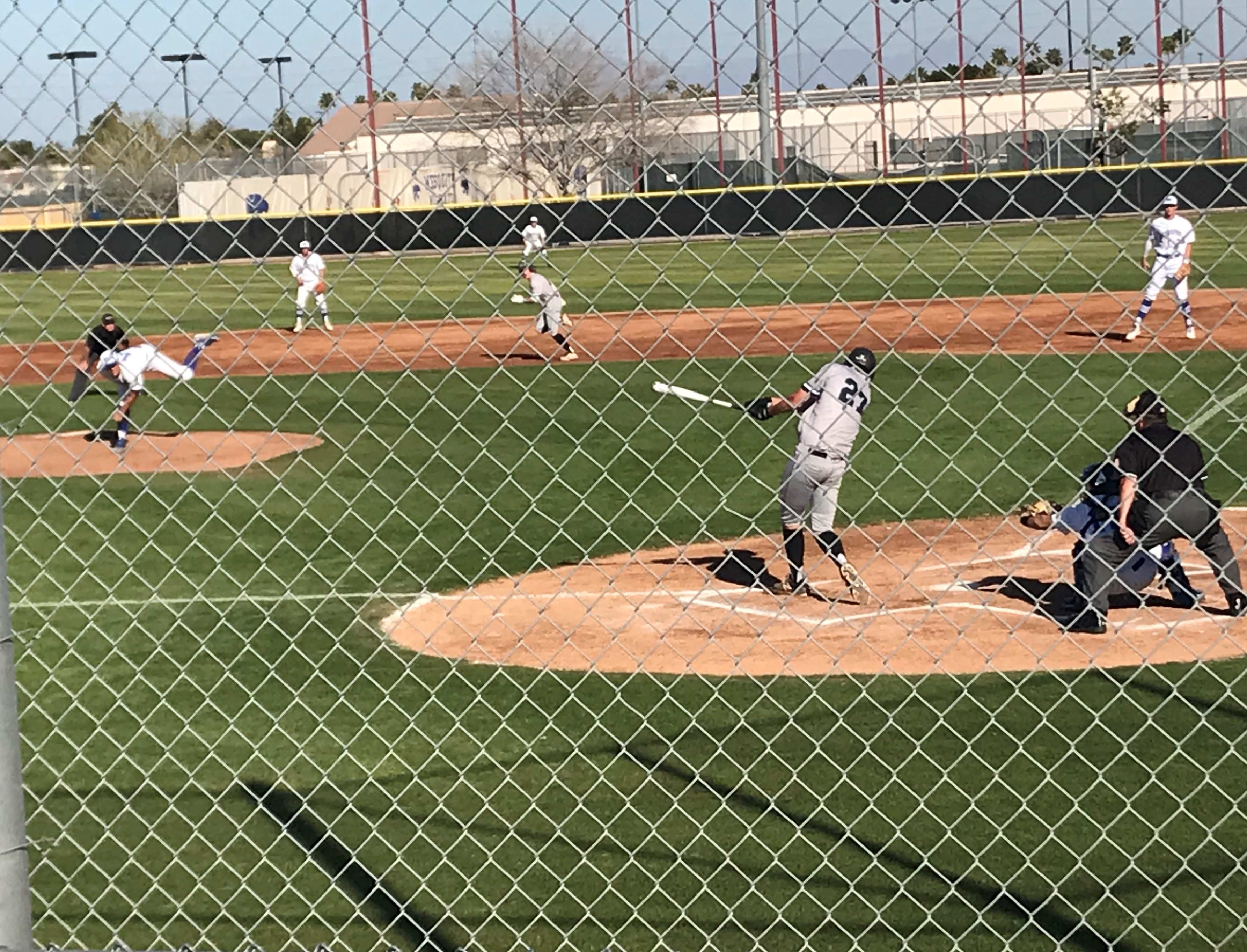 Mesquite baseball coach Jeff Holland was looking for a bounce-back effort from pitcher TJ Clarkson on Thursday as the Wildcats played their sixth game of the season in eight days.
Holland was rewarded with five solid innings and the offense and shaky Highland defense in the first inning supported Clarkson in an 11-1 win for Mesquite in game matching Gilbert sister-schools at Mesquite.
Mesquite, competing in 6A this season after spending most of its existence in 6A and 5A, evened its record at 3-3. The Wildcats are 2-0 in power-ranking games yet five of their first six games have been against 6A opponents. 6A Highland dropped to 1-3 overall and 0-2 in power-ranking games.
"TJ was much better today," Holland said. He was more around the zone although a little higher than we wanted on pitch count. Too many 3-2 counts. If he's on we will be OK."
Mesquite is a little handicapped in the pitching department at present. Ace Davis Heller is playing the field only and Holden Breeze, who plays short in addtion to mound work, has temporarily moved to second base to alleviate throwing.
All Mesquite needed on the hill in this game was Clarkson, 4-0 last year with a 3.80 ERA. The senior left-hander pitched all five innings. He allowed two hits, walked three and fanned seven. The run he surrendered in the fourth was unearned. Four of his seven Ks came in the final two innings. His prior work of 3 2/3 innings had yielded a 13.36 earned run average.
Mesquite gave Clarkson plenty of run support with eight runs in the first two innings. The first inning netted five and Highland helped the frame along commiting four errors to go with three hits by the Wildcats. Grant Gorrell, who was 2 for 3, doubled in a run and Heller and Jayden Orozco added an RBI each. Only one of the five runs in the opening inning were earned. Gorrell has put up a nice week thus far going 4 for 9 with a grand slam (vs. Desert Vista) and 6 RBI. Heller finished 2 for 3 with 2 RBI and Holden Owen drove in three runs, two on a single in the fourth.
Highland's hits belonged to starting pitcher Mason Trail in the second inning and catcher Chris Coyer in the fifth.
Mesquite continues play in the Desert Vista Invitational with two games on Saturday vs. Mountain View and Desert Mountain at Desert Vista HS. Highland stays on the road with a power-ranking game at Westview on Friday.
---