Mountain View coach Mike Thiel's steady career in seventh-inning stretch
March 4, 2019 by Les Willsey, AZPreps365
---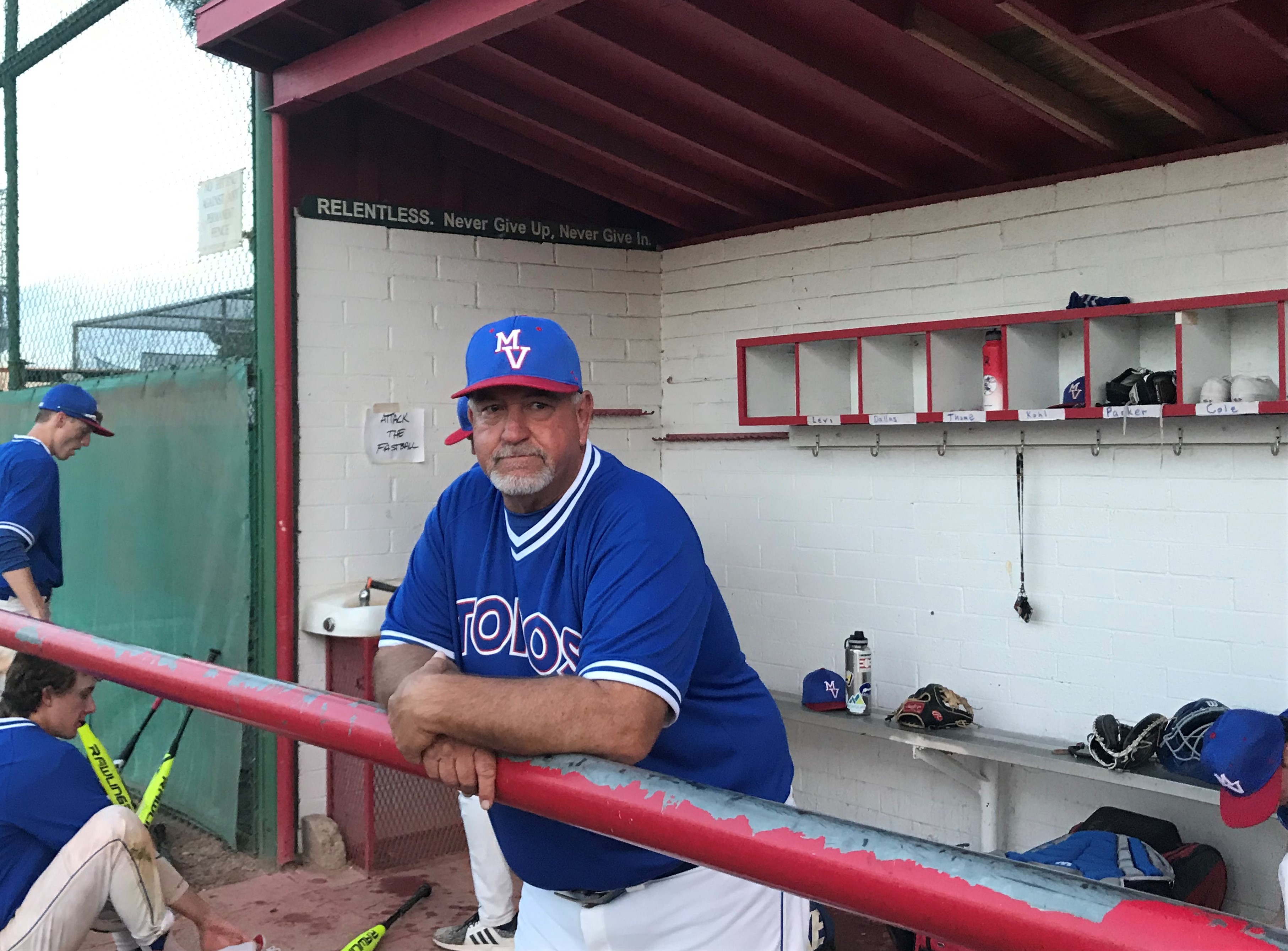 The sign Mountain View baseball coach Mike Thiel hung in the Toros' dugout when he became mentor of the Toros in 1998 reads: RELENTLESS. Never Give Up, Never Give In.
Relentless describes Thiel. The sign was in his dugout in Yuma when he began his first head coaching job at Cibola High in the early-to-mid 1990s. He managed to "borrow" it when he left. He's been hands on at Mountain View with the baseball program spring, summer, fall and winter every year he's been in charge -- 22 of the last 23 seasons.
Thiel is not giving up, but is giving in after this season to retirement. It will conclude a career spanning 35 years (27 as a head coach), 500-plus wins and nine region titles.
"I knew I wanted to be around baseball playing it in high school and junior college in Yuma," Thiel said. "I enjoy the game so much. When I was 18, I helped coach a 15-year-old team. That got the coaching bug going for me."
Thiel warmed up to Yuma after moving there from Washington state in 1976. He played two years at Kofa High. Attended junior college in Yuma (Arizona Western) for two years. A third-string catcher the first year and platoon catcher when lefties threw the next. After Arizona Western it was on to Flagstaff where he got his degree in education from NAU in 1984.
Back he went to Yuma in 1984 married to wife Stephanie and a daughter in tow. Thiel hooked on as an lower-level assistant at Kofa under Billy Laguna for five seasons and the trek to head coaching had begun.
Yuma became a three high-school town in 1988 with the opening of Cibola High. Thiel moved over to Cibola as a varsity assistant for three years (1989-91). When then-head Cibola coach Johnny Rico moved on to administration following the 1991 season, Thiel got his first shot as a head coach the following year.
Thiel spent much of his tenure at Cibola competing in the same region with Brophy and Moon Valley, coached by longtime coaches Tom Succow and Stan Luketich, respectively. They were mentors and examples in his infancy as a head coach along with Horizon coach Eric Kibler. Horizon and Mountain View have been scrimmage partners ever since preseason scrimmages were allowed.
Thiel was satisfied guiding Cibola and completed his fifth year in 1996. It was easy by then to think of Yuma as a longterm home. A chance meeting, however, with a former coach from his past presented a fork in the road.
"I also coached football and was the defensive coordinator for Cibola in 1995," Thiel recalled. "That year we competed in the same region as the Mesa schools and Mountain View came to Yuma to play us. They filled up the stands -- fans, cheerleaders and had a great football team. The atmosphere and enthusiasm they brought was great. I thought to myself that's the kind of school I wouldn't mind coaching at."
It was only a thought.
"Mountain View's principal at the time was Craig Luketich," Thiel said. "He was an assistant coach when I was at Kofa in 1977 and at Arizona Western in 1979. He was in Yuma for the football game. It was the first time I'd seen him in 16 years. I recognized him and I talked with him a little. I remember as I walked away I said kind of off the cuff, 'If you have an opening, let me know.' I never expected anything to come of it."
Somehow it did. In March 1996 Luketich informed Thiel that Mountain View had a teaching opening and to apply if he was interested. Thiel gave it a shot. He was offered a teaching job and became varsity baseball assistant to Bill Janssen for the 1997 season. Janssen resigned after that season. Thiel was offered the job, accepted and Mountain View has been his baseball haven for nearly the last quarter of a century.
So how did Thiel fare in his debut in 1998 at Mountain View? That relentless thing comes to mind in how his players responded, especially in a postseason run.
The 1997-98 school year brought Mountain View an amazing athletic campaign boys and girls alike. The Toros won football in the fall, boys and girls basketball in the winter. Could baseball complete a rare football-basketball-baseball-title trifecta?
Mountain View gave it a whirl. They finished runner-up in their region to Mesa High in the regular season. A region tournament was played at that time to qualify and seed teams for state. Mountain View managed to sweep a best-of-three series from Mesa to go to state as the region's top seed. Other top seeds from other regions were considered favorites to win. The Toros were at best a dark horse.
"We beat Kofa in the first round then won coming from behind against Corona del Sol and Shadow Mountain," Thiel said. "The top two teams were out. The championship was between us and Marcos de Niza. It was a wild game. We won in nine innings on back-to-back hit by pitches."
The beginning of Thiel's coaching stint at Mountain View coincided with the arrival of younger, soon to be renowned coaches such as Mike Woods at Hamilton and Jeff Holland at Mesquite. Both schools opened at the same time of Thiel's arrival and have been consistent contenders and winners of state titles. Not to mention close friends.
"Mike Thiel has always been there for me," Holland said. "I learned a lot on how to run a varsity team from him. He's been the same guy from Day One. His teams are disciplined and play hard. You know what to expect when you play Mike's teams."
There have been no other hobbies for the always-affable Thiel. Perhaps a little more golf of late since he retired from teaching fulltime a few years back, but other than that green grass and the smell of horsehide is Thiel's idea of good living. His relentless pursuit has been unleashed with the blessing of wife Stephanie.
"She has been a great coach's wife," Thiel said. "She's always known I wanted to coach and been super supportive. I''ve put in a lot of time, and she's allowed me to put in as much time as I felt necessary. When it was extra time as long as it was baseball, it was OK. She's the one that's had to handle a lot of everyday things with our kids growing up. The last 10 years she's been at every game, watching and helping with the book."
Thiel credits current and recent coaching staff with a huge role in Mountain View's success. Current assistants Tim Bergen and Dave Wagner have been the mainstays this decade. Another assistant on staff, Jesus Arzaga, is penciled in to succeed Thiel next season. Keith Brown, a former head coach at Coolidge and Highland, was on board longer than any other assistant from 2002 to through 2014.
"Keith Brown was a huge help for a long time," Thiel said." Especially in the offseasons. He was everything you could hope for. You couldn't ask for better assistants than I've had."
The Thiels' plans in retirement aren't fixed yet. One possibility is a return to Yuma where MIke's parents and sister reside. In the meantime, the task is winning games. Producing one last hurrah.
Last year's team rebounded in a big way from the prior year. The Toros were 13-15 in 2017 and responded with a healthy 25-8 mark and a visit to the final four. With six games games in the books this year, Mountain View is off to a 5-1 start and three walk-off victories.
"Last year was a great year and we're doing well so far," Thiel said. "It would be nice to go out with a couple good years."
---