Baseball: Hamilton 2nd-inning sinks Desert Ridge
March 2, 2019 by Les Willsey, AZPreps365
---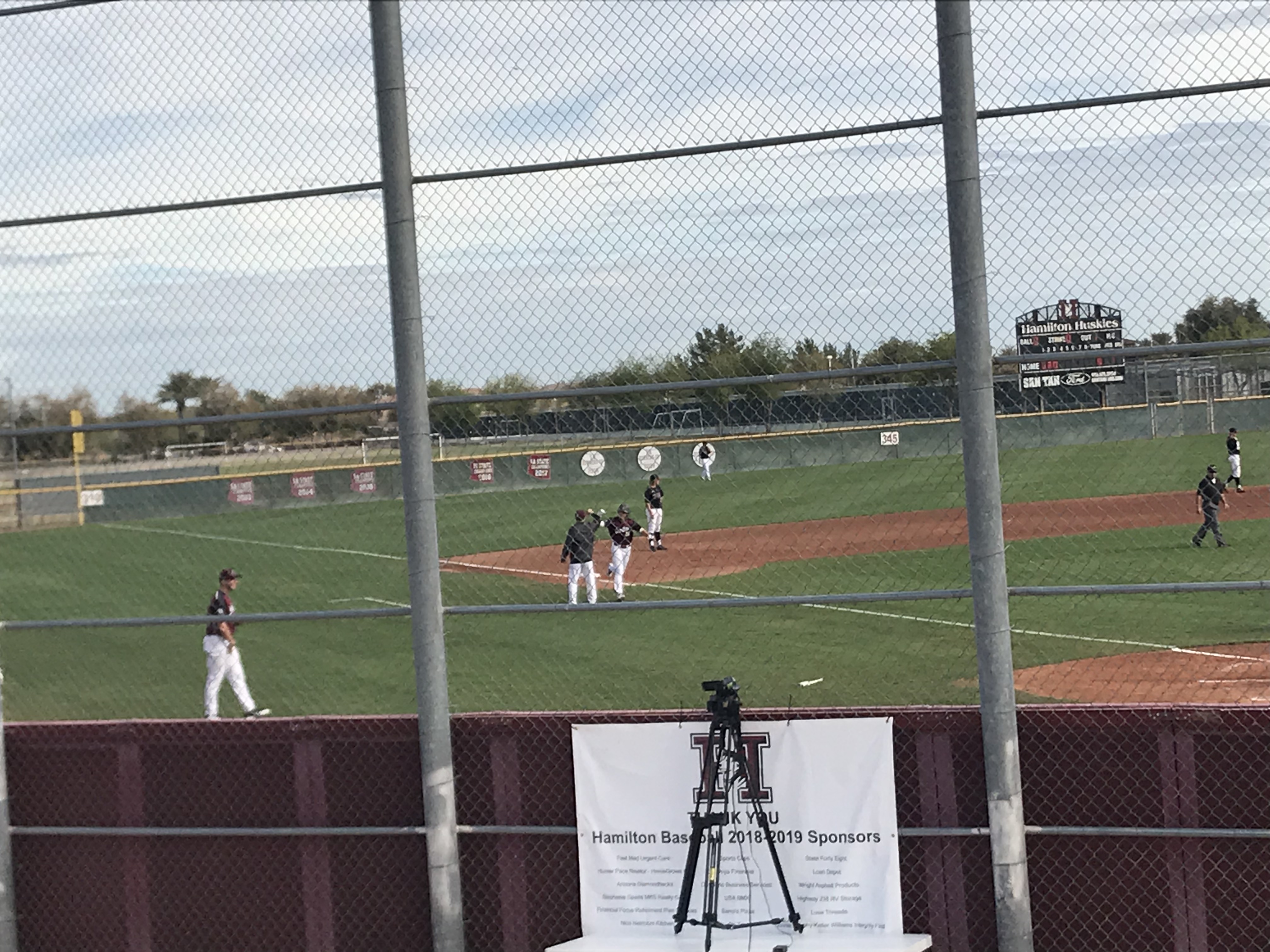 There was no shell-shock exhibited Saturday morning by Hamilton's baseball team after Desert Ridge leadoff hitter Buck Eagleburger socked a solo home run to left begin their Desert Vista Invitational game at Hamilton.
The shell-shock took place an inning later when the Huskies plated eight runs -- six with two outs -- on their way to an 11-1 victory shortened to 4 1/2 innings by run rule.
Hamilton ran its record to 3-2 and had a second game in the tournament later Saturday against Casteel. Desert Ridge dropped to 0-5 and also had another tourney game in the afternoon against Casteel.
"I told our guys giving up a home run to start the game is not a big deal," Hamilton coach MIke Woods said. "It's like in football when someone returns the opening kickoff for a touchdown. There's plenty of game left."
Hamilton, coming off a power-ranking road loss Friday to Liberty, had another good game at the plate according to Woods.
"We lost yesterday 8-5 and Liberty only had four hits. We hit a lot of balls hard. We swung it good again today and still had some hit at people."
Hamilton collected nine hits -- four in the second inning. Those were mixed with four walks to produce the runs. The man of the inning was firstbaseman Tyler Wilson who opened the frame with a single and capped it with a three-run, inside-the-park home run that sliced away from center fielder Tyler Gustafson and rolled to the deepest part of the park.
Hamilton's lead was only 2-1 with two outs in the second, but three successive walks, a two-run single by JD McLaughlin and Wilson's homer were crushing.
Meanwhile back on the mound, Hamilton senior Tally Wright, who served up the leadoff homer, pitched to the minimum the rest of the way. Talley allowed only two hits, walked none and fanned two in five innings. The other hit he surrendered was erased by a double-play grounder.
"Tally pitched great," Woods said. "He'd thrown two innings prior to today. He has a presence out there. And there's no better positive force on our team than him. A great kid."
Wilson and outfielder Michael Brueser drove in three runs apiece for the Huskies. Brueser's were on a bases-loaded walk and two-run homer in the fourth.
---