Boys volleyball: Mountain View claims Wolf Howl title
March 2, 2019 by Les Willsey, AZPreps365
---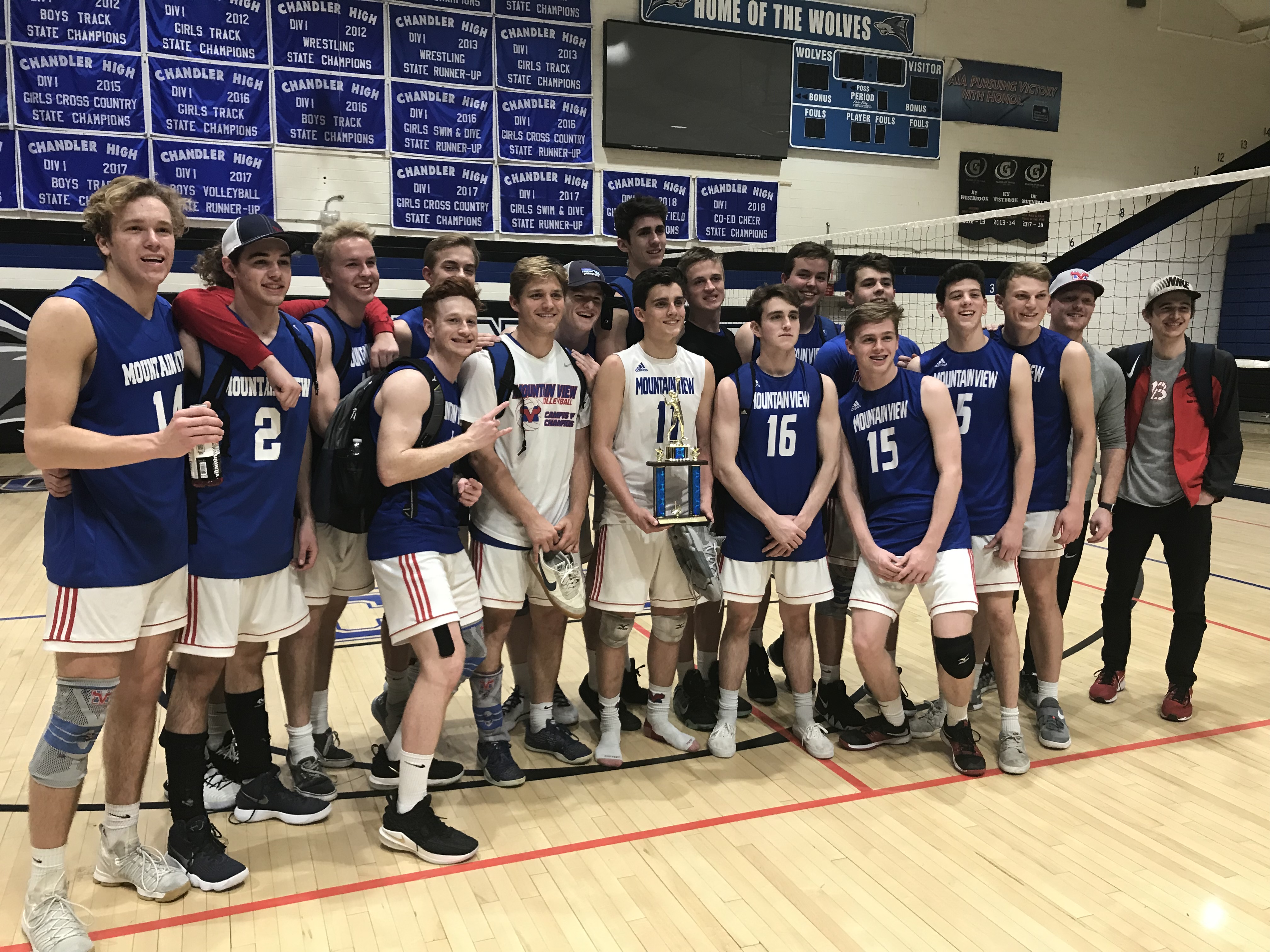 Mountain View's first-ever triumph Saturday night in the gold bracket at the annual Wolf Howl Boys Volleyball Invitational showed versatility and an ability to play well with a lead or from behind.
The Toros superb play all day - particularly in the final - earned them a 25-18, 25-19 victory over Desert Vista at Coy C. Payne Gymnasium on the campus of Chandler High.
#2 seed Mountain View won all six matches it played Saturday and finished the tournament 8-1. The Toros swept Sandra Day O'Connor and Highland to reach the final. Their lone loss was in pool play on Friday to Chandler. Top-seed Desert Vista also finished 8-1 in the tournament. The Thunder swept Gilbert and Boulder Creek to play for the title. The loss ended their 10-game winning streak.
Mountain View coach Kevin Powell took the victory in stride. When asked if the Toros had ever won the tournament he stopped for a few seconds to recollect - "No. This is our first."
Mountain View started fast in the opening set. The Toros led 4-0 and gradually improved that margin as the set wore on. Their biggest lead was 19-11.
The second set began Desert Vista's way. The Thunder led 3-0 and 8-4 after back-to-back kills by Mason Harbertson and Landon Fuller. Mountain View answered with five successive points to take a 9-8 lead and never trailed again. A 4-0 run boosted its lea to 14-10. Desert Vista wasn't able to come closer than three once the Toros hit 16.
"We traded points pretty well with them," Powell said. "We were able to get a few more small runs that gave us an advantage. We passed really well tonight. When that happens it takes the pressure off hitters."
Four Toros - Preston Jones, Karson Sherwood, Jackson Reed and McKay Anderson - shared the kill load and were comfortable doing so. The quarter had hitting percentages of .ranging from .455 to .667. Jones led in kills with nine, Sherwood had seven and Reed and Anderson six apiece.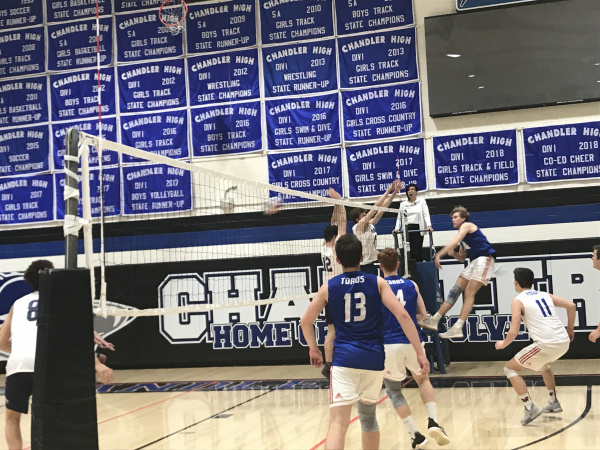 Mountain View's Preston Jones delivers one of his nine kills in the Wolf Howl title match vs. Desert Vista. (AzPreps365 photo)​​​​​
Desert Vista was led in kills unofficially by Harbertson and tournament most valuable player Dapre Rogers with seven kills each.
Each of the eight teams that qualified for gold bracket play were represented on the all-tournament team. Joining Rogers were Mountain View's Brigham Goodman, Highland's Koa Grover, Boulder Creek's Mark Schauberger, Perry's Jacob Bell, Gilbert's Trent Moser and O'Connor's Kolten Christenson.
---