Softball: Red Mtn. pounds out 13 hits in 9-4 win over Corona del Sol
March 5, 2019 by Les Willsey, AZPreps365
---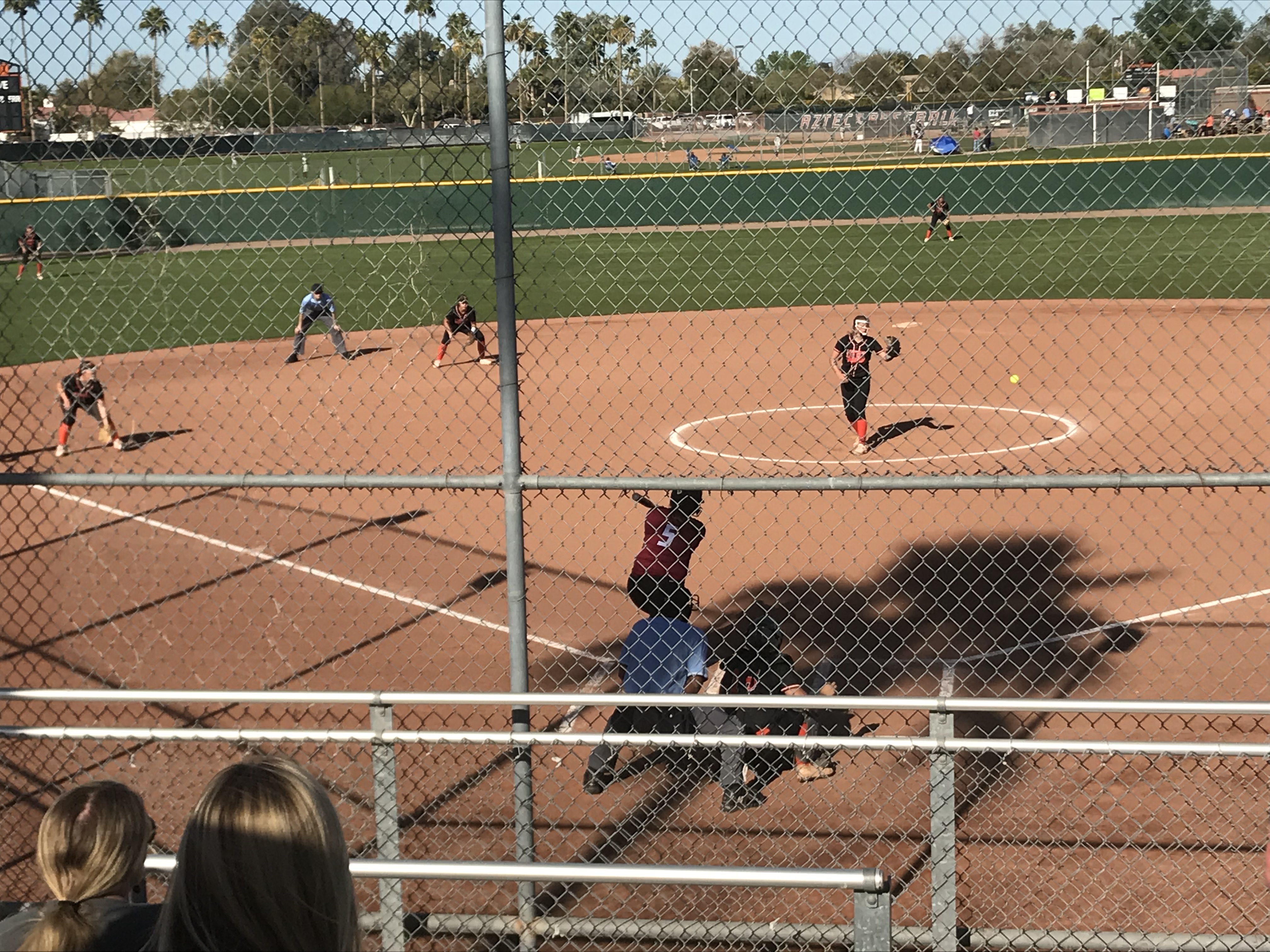 Hitting from the start. Adding on almost every inning. Add a nice relief-pitching effort and Red Mountain had what it took to hand Corona del Sol its first loss of the season, a 9-4 win over the Aztecs at Corona del Sol.
Red Mountain, which had all its Lion Country Classic tournament games rained out to open the season two weeks ago, improved to 2-1. All its games thus far are of the power-ranking variety. Corona del Sol fell to 6-1, but is 4-1 in power-ranking games.
Red Mountain collected 13 hits and was paced by seniors Michelle Anderson and Kayden Bullock with three hits apiece. Anderson batted leadoff and scored all three times she had a hit.
Bullock is on a torrid pace after three games. Her 3-for-4 effort - single, double and home run - actually dropped her batting average from .833 to .800. She is 8 for 10 with four doubles, a homer and seven RBI.
"She's so happy she's started so well," Red Mountain coach Rich Hamilton said. "She's hitting everything hard. Her hitting is feeding the rest of the team. "
Bullock's out in her final at-bat was a liner stabbed by Corona shortstop Alexis Massie. On her home run at-bat, Hamilton gave Bullock a green light on 3-0 she took for a strike. She fouled off the next pitch down the left field line. The 3-2 swing was the long ball.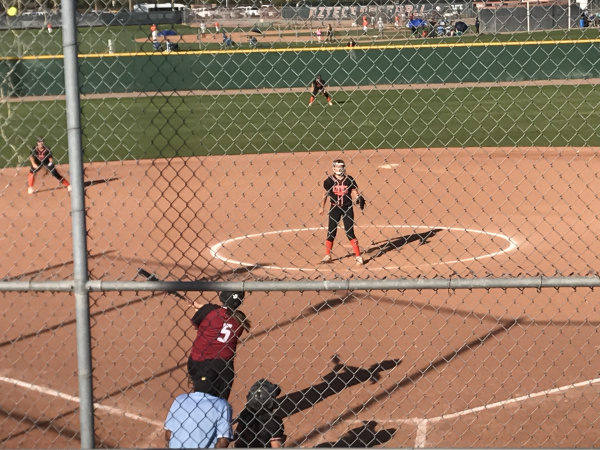 Kayden Bullock's home-run cut leading off the third inning. (AzPreps365 photo)
Red Mountain never trailed scoring a run in the first that was answered by Corona. Anderson delivered a two-run double and Makayla Donahoo followed with a single for a 4-1 lead. Corona managed a pair of runs in bottom of the second on Tristan Jamar's two-run double.
Jamar's hits came off Red Mountain freshman Taylor Trowbridge, who relieved starter Donahoo. Trowbridge allowed another hit in the inning but escaped without further damage.
Trowbridge went on to finish the game and pick up the win. She threw 5 2/3 innings, gave up five hits and one run to pick up the victory.
"Mack said during the visit she wasn't feeling it," Hamilton said. "She didn't ask to come out of the game. We just decided to make the change."
"For us they are a nice combination. We used them both in the first two games. Mack's our veteran so she's gotten the starts. They'll both pitch a lot for us."
Red Mountain extended its lead to 5-3 in the third and traded runs in the fourth. The Mountain Lions busted it open in the sixth with three runs on a two-RBI double by Donahoo and RBI single from Alayna Hicks. Donahoo, Trowbridge and Kameron Coffey added two hits apiece for the Mountain Lions.
Corona del Sol coach Jeep Ray likes the look of her team, one that lost nine seniors to graduation last year. Three players who were juniors last year played a lot and another played a third of the season. The Aztecs started five underclassmen in the game, including two freshmen and a sophomore.
"Red Mountain is the toughest team we've played so far," Ray said. "I think we can beat them. Today we got behind in the count too much. We have a lot of young players playing. They are very enthusiastic, and sponges when it comes to wanting to get better."
Corona's leading hitter Tuesday was second baseman Ally Quintero with three of the Aztecs' six hits. Massie had the only other RBI besides Jamar.
---