Softball: Shadow Ridge edges Basha with Covarrubio long ball
March 6, 2019 by Les Willsey, AZPreps365
---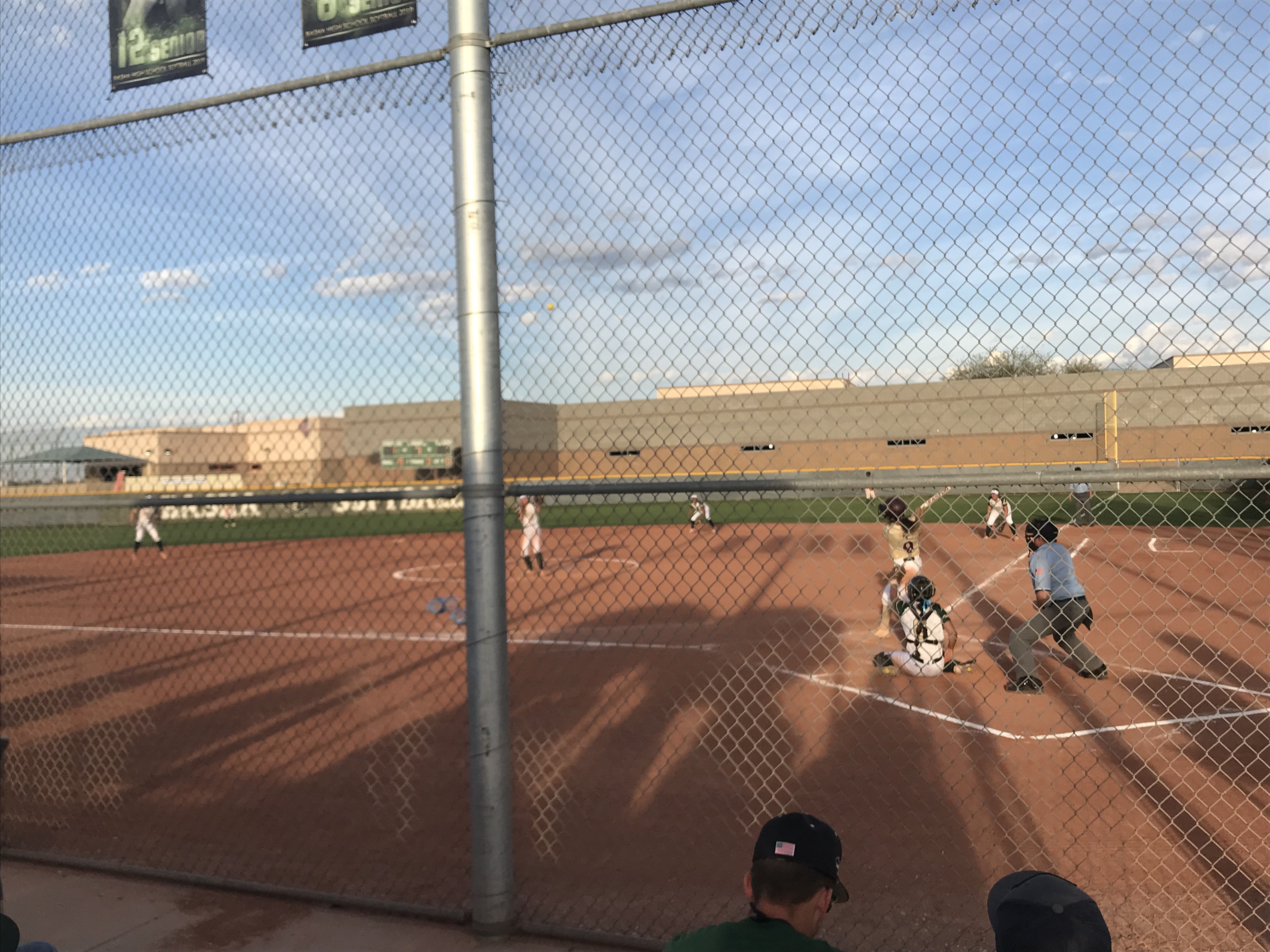 When Shadow Ridge's Mickey Covarrubio stepped to the plate for her fourth at-bat Wednesday she was looking to start a rally that could break a tie both teams had tried but failed to do since the third inning.
Covarrubio put an abrupt end to the deadlock. She slammed a home run that ignited a three-run seventh and paced Shadow Ridge to a hard-fought 4-1 victory over host Basha in a 6A non-region softball game.
Covarrubio, a left-handed hitting senior headed to Grand Canyon University next fall, completed a dominating day at the plate with a first-pitch homer. In her three previous at-bats -- all leading off innings - she stroked a double and two singles. Shadow Ridge finished with 13 hits.
Maybe Covarrubio was tired of the teams trying to tally the go-ahead run -- the teams combined to leave 21 runners on base. All she did was approach the at-bat the way she handled the first three.
"I wasn't trying for a home run, just looking for a pitch and going with it," Covarrubio said.
Shadow Ridge, improving to 3-1 on the year, tacked on two more runs for a comfortable 4-1 margin. A bunt single by No. 2 hitter Mia Perez (her third hit), a single by Aris Carroll and RBI from Paiton Tornberg and Rylee Gresham completed the rally.
"You like competing in quality games like this one," Shadow Ridge coach Nadine Arias said. "Mickey had a great hit, then we get a bunt and keep it going with two more runs. I wish it would have happened sooner."
Arias is enjoying the chemistry her team has shown and players willingness to do whatever is asked of them.
A case in point is Covarrubio. She's been the Stallions' leadoff hitter since her freshman year and played shortstop that year. The last two years she's played centerfield. This year do to injury to junior shortstop Sophia Carroll, she's back a shortstop for the time being.
Basha saw its record fall to 4-3 and is 2-3 in power-ranking games. The Bears scored their only run after their first at-bat. That was their leadoff hitter, Mady Peters, who lined a home run to left for the quick advantage. Peters, Ashley Portugal, Arabiah Jefferson and Marisa Rodriguez had two hits apiece. Shadow Ridge's Aris Carroll tied the game in the third with a sacrifice fly.
Basha collected nine hits over the rest of the game, but like Shadow Ridge couldn't get the clutch hit in five of the final six innings. The Bears left two runners on in all but the first and third innings.
Shadow Ridge sophomore pitcher Morgan Greene started and threw the first five innings. Junior Emari Evans tossed the last two and picked up the win allowing three hits and fanning three.
Basha's Taylore Zimolzak worked the first six innings and left after giving up the Covarrubio homer and single. She struck out three and walked one.
---