Baseball: Desert Vista HR barrage tames Red Mountain
March 7, 2019 by Les Willsey, AZPreps365
---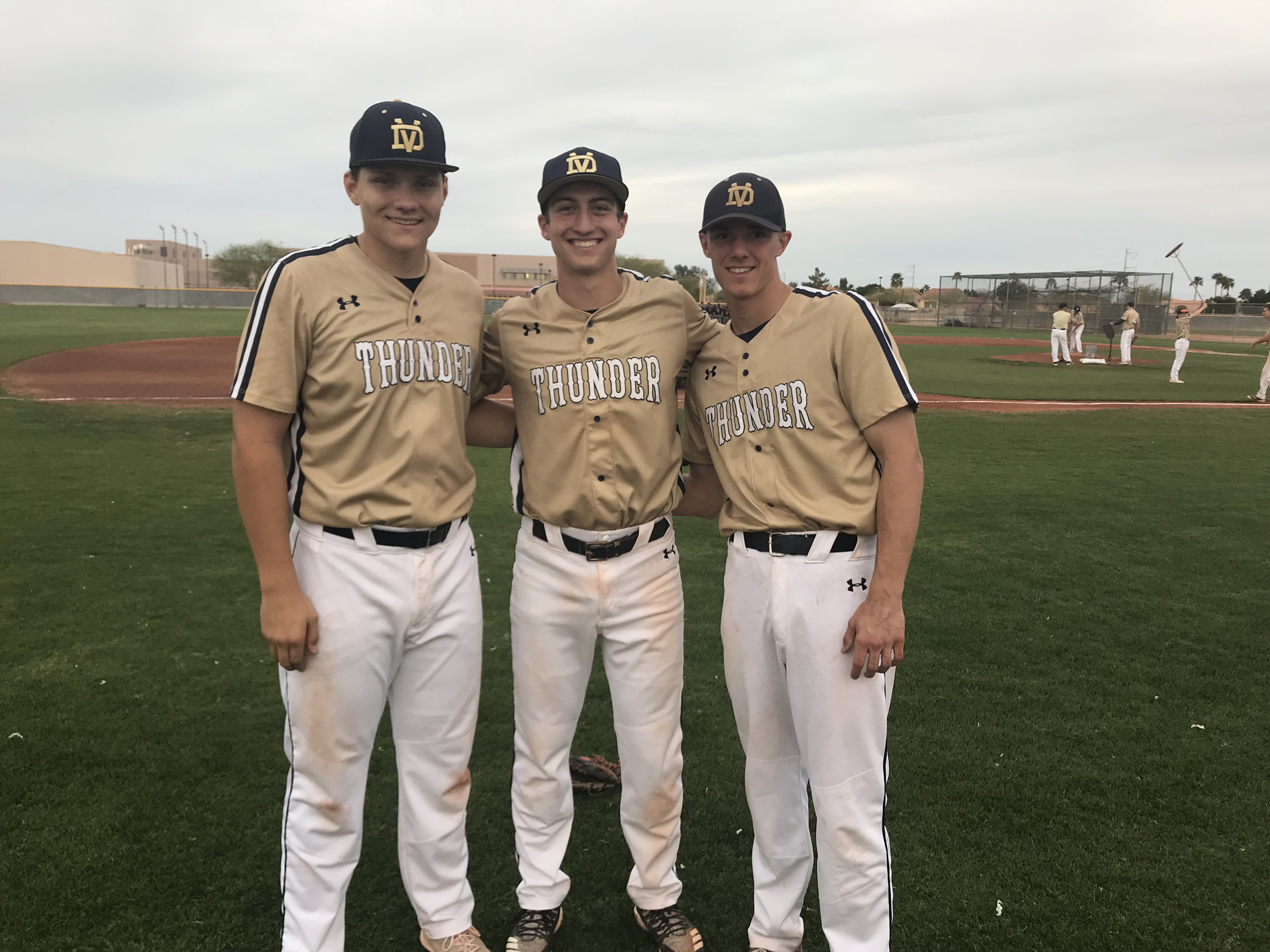 It took a long-ball breakout for Desert Vista to put its first power-ranking win in the books on Thursday afternoon.
Beau Ankeney and Dylan Cuenca hammered back-to-back home runs in the fourth inning and Cuenca added a second for good measure in the sixth in Desert Vista's 5-1 triumph over Red Mountain in a 6A non-region game at Desert Vista.
What also buoyed Desert Vista was the pitching of senior Tyler Magin, who hurled six strong innings to notch the win. Magin's start, his second of the year, was his best. He scattered seven hits, walked two and struck out seven. The run allowed was unearned.
"Wow, we needed that one," Desert Vista coach Cody Brassfield said after the solid performance by his team.
Desert Vista won for only the third time in nine games overall, but snapped a three-game losing streak in the all-important power-ranking category. Red Mountain is 4-3 overall, 1-2 in power-ranking games. The Mountain Lions have scored just four runs in their three power-ranking contests.
Magin and Red Mountain's Daevion King locked up in scoreless duel the first three innings. Red Mountain's lone run scored in the fourth as Ankeney mishandled a chopper to first allowing the Mountain Lions to score.
In the bottom of the fourth, Ankeney atoned. The burly sophomore, who was robbed of an RBI in the first on a line out to Red Mountain's well-positioned second sacker Nathan Campos, jumped on King's first pitch with a runner on and deposited it over the centerfield fence for a 2-1 lead.
Cuenca followed with his first homer of the game on the first pitch, belting it out to right field. King, a junior lefty, making his first start of the season, pitched well until the homers turned things. King allowed four hits, two earned runs, walked none and fanned four.
The scoring ended in the sixth when Cuenca followed an Ankeney single with a blast to left off reliever Brad Mucha.
"Ankeney is turning out to be a special hitter for his age," Brassfield said. "He's locked in this spring. Over the fall and winter he was decent. He's turned it up."
Ankeney is 12 for 29 (.414 average) with 15 RBI and six extra-base hits. Cuenca has the top average of the regulars at .440 and shares the team home-run lead with Ankeney and Brad Childers with three.
Red Mountaini s going through a trying time with an inexperienced pitching staff. The lone veteran - Kai Murphy - is shut down from pitching for at least a couple weeks, according to coach Rob Gorrell. Murphy won both his starts, but hasn't pitched in 10 days.
"We're super thin with varsity experience on the mound," Gorrell said. 'King did fine today. We hit the ball hard early, and ours didn't fall. We may have to score a lot of runs while we get other guys some experience."
Murphy, Ryan Campos and Dakota Duffalo combined for six of Red Mountain's nine hits.
---