Baseball: Mtn. Pointe rallies to beat Mtn. Ridge, darkness
March 8, 2019 by Les Willsey, AZPreps365
---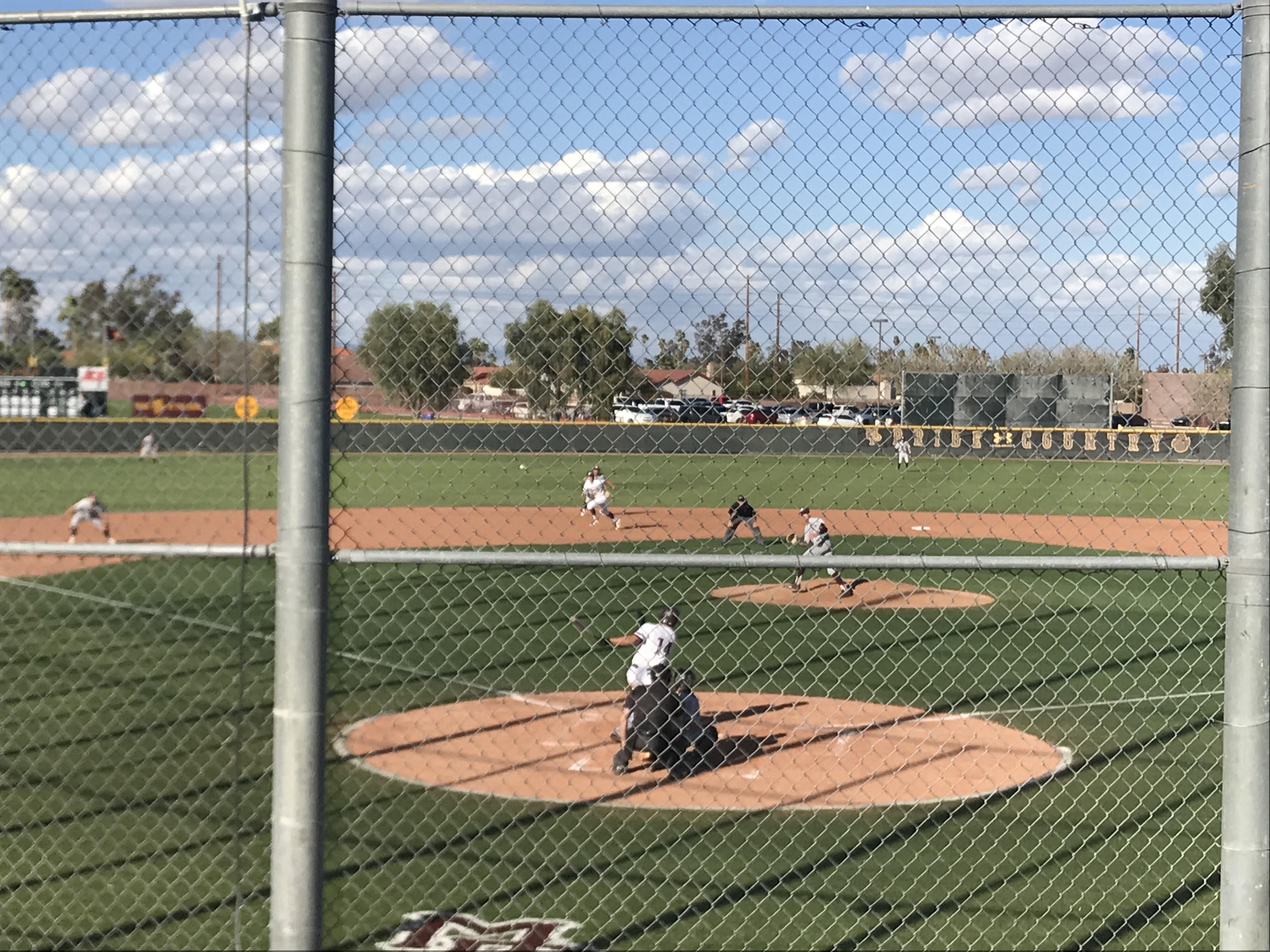 It was a long road back Friday afternoon for Mountain Pointe's baseball team as it pecked away and edged Mountain Ridge and the elements in the nick of time.
Nick Wallerstedt's two-run double capped a four-run rally in the bottom of the sixth lifting the Pride to an 8-7 win over the defending state champion Mountain Lions in a 6A non-region game called after the sixth due to darkness.
Mountain Pointe (3-3) chipped away after falling behind twice by four runs - 4-0 in the top of the first and 6-2 after the top of the second. The Pride scored single runs in the third and fourth to cut the deficit in half, but were down 7-4 before sending 10 batters to the plate in their final at-bat.
Mountain Pointe's winning rally wasn't accomplished with hits alone. The Pride had three hits, received three walks and two errors by Mountain Ridge. Carson Tucker's ground out cut the deficit to 7-5. A ground out second to first appeared to be the second out. Mountain Pointe asked for help on the call believing the throw to first pulled the first baseman off the bag. The home plate umpire agreed. Regardless of the call the Pride was within 7-6.
That brought Wallerstedt to the plate. The senior outfielder-pitcher lined a 1-2 pitch to the right-field corner plating the tying go-ahead run. Wallerstedt finished with three RBI.
"We've had stretches where we've tried to do too much at the plate," Mountain Pointe coach Matt Denny said. "Nick put up a great at-bat to get us the lead."
Prior to Mountain Pointe's game-winning rally, junior Nathan Ward allowed the Pride time to bounce back with his work on the mound. Ward came on in relief of starter Joey Cammarata in the second inning. Ward worked 4 1/3 innings and gave up only one run and two hits. Ward fanned five.
"He (Ward) didn't pitch well last time out, but he held them down to where we had a chance to come back," Denny said. "He showed he believed in himself. Gave us a lift."
Ethan Long led Mountain Pointe with three hits, Tucker added two. Cade Westerlund delivered a two-run single in the first.
Mountain Ridge (6-2) collected six hits - two each by Kyler Stancato, Keegan Stancatoand Joseph Escontrias. It was walks the Mountain Lions drew that put Mountain Pointe in distress. Pride pitchers combined to walk 10. Five of Mountain Ridge's seven runs were scored by players who reached via walk.
Cashing in on the walks with two-run singles in the first inning were Keegan Stancato and Escontrias.
---