Nogales baseball coach OJ Favela picks up 300th win
March 11, 2019 by Andy Morales, AZPreps365
---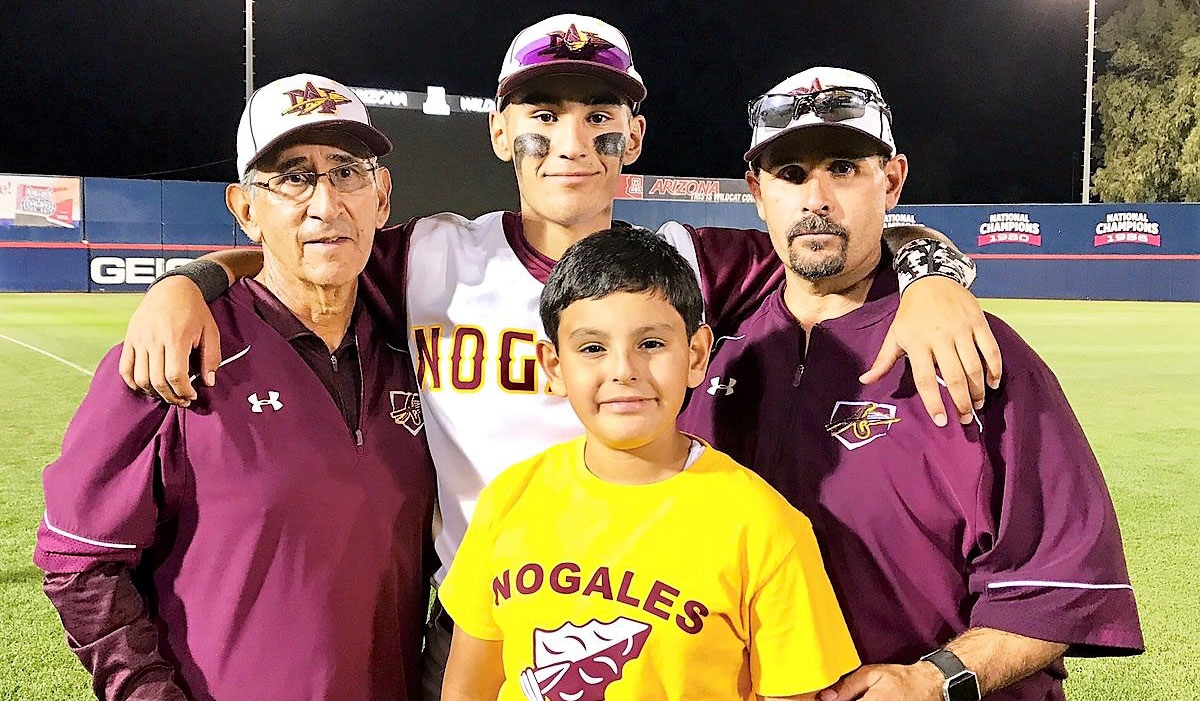 O.J. Favela picked up career win number 300 Monday night on an 11-5 win over Douglas. With a career record of 300-137-2, Favela is sure to go down as one of the greatest to ever coach in Arizona, and at 45 years young, it seems he's just getting started.
Nogales head coach OJ Favela addresses the Apache fans #AZPreps365 pic.twitter.com/u0fhY2rJdh

— Andy Morales (@AZPreps365Andy) March 12, 2019
All of Favela's wins have come at Nogales but he also spent time coaching at Salpointe and Rio Rico before taking the Apache job over 13 years ago. The son of all-state Nogales standout, and coach, Oscar Favela, Sr. and the grandson of former Tucson High, University of Arizona and minor league catcher Arnold "Chapo" Riesgo, Favela was also an assistant to legendary head coach Kent Winslow at Salpointe where, coincidently, he helped coach current Lancer head coach Danny Prebble.
Favela beat the Lancers to win his first state championship in 2017 and he guided the Apaches to another 4A title last year over Catalina Foothills. The two championships gave the program 11 titles dating back to the great James Concannon powerhouse teams of the 1950s and 1960s. Favela's father won a state championship playing for Concannon in 1965 and his son, Diego, was part of the 2017 and 2018 championship teams. The Apaches are now competing in the 5A Conference but an 8-0 start has them favored to make another playoff run.
Nogales head coach OJ Favela talks win 300 #AZPreps365 pic.twitter.com/qyoz3kynhB

— Andy Morales (@AZPreps365Andy) March 12, 2019
Favela has several region coach of the year awards to go along with his state recognition from last year. He played basketball, football and baseball at Nogales.
In the win over Douglas (4-4), the Apaches scored two runs in the bottom of the first to overcome an early 1-0 deficit. The Bulldogs went back up 3-2 in the top of the second but seven runs crossed the plate in the bottom half of the inning to give the Apaches a 9-3 margin that held up for the 11-5 final.
Diego Alan Ochoa went 2-for-3 with 2 RBI and a double to lead Douglas, Carlos Bello went 2-4 with a double, Trey Rose batted 3-4 with a triple and an RBI and Leo Felix and Jose Ruiz picked up two RBI. Bello, Victor Stuppi, Anthony Ruiz and Ramon Gonzales all saw action from the mound for Douglas.
Gerardo Martinez got the start for the Apaches and Alec Acevedo and Julian Grijalva also threw. Jesus Lopez went 2-4 with 3 RBI, Ricky Maytorena went 2-4 with an RBI, Mickey Gerardo went 2-2 with an RBI and Mario Duarte picked up an RBI.
Nogales will be playing in the Boras Baseball Classic hosted by Corona del Sol this week and Douglas will host Catalina (3-7) Tuesday night.
#AZPreps365 https://t.co/BsUUGmi77c

— Andy Morales (@AZPreps365Andy) March 12, 2019
---