Willie Williams & Lancer Track & Field results
March 17, 2019 by Andy Morales, AZPreps365
---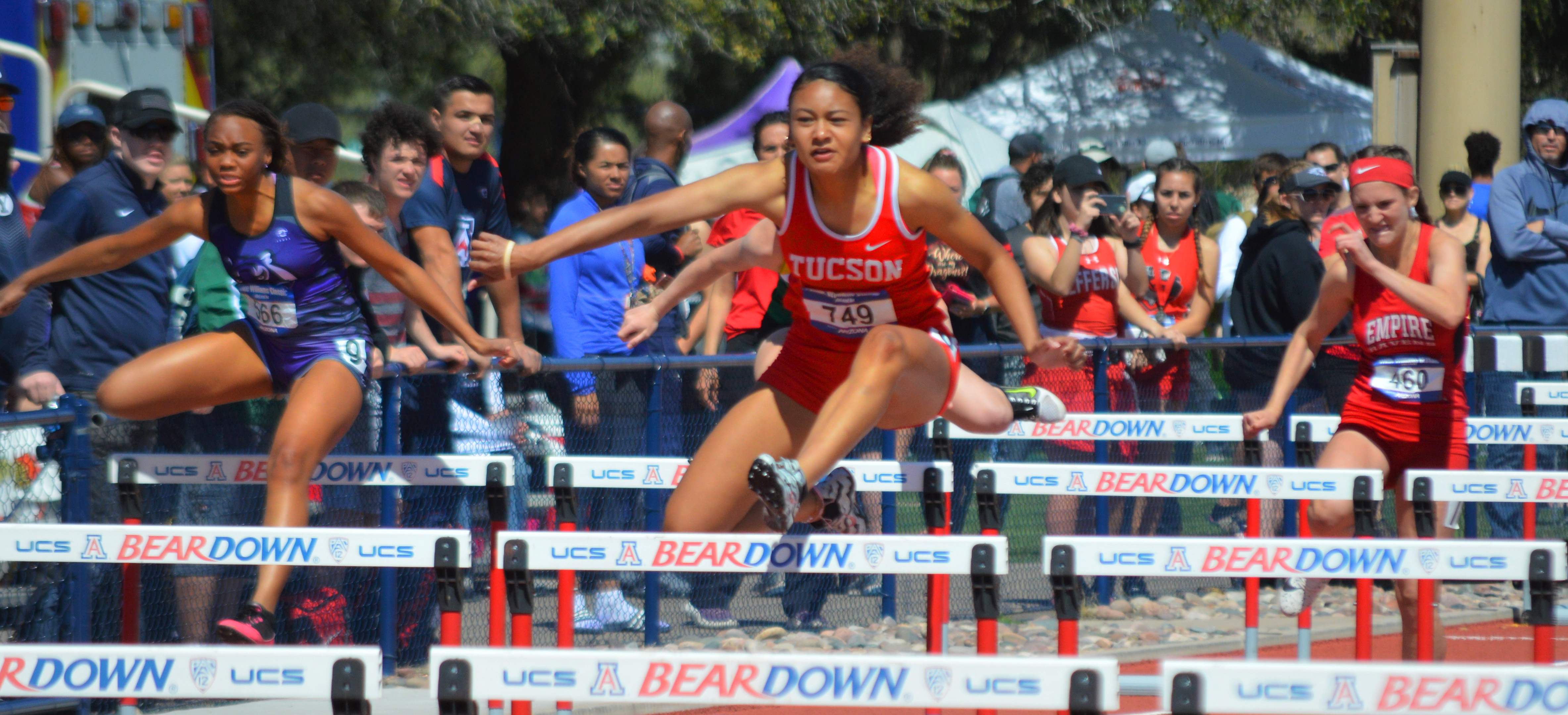 Saturday proved to be a busy day for Track and Field in Southern Arizona with the University of Arizona hosting the finals of the Willie Williams Invitational and Salpointe hosting Lancer Classic.
Flowing Wells Mitchell Effing triple jump champion #AZPreps365 pic.twitter.com/TIpcMCVSqy

— Andy Morales (@AZPreps365Andy) March 16, 2019
Former Pinnacle standout Tatum Waggoner was awarded the Lezo Urreiztieta Endowed Scholarship by University of Arizona coach Fred Harvey, named after the former Canyon del Oro and Arizona hurdler who passed away in 2013. Waggoner is an All-Pac-12 and NCAA All-American sprinter for the Wildcats.
Safford sophomore CJ Scrivner took first place in the highlighted Lezo Urreiztieta 110 Hurdles race with a time 15.20. Canyon del Oro standout Stevie Rocker took second (16.26) and Benson's Steven Coleman came in third (16.34). Scrivener also won the 300 Hurdles (40.12).
Johnnie Blockburger 200 #AZPreps365 Tucson High pic.twitter.com/dAvZSWm4Tt

— Andy Morales (@AZPreps365Andy) March 16, 2019
Tucson High junior Johnnie Blockburger won the 200 (21.96), 400 (49.30) and the High Jump (6-06), and his sister Alyssa Blockburger, brought home the 400 (57.55) and was the anchor leg of the Badger's championship 4x400 Relay (4:01.50) that included Andrea Sampson, Abigail Walls and Jenica Bosko.
Bosko also won the 200 (24.63) and the Long Jump (17-09.50).
Tucson's Alyssa Blockburger 400 winner #AZPreps365 pic.twitter.com/F6jQ6FDuhi

— Andy Morales (@AZPreps365Andy) March 16, 2019
The full list of results from the Willie Williams can be found HERE.
Nine teams took part in the Lancer Invitational and the Lancer boys outscored Marana 171 to 121 and the girls came ahead of the Tigers 227.5 to 111.
Sahuarita junior Christian Gonzales won the 100 (11.59), the 200 (22.79), the Long Jump (21-03) and he was the anchor of the 4x100 Relay (44.22) along with Emilio Mendez, Tanner Friend-James and Osten Sherry.
Catalina Foothills senior Tayvien Williams won the 110 Hurdles (15.55) and the 300 Hurdles (40.36).
On the girl's side, Buena junior Jahdai Jones won the 100 (12.89) and the 200 (26.53). Rio Rico senior Samantha Schadler won the 800 (2:20.63) and the 3200 (11:27.44). Mountain View senior Grace Hala'ufia won the Shot Put (38-08.75) and the Discus (97-08).
Salpointe senior Annie Kosinski won the Pole Vault (9-09) and the Long Jump (15-09) and her teammate, sophomore Eleanor Tuck, won the Triple Jump (30-02.50) and the Javelin (87-06).
Complete Lancer results can be found HERE.
Jenica Bosko 200 winner #AZPreps365 pic.twitter.com/ZuFN3z5cpY

— Andy Morales (@AZPreps365Andy) March 16, 2019
---