Softball: Xavier freshman no-hits Hamilton
March 20, 2019 by Les Willsey, AZPreps365
---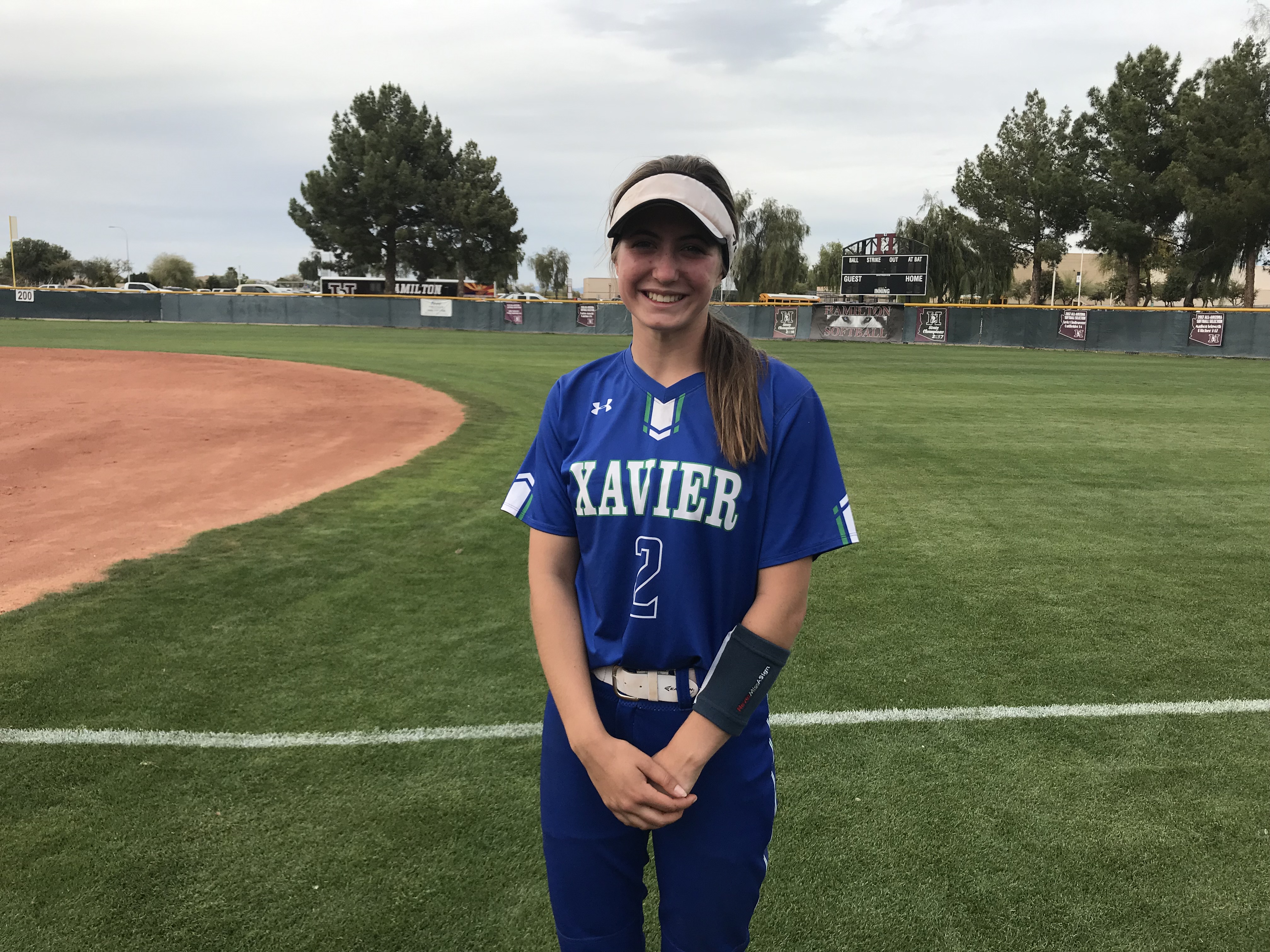 What Xavier freshman pitcher Riley Flynn didn't know late in Wednesday's game against Hamilton didn't hurt her.
Flynn finished off what was a no-hit journey with a 1-2-3 bottom of the seventh that included her only strikeouts of the game in the Gators' 1-0 victory over Hamilton in a 6A Premier Region contest.
Flynn was oblivious to what she'd done partly because a few runners had reached on errors (four). In addition her teammates and coaches were aware, and of course, weren't about to mention it.
"I didn't know," Flynn said with surprise showing in her expression when asked about the accomplishment postgame.
What Flynn did know was she supplied the game's only run with a first-pitch homer in the third inning off the massive tree in left-center at Hamilton's field. Flynn had two of Xaviers three hits.
Oddly enough the round-tripper was off Hamilton ace Loganne Stepp, who fired a no-hitter of her own just a week ago against a talented Marist team from Illinois.
Stepp was outstanding as well going the distance. She allowed three hits, no walks and fanned six.
Xavier first-year head coach Brad Downes, an assistant in the program last year, knows he has a talented hurler in Flynn. The coaches called all the pitches and Flynn "liked all the calls".
"She was the spins," Downes said. "She's got all the pitches and movement. It's hard for teams to hit it solid."
Flynn has pitched in all seven games and sports a 1.35 ERA. The only runs she allowed were in one outing -- a 13-11 loss to Red Mountain.
Hamilton had chances to score. A batter reached on an error in the second, but a 5-4-3 double play ended the inning. The Huskies had runners on second and third with one out in the third, but Flynn got a pop up for the second out. The Gators opted to intentionally walk the Huskies' top hitter -- Macy Simmons - to load the bases. Flynn escaped getting a ground out to third.
Flynn pitched around two errors in the sixth. A courtesy runner for Simmons was thrown out trying to advance to second thinking the hitter at the plate had walked. It was only a 3-ball count. A pop up and ground out finished the frame.
Xavier played only its seventh game of the season, With a lot of inactivity the first week of the season due to rain and last week not competing in an invitational, the Gators have managed a 6-1 record. All their games are power-ranking games.
Hamilton played its 19th game, most of them over the past two weeks in two invitationals and is 12-7. The Huskies won the Desert Mountain Invitational for the third year in a row last week and blanked Corona del Sol on Tuesday before being stymied in this one.
---