Softball: Desert Vista handles Highland, 13-1
March 27, 2019 by Les Willsey, AZPreps365
---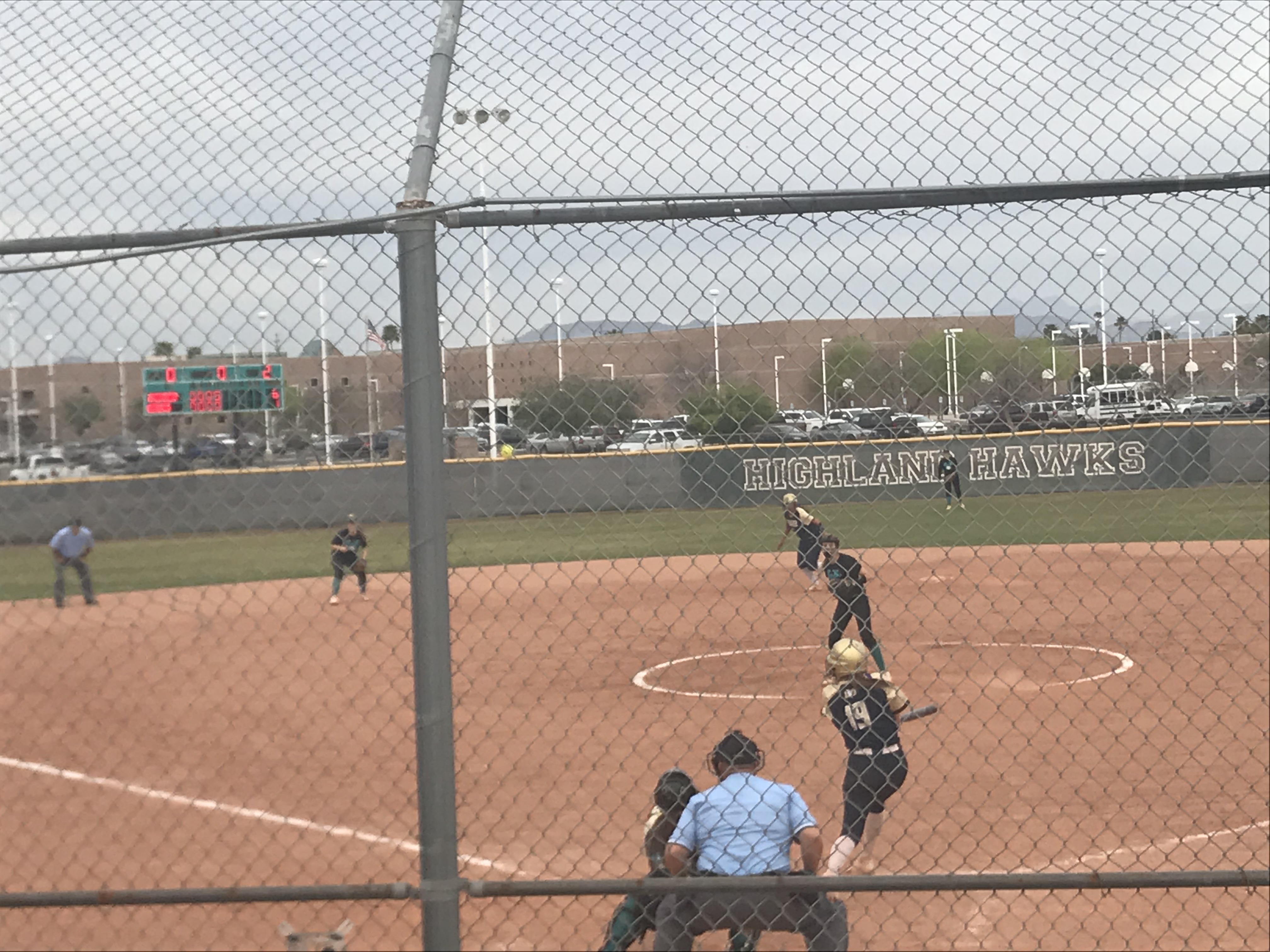 A post-spring break surge has Desert Vista's softball feeling good.
The Thunder recorded their fifth win in six games since returning to class a little more than a week ago. Three of those victories have come in the last three days -- all region and power-ranking contests.
A common thread to the wins this week is senior pitcher-outfielder Jackie Traughber. Traughber pitched five shutout innings vs. Highland Wednesday to go with 14 innings Monday and Tuesday without allowing an earned run against Desert Ridge (4-2 win) and Highland (4-3 victory), respectively. Traughber had more support behind her in the latest win -- 16 hits and solid all-around play in a 13-1 victory over Highland at Highland.
Desert Vista improved to 8-5-1 overall. The Thunder is 5-4 in power-ranking games, bouncing back from an 0-3 start. Highland is 5-11 overall, 4-6 in power-ranking games and has dropped its last four games.
"We are gaining confidence," Desert Vista coach Chris Crowl said. "We thought we'd be OK once we got our bats going. They're coming around."
Traughber has been a mainstay of the program and did a little of everything on Wednesday. She collected three hits and walk in five plate appearances, made a nice shoestring catch in right in the firt inning to prevent a run and took over pitching in the top of the third with the Thunder leading, 3-1.
Traughber inherited a runner at second -- Highland's Caitlin Garcia -- with no outs. She set Highland down in order to escape the inning with two strikeouts and a ground out. The rest of her pitching was much the same. Traughber allowed four hits, one walk and fanned seven in her stint.
Unlike Tuesday's win over Highland when Desert Vista trailed 2-0 in the first, Desert Vista managed to put up three crooked numbers -- three in the first, five in the fifth and five in the seventh. Bettering Traughber and all players in the game at the plate was Desert Vista freshman shortstop Breanna Larney. Larney was 4 for 4 with a walk and drove in three runs.
Senior thirdbaseman-catcher Hailey Kaddatz chipped in three hits and senior centerfielder Jenna Spumpter two. Senior starting pitcher Taeler Whitehair, who failed to get out of the first inning in the circle in Tuesday's game, had better control and worked the first two innings on Wednesday. Whitehair delivered at the plate in the biggest way possbile helping cap the Desert Vista's day with a seventh-inning grand slam.
---