Twins not only share bond as sisters but as softball teammates
April 1, 2019 by Allie Krusniak, Arizona State University
---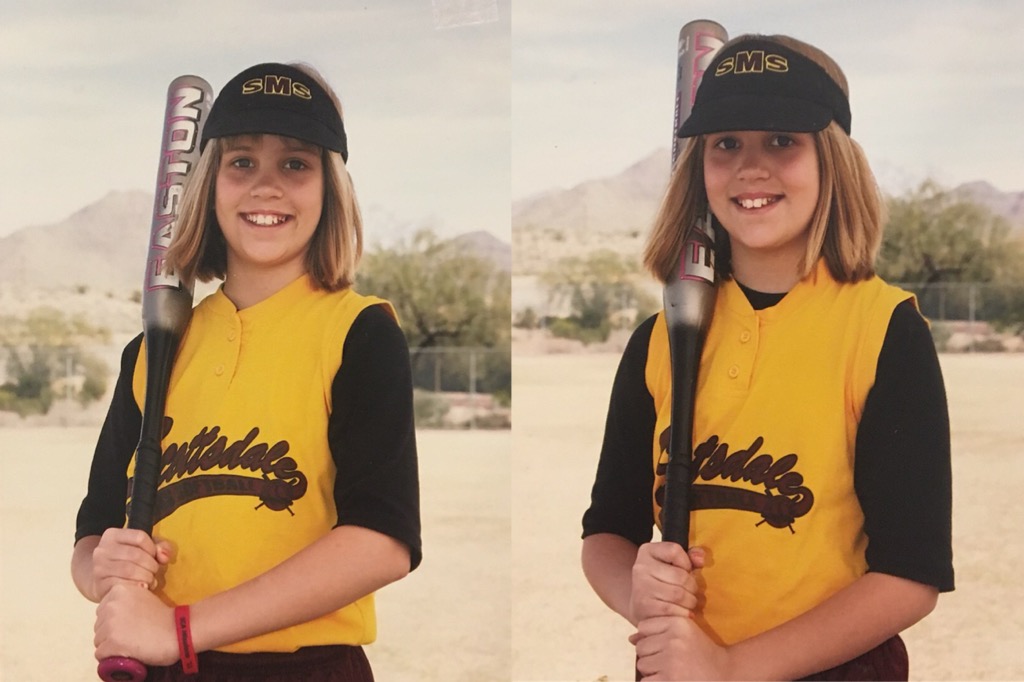 Pitchers and catchers are supposed to have a bond. Most battery mates, as they're called, get to know each other by spending as much time as they can together on and off the field.
Lily and Lexy Snyder, senior teammates for Scottsdale Christian Academy, are ahead of the game having spent the last 18 years together.
The identical twins grew up in a sports-centered household, according to their mother, Janice Snyder.
The youngest of four children, Lily and Lexy thrived on the competition together and looked at athletics not just as a place to compete but as a place to bond.
While Janice claims that there's no competition between the two, Lily argues that their ambition makes them better as athletes.
"There's definitely some competitiveness between us," said Lily. "But we love playing together."
Between the two of them, they have played a total of six sports. The sisters played youth volleyball and soccer. Lexy swam for the high school team and played basketball until this year. Lily just ended the high school basketball season and is also running track for the first time despite being a senior.
Now, it's only the softball field where they call each other teammates, and since they've played together since Little League, their teammate dynamic is better than most for obvious reasons.
"We know each other well enough that we know how we're going to play," said Lexy. "We've grown up together and we do everything together, so we have a connection on the field."
After playing together for so long, it isn't hard to believe that the sisters are most comfortable when competing with each other, and that's also when they play their best without fearing what might go wrong.
"I don't like pitching for anyone else but her," said Lexy. "I trust her to catch my bad pitches."
When Lexy isn't pitching, she's playing first base, a position that still requires a good relationship and awareness with the catcher.
This isn't to say the twins aren't comfortable with their other teammates. The two have been lucky enough to go to a k-12 school and have played with or at least known their softball teammates since middle school or longer.
Megan Hartmann, the only other senior on the relatively young team, has played softball with Lily and Lexy since sixth grade.
"I've grown up with them and known them since I was 8," said Hartmann. "It's just another way we grow up together."
The twins have become leaders together and are counted on by their teammates and coaches, but it isn't how vocal they are or how well they play that has gotten them to this point. Their trust in each other spreads through the rest of the team and causes a compossure that helps their teammates believe in each other.
But being identical twins has its unique challenges, according to Lexy.
"Not a lot of people know how to tell us apart," she said. "But once they get to know us, they can easily tell us apart and don't think we look alike at all."
She also said that the biggest challenge of being a twin is the fact that no one knows how to relate to them except other identical twins, though it's not every day you come across them. One out of every 30 babies born is a twin, but identical twins make up only .3 percent of the world population.
The Snyder twins are a rarity, and not just because they're identical. Both of them are strong athletes and students, and unlike a lot of siblings, they consider one another their best friend.
Because the two of them play sports independently outside of softball, they can always count on having at least one person cheering them on in their endeavors.
They enjoy doing so as well, according to Lexy. She says she's seen her sister improve a lot through the years as a basketball player, and jokes that while Lily "doesn't know anything about swim" it's always cool to have that support system.
That support will also remain intact for the two in college. Both will attnd Grand Canyon University next fall but don't plan on rooming together for the chance of some independence.
The twins, though, know that a bond like theirs can't be broken from across a dorm hallway.
---