Softball: Hamilton blanks Perry behind Stepp's 10Ks
April 4, 2019 by Les Willsey, AZPreps365
---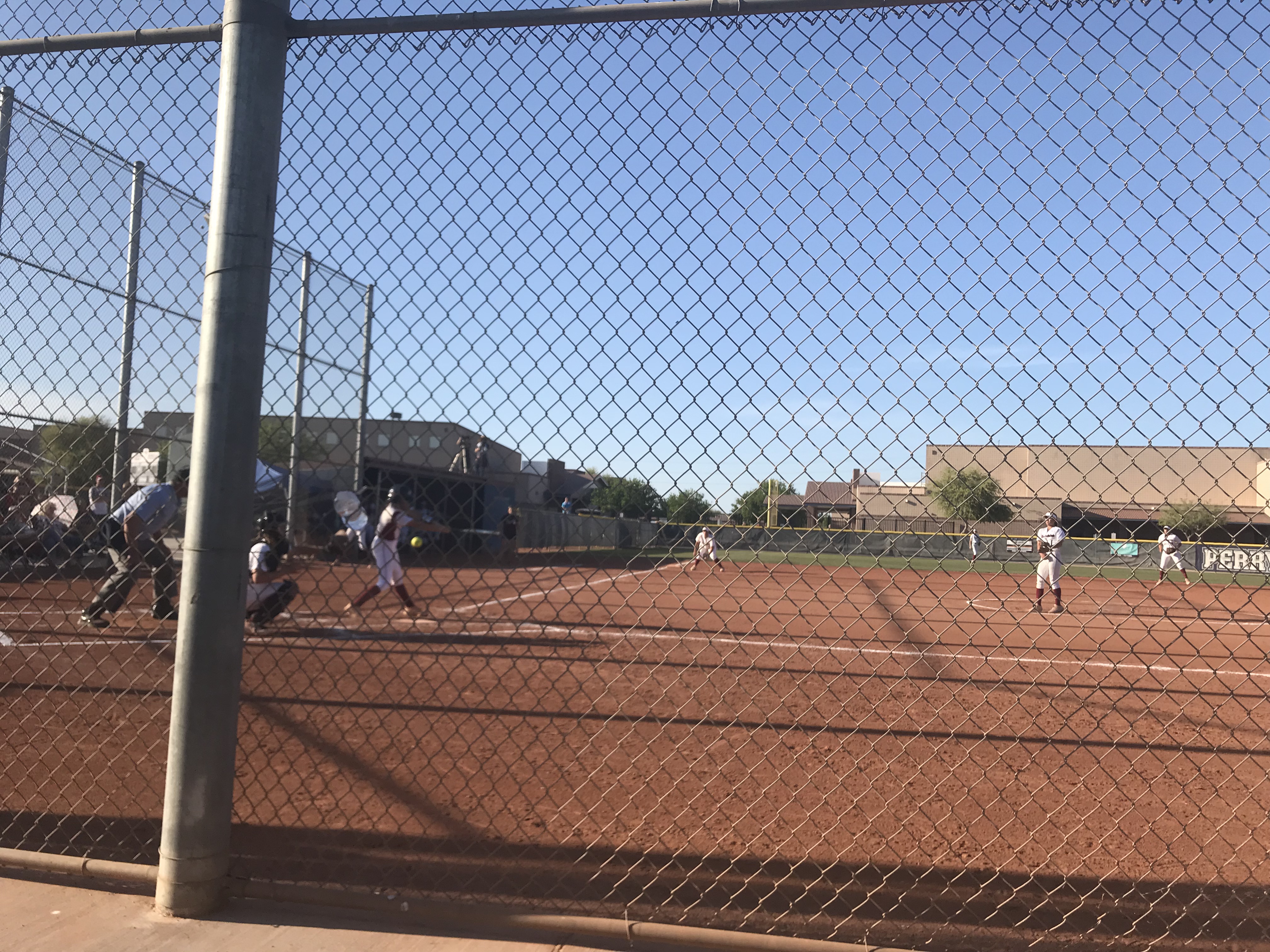 No. 4 Hamilton evened up their two-game series this week with No. 2 Perry on Thursday with both pitchers at the forefront of the outcome.
Hamilton sophomore Loganne Stepp tossed a three-hitter and fanned 10 and received a controversial three-run outburst in the fourth inning for the impetus in pacing the Huskies to a 4-0 triumph in a 6A Premier Region game at Perry.
Stepp's counterpart, Perry senior standout Saige Stutz, wasn't too shabby either. Stutz allowed only five hits, but all four walks she surrrendered came in the fourth inning when Hamilton got the jump in the contest.
The controversy came with numerous illegal pitch calls on Stutz throughout the game - but a couple huge ones in the fourth.
Hamilton's Lorena Vasquez and Macy Simmons both looked to be strikeout victims of Stutz to begin the inning. Both times the base umpire negated the Ks with illegal pitch calls.
After those calls Perry coach Rob Hehe and two assistants were ejected, frustrated not so much at the calls, but the delay with which they were signaled/called out.
Hehe said after the game he thought both calls were made late and should have been shouted out the instant they were detected.
Hamilton made hay with the two runners on and no outs. A fly out advanced the runner on second to third. Sierra Meyers followed with an infield hit to score the first run. A walk to Shelby Hueter loaded the bases and Hannah Vargas lined the second of her two hits to right-center plating the second run. The third run scored on a bases-loaded walk to Adhy Tandon.
Hamilton coach Rocky Parra said he felt Stutz had thrown illegal pitches in Tuesday's 5-2 Perry win.
"I told the umpire (Tuesday) she was (throwing) illegal," Parra said. "He wouldn't call it. I mentioned it today. Some calls were made."
Stepp had all she needed with the fourth-inning support, which hasn't been as forthcoming this season as it was last year. Stepp gave up two home runs in the 5-2 loss -- both to the Pumas' Kylie Hough that accounted for all of Perry's runs.
"Those home runs weren't on bad pitches," Parra said. "Might have missed her spot just a bit, but I give credit to their hitter on those."
On Thursday Stepp gave up singles in the third, fifth and seventh and the only other base runner reached via walk. No runner reached second base.
"(Stepp) is usually very good," Parra said. "When she's on the other team doesn't hit many balls hard....
"This was more of a team win. These are games that are tight and the girls have needed to be focused. We don't have the power and speed we've had in the past, but the pitching and defense has been solid."
Hamilton improved to 17-8 overall, 9-4 in power-ranking games and 4-2 in the region. Perry fell to 14-5 overall, 10-2 in prg and is 3-1 in region. Both teams play again on Friday. Hamilton hosts Chandler (0-2 region) and Perry visits Xavier Prep (3-1 region).
Perry (14-4) (10-1, 3-0) vs. Hamilton (16-8) (8-4, 3-2)
---