JJ Nakai & Abram Carrasco named NJCAA First Team All-Americans
April 8, 2019 by Andy Morales, AZPreps365
---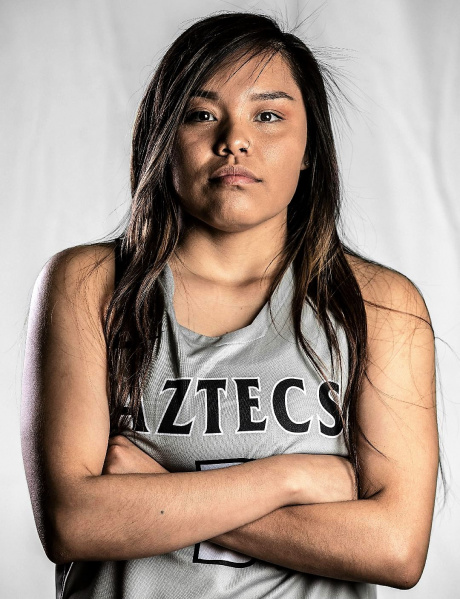 (JJ Nakai/Pima)
Former Cholla standout Abran Carrasco (Pima CC) and former Coconino (Pima CC) standout Jacqulynn "JJ" Nakai were named First Team NJCAA All-Americans on Monday. In addition, former Dobson standout Shauna Bribiescas (Pima CC), former Mesa standout Diamond Fuller (Mesa CC) and former Mesa standout Darius Goudeau (Phoenix CC) earned Second Team honors.
Nakai was named first team NJCAA All-American for the second straight year. Nakai set the Pima women's basketball school records in points (1,397) and assists (442) and became the first Pima women's basketball player to be named outright ACCAC Player of the Year.
She led the ACCAC conference and was third in the NJCAA in scoring and assists averaging 24.1 points and 6.7 assists per game as she played in 35 games; making 34 starts. She was named ACCAC Division II Player of the Week nine times in her Pima career.
Nakai helped guide the Aztecs to a fifth place finish at the NJCAA Division II Tournament and their first NJCAA Region I, Division II title since 2016. Nakai was named to the NJCAA Division II All-Tournament team.
Carrasco led the Aztecs with a 19.8 scoring average as he broke the Pima school record in points for a two-year career. He passed fellow NJCAA All-American Greg Cook (1980) to become the all-time Pima leader with 1,310 points.
He also averaged 4.5 rebounds, 4.3 assists and 1.3 steals per game this season. He played and started in all 36 games for the Aztecs. Carrasco helped lead the Aztecs to a seventh place finish at the NJCAA Division II Tournament and the program's third straight NJCAA Region I, Division II title.
He finished second in the ACCAC Player of the Year voting and was named first team All-ACCAC and first team All-Region I, Division II. The Aztecs closed out the season with a 29-7 overall record. In Carrasco's Pima career, the Aztecs were 60-12 overall.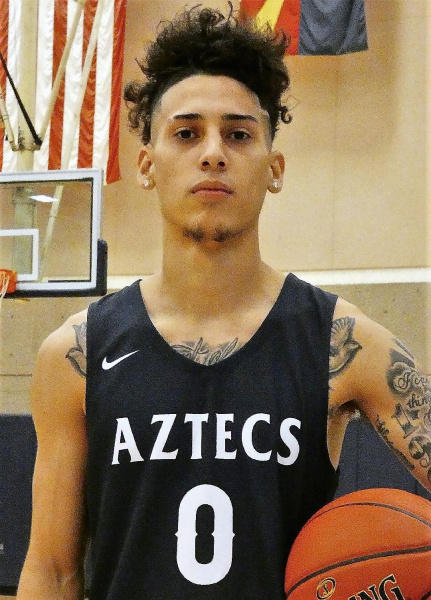 (Abram Carrasco/Pima)
Portions from release.
---