Pinnacle's Nico Mannion named NHSCA National Boys Basketball Athlete of the Year
April 8, 2019 by Seth Polansky, AZPreps365
---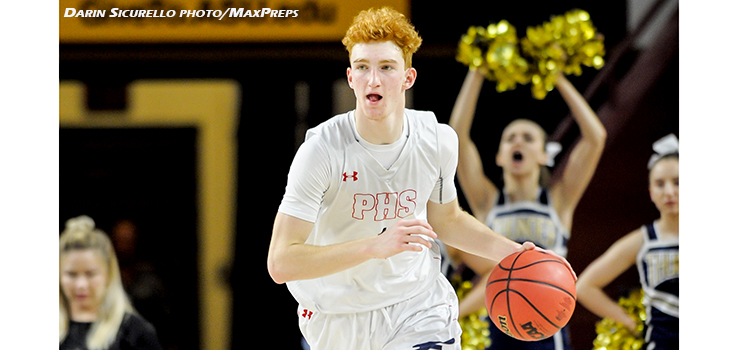 EASTON, PA (April 8, 2019) — The National High School Coaches Association ("NHSCA") is pleased to announce Nico Mannion of Pinnacle High School in Phoenix, Arizona as its National Senior Boys' Basketball Athlete of the Year.
Mannion closed out his high school career by leading Pinnacle to its second straight Arizona Class 6A title. The 6-3, 180-pound guard, who is considered the No. 1 point guard in the Class of 2019, will attend the University of Arizona in the fall on a basketball scholarship.
This past season, Mannion averaged 30.4 points per game, 6.2 rebounds, 6.2 assists and 2.8 steals per contest. Mannion, who scored 30 points or more in 17 of his team's 30 games, was named to the second team of USA TODAY'S All-USA Basketball squad. In addition, he was named a third team Naismith All-American.
Mannion, who carries a 3.66 GPA in the classroom, is Gatorade's two-time Arizona Player of the Year and also played in this year's McDonald's All-American Game.
"Nico is an excellent example what this award stands for," said Eric Hess, Executive Director of the NHSCA. "He has excelled as much in the classroom as he has on the court. We congratulate Nico on an outstanding high school career and wish him success at the University of Arizona."
Mannion is the first Arizona student-athlete to win the NHSCA Senior Boys' Basketball Athlete of the Year Award.
Throughout April, the NHSCA will be announcing the 2018-2019 Athlete of the Year honorees in 20 boys' and girls' sports. This marks the 20th consecutive year the NHSCA has honored achievers within the high school athletic community nationwide.
Each of the honorees will receive a beautiful plaque. In addition, the Athlete of the Year honoree will be displayed in the National High School Digital Sports Hall of Fame that is currently under development.
Below are the NHSCA's past selections for the Boys' Basketball Athlete of the Year:
2018 – Tre Jones – Apple Valley HS, Minnesota
2017 – Michael Porter Jr. – Nathan Hall HS, Washington
2016 – Lonzo Ball – Chino Hills HS, California
2015 – Jaylen Brown – Wheeler HS, Georgia
2014 – Karl Towns, Jr. – St. Joseph HS, Metuchen, New Jersey
2013 – Jabari Parker – Simeon HS, Illinois
2012 – Perry Ellis – Wichita Heights HS, Kansas
2011 – Austin Rivers – Winter Park HS, Florida
2010 - Harrison Barnes – Ames HS, Iowa
2009 - Derrick Favors – South Atlanta HS, Georgia
2008 – Samardo Samuels – St. Benedict's Prep, New Jersey
2007 – Kevin Love – Lake Oswego HS, Oregon
2006 – Greg Oden – Lawrence North HS, Indiana
2005 – Josh McRoberts – Carmel HS, Indiana
2004 – Dwight Howard - Southwest Atlanta Christian Academy, Georgia
2003 – LeBron James - St. Vincent-St. Mary HS, Ohio
2002 – Nik Caner-Medley – Deering HS, Maine
2001 – Kevin Torbert – Flint Northwestern, Michigan
2000 – Zach Spivey - Coronado HS, Texas
---