Softball: Desert Ridge's 7th inning sinks Queen Creek
April 10, 2019 by Les Willsey, AZPreps365
---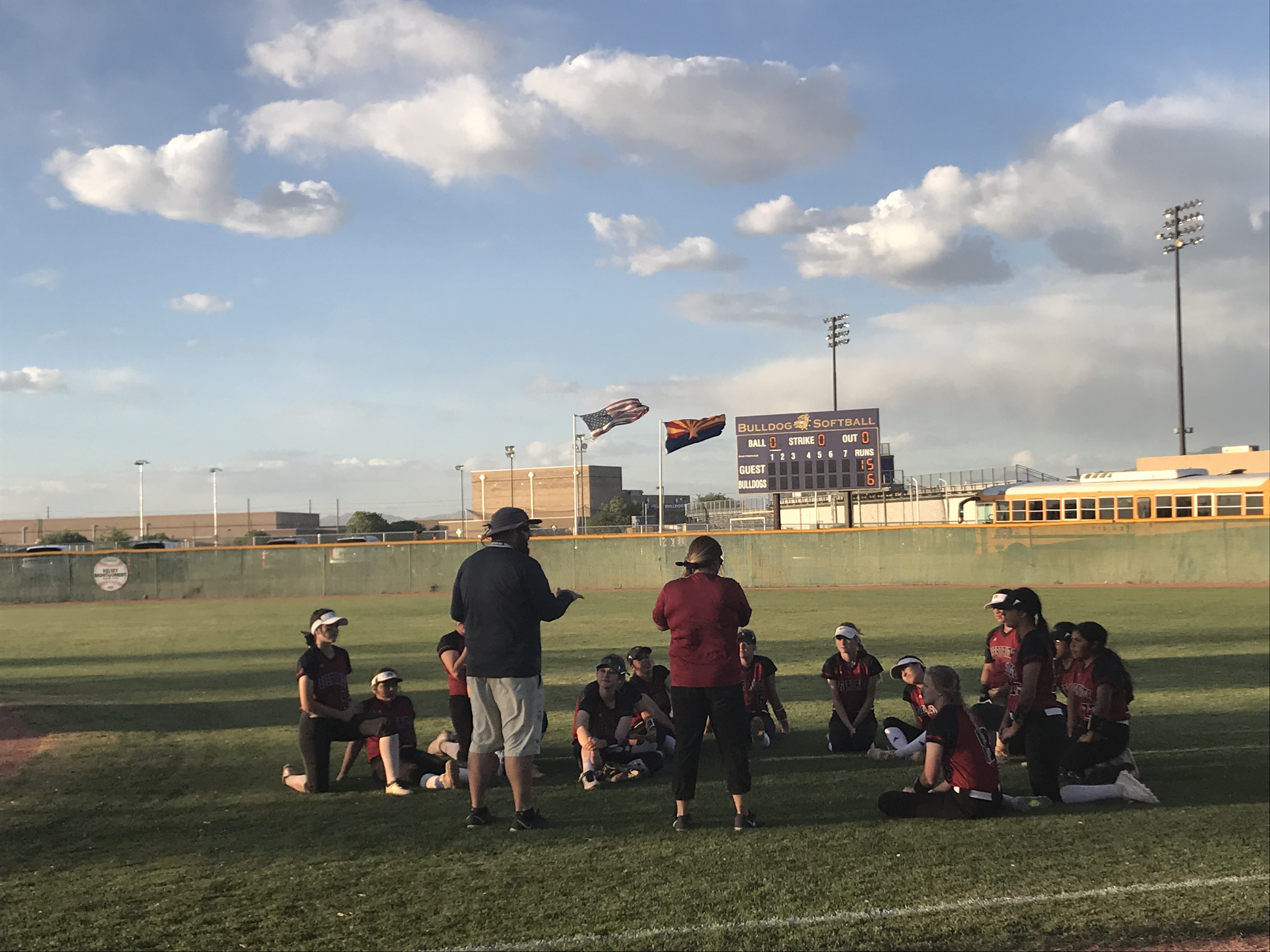 After leaving 13 runners stranded over the first six innings Desert Ridge decided to post a clean inning. It was much to Queen Creek's chagrin. that the only inning the Jaguars didn't leave a runner they scored nine times.
Desert Ridge's seventh inning rally snapped a tie and produced a 15-6 victory over Queen Creek in a 6A Central Region softball game at Queen Creek.
Lauren Unroe's fourth hit of the game drove in the run that broke a 6-all tie. Two-RBI hits by Shaylee Ackerman, Vanessa Philpot and Selena Perez followed and Desert Ridge built back its lead after watching Queen Creek erase a 6-1 deficit over two innings.
The victory was the third in a row for Desert Ridge, which has been nothing if not streaky this season. The Jaguars have had win streaks of two, four and three mixed in with losing streaks of two and five.
Pitchers Kaycie Kennedy and Denay Smith -- particularly Kennedy -- bobbed and weaved to keep Desert Ridge ahead or even the entire game. Kennedy worked the first 4 1/3 innings and managed to strand 10 runners and allow one run the first four innings.
Queen Creek forced a pitcing change after getting hits from Isabella Morales (2 RBI) and Savannah Morales (1 RBI) in thef fifth. Smith entered and gave up an RBI to Jaylei Brechler that cut Desert Ridge's lead to 6-5. Smith surrendered only one more hit -- a ying solo homer to Madison Padilla to lead off the sixth. Smith notched the win by getting the final six outs.
"We have been up and down for sure," Desert Ridge coach Jennifer Broderick said. "We left a lot of runners on base and so did they. I thought Kaycie did a good job of getting out of trouble almost every inning. Denay came in and gave us a different look, and finished strong."
Back to Desert Ridge's performance at the plate. Unroe, a junior, knocked in three runs and also reached on a walk. Freshman shortstop Selena Perez, who is enjoying an impressive season, delivered three hits and three RBI.
And a huge boost in the past two games is the return to action of senior Shaylee Ackerman. Ackerman, who signed in November with Texs A & M, played two superb seasons to start her career as a pitcher and hitter. That career was derailed the last year plus by Tommy John surgery, which saw her miss her entire junior season and this season until last week. In two games back, Ackerman is 4 for 6 with four runs scored, two doubles, a home run and seven RBI. She walked three times on Wednesday, twice intentionally.
Desert Ridge is solidly in the mix to earn a play-in game berth and could move up enough over the last 11 days of the season to earn a home game in that round. The Jaguars were No. 17 on Wednesday and need to be 16 or higher to host a play-in game. Desert Ridge is 9-8 overall and 9-6 in power-ranking games. Queen Creek, No. 11 at the start of the day, is 11-10 overall and 8-7 in power-ranking games.
---