Deer Valley's Donny Smith and his path to power
April 14, 2019 by Tyler Dunn, Arizona State University
---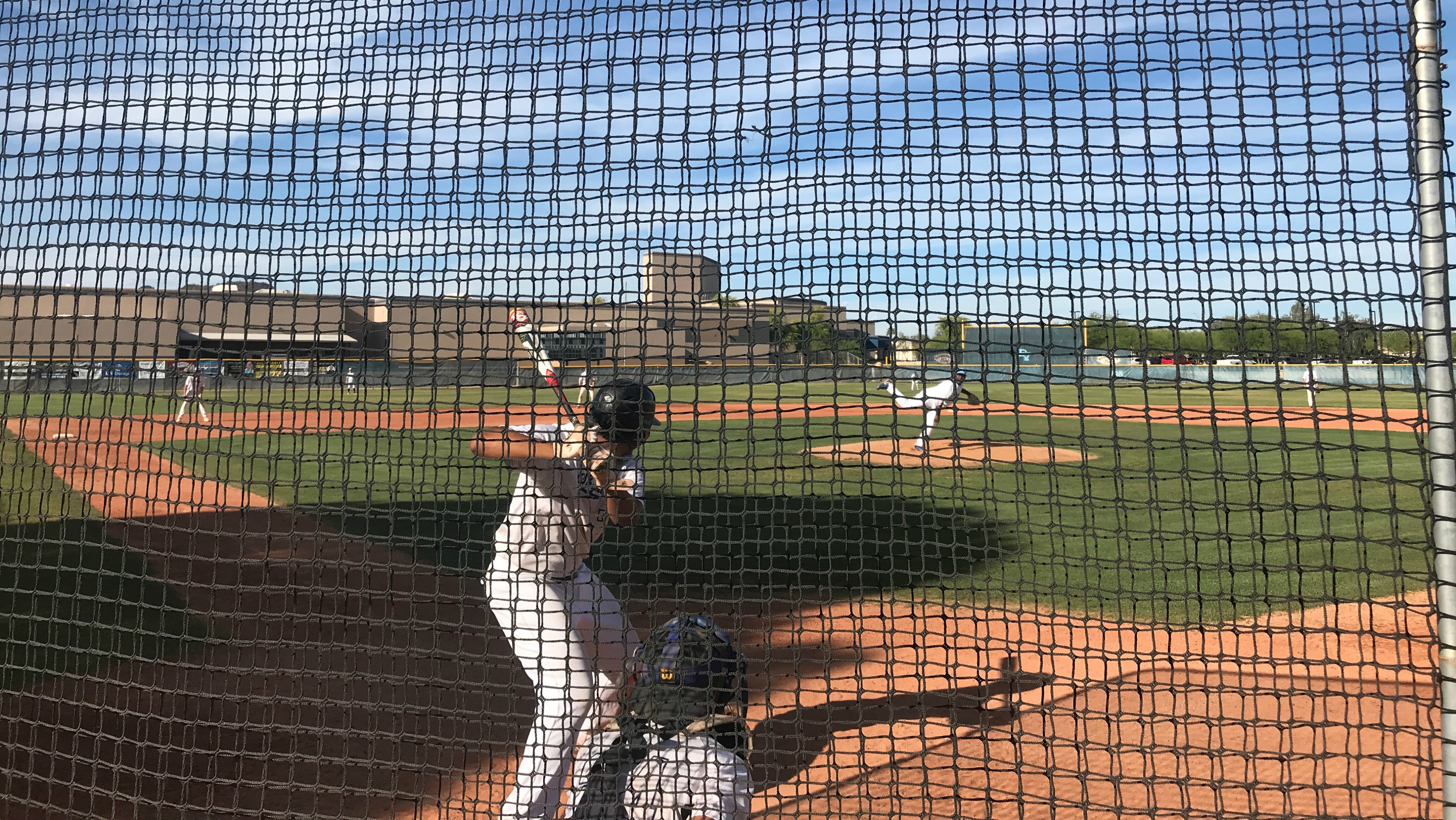 After every workout, Deer Valley infielder Donny Smith walks through the Skyhawks gym and peers into its trophy case. Among the awards on display sits the varsity baseball team's lone championship trophy, won in 2006.
Also showcased: a Milwaukee Brewers jersey worn by Khris Davis, who starred for Deer Valley during its 2006 title run. Davis has become somewhat of a living legend for the Skyhawks in the years since, as he's gone on to become one of the most formidable hitters in the world. Just last season, Davis led MLB with 48 home runs. This year, through 18 games, he's ahead of the pack again with 10.
Smith and Davis have worked out at Deer Valley's facilities several times, Smith said, and the run-ins have left an indelible impact on the young player. Davis' work ethic "is perfect," according to Smith, and has led him to consider his own level of commitment and personal goals.
"My jersey is going to be in here," Smith said, referencing the trophy case. "My jersey is going to be in here one day."
Last season, it would have been hard to draw many similarities between the powerful Davis and Smith, then a junior. He transferred in November from Phoenix's Barry Goldwater High School and ended his year with just one home run and six RBIs through 10 games.
So when Smith launched two home runs in the second game of his senior season, and another one the following game, it caught everyone by surprise. Teammate and fellow senior Logan Livingston said that was the night "everything changed."
Not even Smith saw that kind of production coming.
"I was like 'oh wow, that's amazing,'" Smith said.
The power didn't stop. In his first nine games, he collected seven home runs. Smith has been stuck at that number for the last four games, but even still, he sits just one home run behind 4A West Valley Conference leader Juan Carlos Navarro Sr., of Walden Grove High School. Only eight players in the entire state have hit more home runs, and none have done so in fewer games.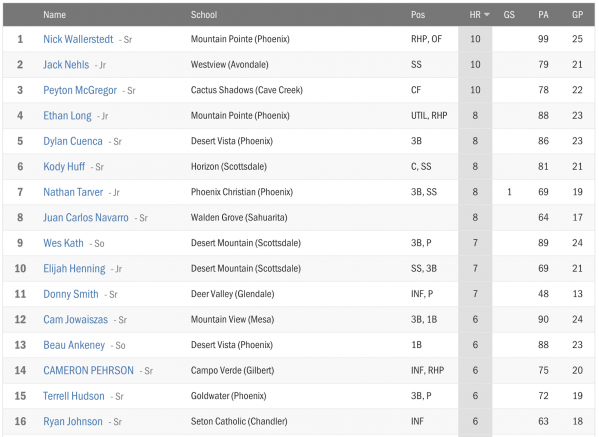 (courtesy of MaxPreps)
Smith's newfound success may simply boil down to approach. First-year Deer Valley hitting coach Rod Sanders, who himself played in the major leagues for the Cincinnati Reds, said he knew the team had a talent in Smith from the moment he saw him take batting practice.
"One of the things I took a notice in when I first saw Donny was that he can really hit," Sanders said. "He just needed some minor adjustments."
Smith, listed at 6-foot-1 and 195 pounds, has a mature frame and quick hands, making him a more-than-capable pull hitter. But Sanders believes it is Smith's ability to drive the ball the other way that has allowed his game to reach a new level.
"I told him that his power was right-center, and he didn't believe it," Sanders said. "Once he learns what type of player he is and what he can do on the field, he's going to be a force to reckon with."
The season hasn't gone the way Deer Valley would like. The team is 7-12 with four games remaining on the schedule. Still, Sanders and the coaching staff aren't short on praise for Smith and what he has meant to the Skyhawks.
"I don't think that eyes have seen or ears have heard what Donny Smith can do on a baseball field," Sanders said. "I'm just looking for great things to happen out of him."
Smith has yet to decide where he will play after high school, but with the buzz he's created this year, he will have his share of offers. Smith wants to see how his season finishes and wait for additional interest, but teased that an announcement during Monday's senior night matchup with St. Mary's would be a nice way to wrap up his Skyhawk career.
That game is slated for 3:45 p.m. Monday at Deer Valley High School.
---