Deer Valley's Flamur Gashi combines defense in volleyball with dancing in school program
April 14, 2019 by Sean Kilday, Arizona State University
---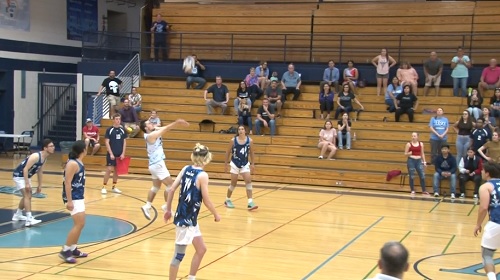 Like many student athletes, Deer Valley senior Flamur Gashi splits his time between more than one activity.
But unlike most, if you can't find him in class or on the volleyball court, chances are he's practicing his footwork in one of the school's dance studios.
As the reigning state defensive player of the year, Flamur knows all about where to be on the court and when to be there. In his time playing volleyball and dancing, he has found that success in one activity has translated to the other. And those around him, such as his coach and dance instructor, have seen his game and confidence grow as a result.
"Flamur is the libero," said Deer Valley boys volleyball coach Kim Ulrich-Suss. "In volleyball terms, that means he is on the court every minute playing defense."
A defensive specialist, the position of libero is limited offensively but can substitute into the back row for any player. It's easy to spot Flamur and other liberos on the court, as they wear a different colored jersey than their teammates so officials can easily identify them.
Opposing teams may see where Flamur is on the court, but that doesn't make it any easier to keep him from the ball.
"That young man is on the floor more than anyone I've ever coached," Ulrich-Suss said, "and he's on the floor after making a great dig."
Digs, as Ulrich-Suss explained, are the backbone of the libero's game. A dig is when a player saves the ball from a spike or opposing team's attack, keeping it in play for another hit or return by a teammate.
According to statistics on maxpreps.com, Flamur averaged one dig per set in his first year playing varsity volleyball. In his junior year, his total digs went from 51 to 231 and his average increased to 3.4 digs per set.
So far this senior season, Flamur is averaging 5.6 digs per set and is well above the national average as he closes in on the Deer Valley dig record.
"When he started as a sophomore he has always been a strong defensive player, but his confidence level has just soared," Ulrich-Suss said. She believes that, in part, that increase has come from Flamur's time in the dance program at Deer Valley.
"Flamur is the star of our dance program," she said. "That ability to control his body and balance, but also being able to handle the pressure of being a star every time there's a dance concert and there's thousands of people watching him, has really boosted his confidence.
Despite the larger crowds at the dance exhibitions, Flamur admits the pressure got to him more on the volleyball court at first.
"I used to be very nervous on the court sometimes because people would watch me and stuff, but I wouldn't be nervous at dance," Flamur said.
"Which was weird, because there's 500 people in the audience and I'd be dancing in front of them and I wouldn't be scared or anything," he explained. "But then my coach told me, if you can dance in front of 500 people, you can play well in front of these few people who come to our games, and I think that really helped me."
In addition to an increase in confidence on the court, dancing and the positional awareness that comes with it has helped Flamur focus on where he needs to be at all times while he's on defense.
"I have to be super aware of the music and the timing (in dance)," Flamur said. "I have to be aware of the people next to me because we're pretty close to each other, and in volleyball I have to be aware of where the ball is going."
One thing coach Ulrich-Suss is aware of is how much of Flamur's skill in dance has transitioned to the court.
"That's what makes Flamur so unique," she said. "Dance is not something you usually equate to volleyball, but when you see what he can do with his body, it equates to volleyball."
After starting as a freshman in the dance fundamentals class, Flamur has advanced to the highest level offered at Deer Valley – performance dance.
Instructor Jennifer Fasula said Flamur takes part in all styles offered at the school like tap, ballet, jazz and hip-hop – and also serves as the teacher's assistant for instructor Ashley Burk's junior dance ensemble program.
"He's there to help if there's anything that I need," said Burk, who had Flamur as her assistant in the ensemble program last year as well.
"He goes above and beyond and he's one of them most genuine people I've ever met," Burk said.
She detailed how Flamur has helped her with every single dance she's created for the ensemble program in the last two semesters.
"He makes some of it on his own and then other times he'll meet with me after school and we'll choreograph dances together," Burk said. "He just takes on everything and he does it with an open heart."
As he works towards the end of the school year and volleyball season, Flamur looks towards his future in hopes it has a place for defense and dancing.
"I've been doing volleyball for a long time and I think I want to pursue it in college," Flamur said.
He said he's in talks with a couple schools and their coaches but isn't yet sure what dance programs they offer.
"If not it's ok because I can do it on my own time and Ashley (Burk) and Jennifer (Fasula) told me I can come back to the school anytime and choreograph with them," Flamur said.
Although his primary position is libero, Flamur is happy to know that he'll always have a position on the dance floor at Deer Valley.
---