6A softball: No. 1 Pinnacle dominates No. 3 Perry, 7-1
April 18, 2019 by Les Willsey, AZPreps365
---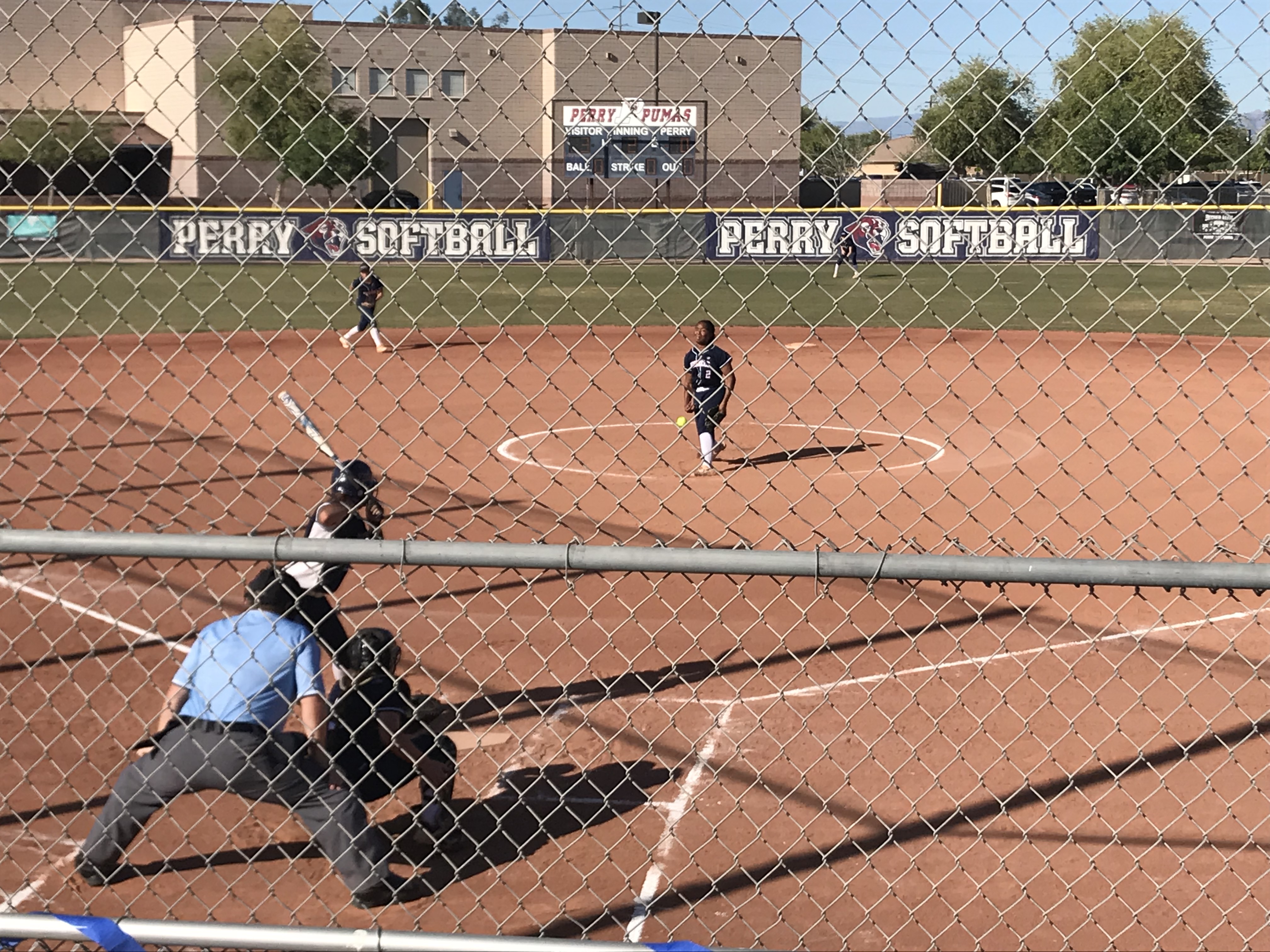 There isn't much missing from defending 6A softball champ Pinnacle's game this season. The Pioneers can pitch, hit and play good enough defense to fend off all comers.
No. 1 Pinnacle did it again Thursday capitalizing early on Perry errors and adding on a run at a time much of the contest in producing a 7-1 triumph over No. 3 Perry at Perry High School.
Pinnacle's win was its 20th against three losses. Junior pitcher Morgan Smith overpowered Perry's lineup allowing no hits or one hit -- depending on which scorebook you like. An infield single in the second adhering to Perry's book was the lone safety. Smith fanned 14 and walked two
Smith lost a shutout in the seventh surrendering a run via a walk, wild pitch and infield error. Only two balls left the infield -- routine fly outs in the sixth and seventh.
Smith's pitching this season is improved and a continuation of her final outing last year at state.
"She pitched against Perry in the game that got us to the championship," Pinnacle coach Bobby Pena said. "It was her best game of the year (9-2 victory).
"I didn't see her pitch again until the first week of practice this year. I watched her throw and heard more pop. Last year she had a good change-up and decent speed. Now she's got more pop, more spin. Add to that she's highly competitive."
Pinnacle's offense kept up with the pitching as it usually does. The Pioneers took advantage of two Perry errors and stroked three hits in the second inning to take a 3-0 lead.
Perry's stalwart pitcher the last three-plus seasons, Saige Stutz, went the distance as usual. Stutz was touched for a leadoff single in the second inning by Grace Rudolph ( 2 for 4). Two errors followed one by Stutz and one by shortstop Chloe Krason with Rudolph scoring on Krason's miscue. Reis Beuerlein capped the inning with a two-run double.
Pinnacle finished with 10 hits and added single runs in the third, fourth, fifth and sixth. The other RBI went to Rudolph (double in the third), Morgan Smith's sacrifice fly (fourth), Taylor Fawcett's 13th home run (fifth) and Sydney Smith's single (sixth).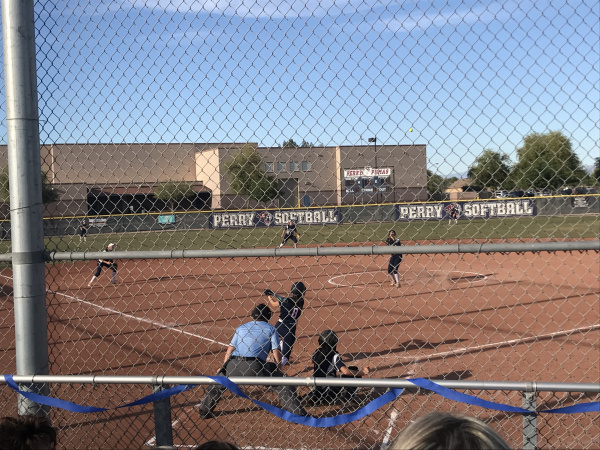 Pinnacle's Taylor Fawcett follows flight of her fifth-inning home run. (AzPreps365 photo).
Pinnacle's lineup features about half of last year's starters. Morgan Smith and freshman Reis Beuerlein have shared the pitching duties and sport 10-1 records. There's plenty of power with veterans Fawcett and Morgan Smith combining for 20 homers and 77 RBI.
Pinnacle clearly will finish No. 1 in the power rankings and has one regular season game left on Monday against Mountain Ridge. Perry's regular season is complete and it waits to see if it hangs in the top eight to avoid the play-in round set for Wednesday April 24.
---