Xavier Prep is nothing short of excellent
April 23, 2019 by Reed Harmon, Arizona State University
---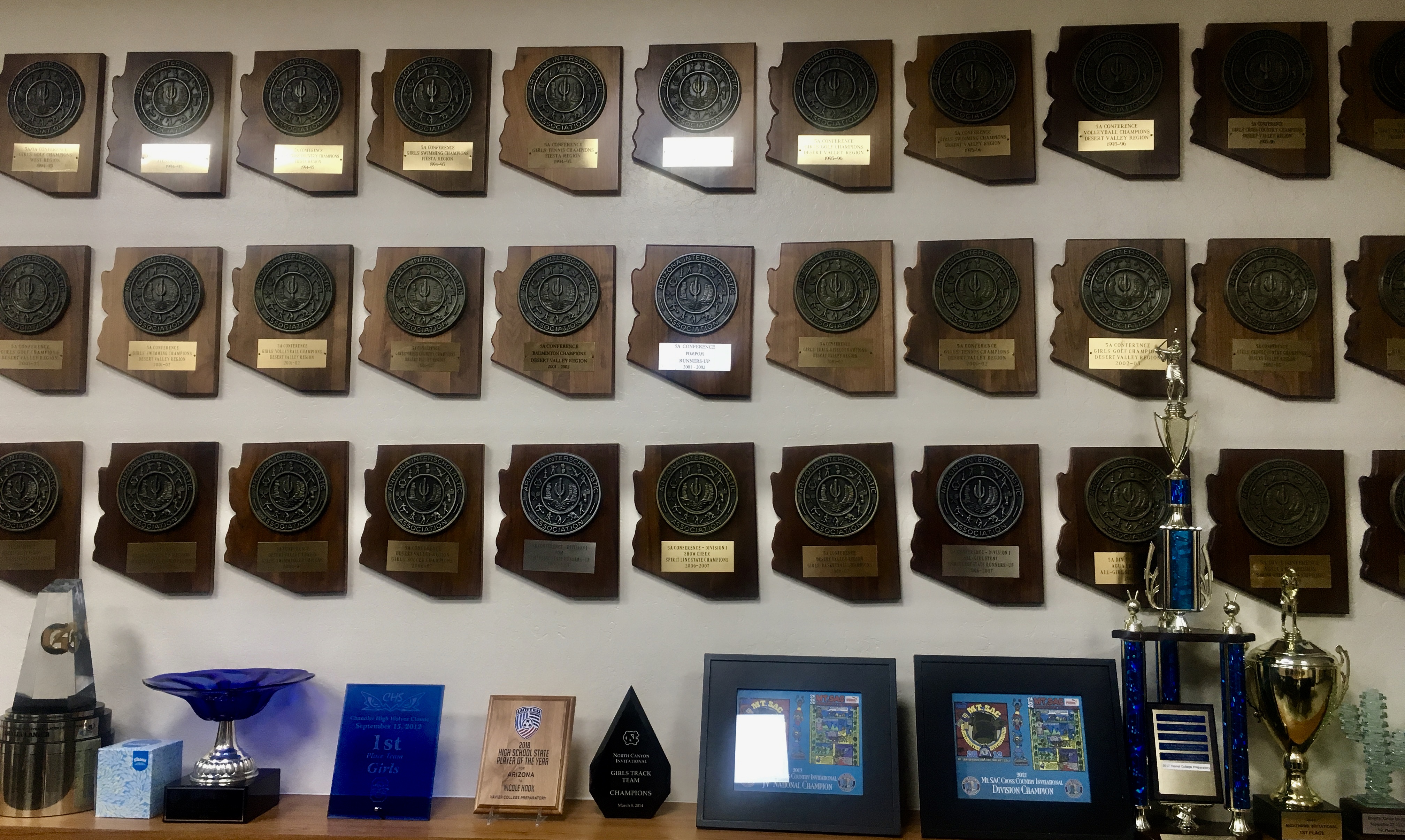 It's in her name – Winsor knows how to win. That would be Sister Lynn Winsor, the architect of Xavier Prep's achievements on and off the field. Whether it is the academics or the halls filled with trophies and awards from athletics, Xavier is defined by one word: excellence.
For over 45 years, Winsor has worked diligently at the lone all-girls Catholic high school in Arizona to continue its ongoing legacy.
Winsor, the athletic director and golf coach, has constantly propelled student-athletes to emphasize student more than athlete.
"Whether they're the best players or not, I like seeing all of the kids succeed," said Winsor. "My golf coach and I will call [colleges]. They know that if they hear from us, we're recommending a student-athlete. Student-athlete. Not just an athlete."
Xavier Prep encourages students to contribute in its community and even out of the country. With over 75 clubs and organizations, the Gators do more than go to class every day.
"The Young Vincentians are constantly serving meals almost every day – these kids just love to do it," said Winsor. "All of our sports teams have to do a service project. I think it's a big part of our school is our service. I know we get a lot of awards for our athletics and academics, but a lot of people don't know about the service we do."
The Gator tradition is a combination of the work done in the classroom, on the field and for the community. Their tradition consists of winning on every platform. The school's drive for excellence starts at the top.
As a golf coach, Winsor's team has won 35 state championships and rarely finds numbers in the loss column. Through Winsor's control, Xavier's athletic program has won over 130 state championships.
"I think when you're little – it determines what you're going to do," said Winsor. "I was always competitive as a kid and in sports. Even though I'm a nun, it doesn't matter. You either have it or you don't -- and I have it."
The competitive drive Winsor possesses drives coaches and athletes to Xavier's front doors. The consistency of Gator athletics begins with the coaching staff – a group that almost never detaches from the heart of central Phoenix.
"We don't lose our coaches," said Winsor. "They like our philosophy, we back the coaches up, there's discipline here."
The secure coaching staff at Xavier Prep proves how loyal and supportive the school is. A reputation built on championship trophies and awards suffocating the Gator walls, it did not take much for coaches to call the school home.
"The reason I chose Xavier was mostly for its reputation," said basketball head coach Jennifer Gillom. "This school is all about excellence and that's something I am very attracted to."
Winsor played a major role in the recruiting process for Gillom.
"Once I met [Winsor], I knew this was where I wanted to be because she's just a person who is very motivated, very supportive of her coaches and staff," said Gillom. "She's a proven winner – you always want to be associated with that."
Gillom is no stranger to a winning atmosphere.
She was a member of the 1988 Gold Medal Olympic team, totaled a career record of 103-23 at Ole Miss, received the 1985 USA Basketball Female Athlete of the Year award and was a head coach in the Women's National Basketball Association for roughly eight years.
Gillom started at Xavier Prep in 2004 and coached for six years before coaching in the WNBA. It was not until a few years ago that Gillom wanted to inspire the youth and return home.
"I gained a wealth of knowledge by coaching in the WNBA and the Olympics," said Gillom. "It's tougher to coach players that think they already know everything compared to kids that want to grasp everything you say. When it's that way, you feel like you're making an impact on their lives."
Xavier had another successful basketball season, but it resulted in a state championship defeat. The team was strengthened by three key seniors and the love each player had for their ultimate captain.
"I care for them as people, not as athletes," said Gillom. "They know I am a woman of my words...I think they think of me as a mother figure to them away from home. I'm very passionate about the sport and these kids. It's not just about basketball. Life is bigger than basketball."
Seniors Leilani McIntosh, Addison Putnam, and Paris Rasheed-Moore collectively shared a hug with Gillom in their final home game. It has been a family more than a team for the last four years. Though the three seniors will provide voids to fill in the roster, there is always a sense of optimism when Gillom is in charge.
"I would bring up Gillom [if I were to recruit players]," said McIntosh. "You're not going to find another coach, who I think is the best in Arizona, that is going to push you to be the best you can be and support you in everything you do on and off the court."
Gillom believes it takes a collective effort to solidify championship-caliber rosters. As a school centered around faith, Gillom trusts that family and prayer fortify a successful team.
"It's all about teamwork," said Gillom. "We don't rely on just those three players. Those players get the recognition but we also have a nucleus of players who are willing to get down and do the dirty work. And I do believe in the power of prayer and getting the players to buy into what we are doing."
Whether the season ends in triumph or failure, Xavier supports one another in the gym and in the classroom. With nearly 1,200 girls enrolled and a family of Gators, there is never a sport that goes unnoticed.
"We're all sisterhood here," said McIntosh. "Everyone comes to support the games. It feels like you have more family coming to the game – it's not just your mom and dad. It makes you feel like you have people who have your back. When you have the support of your friends and family, you feel good about yourself."
McIntosh plans to attend Pepperdine University in the fall to continue her basketball career and evolvement into a strong woman – something Gillom helps develop into her players. At the end of the day, they are not just athletes.
"The work ethic," said McIntosh. "She really changed my mindset. If I want something, I have to put in the work to get it. She always pushed that we need the repetition in order to get to the next level, and I will definitely carry that to college."
Twenty-six athletes at Xavier Prep are signing letters of intent at the end of the school year. From the University of Hawaii to the University of Arizona, Gators will continue to spread across the country.
"Once a Xavier girl, always a Xavier girl," said Winsor.
A key component to the success at Xavier Prep is often overlooked. This year, the school has 96 girls receiving their AA degrees two days before they earn their Xavier degree. Since the Gators have dual enrollment with local community college Rio Salado, students who attend Xavier have the opportunity to enter college as a sophomore.
"I had a former student come in the other day, she does something with film in Los Angeles," said Winsor. "She came back and told me she'll be getting her master's degree by the time she graduates."
The school offers a balanced effort to ensure the students receive the appropriate amount of support in the classroom. Coaches and teachers work cooperatively to keep schoolwork and sports practical.
Xavier incorporates an "eighth hour" into its everyday schedule. Teachers stay an extra two hours after school to allow students the opportunity to receive help in any subject. It also allows student-athletes to work on assignments they might not have the chance to work on later in the night because of a game.
"It's not that hard to balance [school and sports] just because teachers and coaches are both cool with it," said McIntosh. "They know it's hard being a student-athlete."
With constant eyes beaming down on Xavier girls expecting success, it becomes a question of if pressure plays a role in their lives. Many students have mothers who are former Gators, so success is expected.
"It's a good pressure," said Gillom. "You want these kids to learn. This school teaches excellence and that's something, when they're seniors, it's going to be the first thing that comes out of their mouths. This school is excellence."
In over 75 years, Xavier Prep has continued to hold more meaning than championship awards constantly being mounted in the halls, or the amount of recognition students receive for scholarly awards and community service.
The Gators strive to be more than trophies in a case.
"Women of faith pursuing excellence," said Winsor. "Everybody is, with the faith in the background, making everything excellent."
---