New coach looks to turn around Gilbert Christian football
April 23, 2019 by Paul Helmers, Arizona State University
---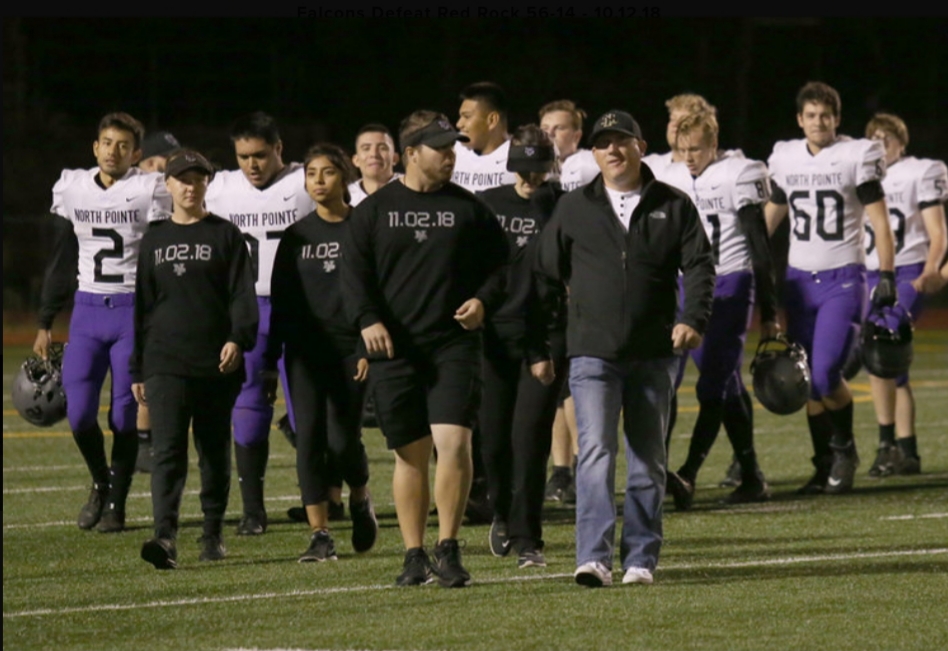 Following a 3-7 season, Gilbert Christian hired a new football coach. When looking to turn things around, the Knights have turned to someone who just accomplished that.
Danny Norris was the head coach at North Pointe Prep for the past two seasons. After going 2-8 in 2017, he took the team to 8-2 in 2018, bringing it from laughing stock to playoff contender.
"I think what happened here at North Pointe was special in the sense that there was never really a success here," said Norris. "The total number years combined they had like eight wins. So, four years ago when I came here, I really just dug in and I committed to the school. And not just the school, but I committed to every young man on campus."
Norris left his career as a personal trainer and was hired as a teacher at North Pointe. He took over the program in 2017 with only six players. He proceeded to ask every student if they wanted to play football and started the season with a roster of 38. Twenty-six had never played football before.
"We just took guys who loved being competitive," said Norris. "We want to be competitive; we want to earn everything we get."
Between his charisma and changing the offensive style, Norris has made his mark.
"It all starts with the person he is, the man he is," said Zach Galaviz, one of Norris's assistants at North Pointe who is following him to Gilbert Christian. "I actually met coach Danny in semi-pro football. A lot of those guys are older than him, but he still gets respect from them. He just has a magnetic personality. It attracts people and they respect him."
Norris' actions also earn him respect. He naturally makes players run in practice if they make mistakes, but it doesn't stop there. He holds himself and other coaches to higher standards.
"Since he's a younger guy, he can show the players, 'Hey I'm asking you to do something I can do myself,'" said Galaviz. "He will get dirty. He will go in the weight room and work out with them, and he holds everyone to the same standard he holds himself. He's even taken a lap himself."
As the vice principal at North Pointe, Norris was in charge of discipline for the school. He implemented what he calls the "ARC" program, which stands for Accountability, Responsibility and Communication.
"The biggest thing about teaching ARC to your student-athletes is that it doesn't just apply to them, but it applies to the coaching staff as well," said Norris.
Norris uses this in a case-by-case basis. But the main idea is to make sure everyone understands they are accountable for their mistakes, responsible for being a quality young man, and communicative.
"I don't want to base my coaching on fear, I want my players to feel comfortable and open communicating with me," said Norris. "Whether it's a fourth-year player or a new freshman that just stepped on campus, nothing is too small to come to my room and talk to me about. I think that's a big part of getting ahead of disciplinary issues, learning who your players are and caring for them as individuals."
Norris said he doesn't want the players to have their identity fixed to the sport, but to use the sport as a springboard to do something else in life. Norris uses football as a tool to mold young men.
Orlando Chavez, a North Pointe grad who played for Norris and later coached under him, remembered the first time he met Norris.
"He walked up to me the first day of spring training and said, 'How's it going, I'm Danny Norris. I'm going to push you like you've never been pushed before," said Chavez. "He makes better men, not just understanding just football. He coaches football, but at the end of the day football doesn't matter. It's about the young men he is coaching."
Norris will hold a spring meeting with the coaching staff and the seniors at Gilbert Christian to discuss not only his expectations of them, but for them to communicate their expectations of the coaches.
"You have to have a pulse of your program, and the only way to do that is to communicate with your players," said Norris.
Chavez, who played in a program that had five different varsity coaches throughout his middle school and high school years, thinks it's Norris' preparation that sets him apart.
"[Norris] prepared us like I've never been prepared," said Chavez. "His preparation is off the charts. There's no coach that I've ever encountered that prepared more than him."
Chavez said during the games, Norris would look at the formation and tell his defense exactly what was going to happen on the next play. Norris was generally right.
"He's pretty up there with his preparation," said Galaviz. "He spends a lot of time watching film, a lot of time reading too. He takes pride in his preparation. Last year he required his players to watch at least an hour of film at home each day. They would come in at 5:30 am to watch film, then after school they would watch film until practice, then after practice he would tell them to go home and watch another hour of film. And then he would also be up until 11 or 12 watching film himself."
Another change Norris brought to North Pointe and will carry with him to Gilbert Christian is his offensive philosophy. When he took over as head coach, he brought in the offense called the double-wing.
This is a major change; North Pointe ran a spread offense before. The difference is running the ball all the time, as opposed to passing all the time.
"A wise coach once said that only three things can happen when you throw the ball, and two of them are bad," said Norris. "I think with the offense that I run it brings a toughness to the game that not a lot of teams want to match up to."
North Pointe went from throwing the ball nearly 60 times a game to throwing 11 passes all season in 2018.
"It's a control-the-clock kind of offense, a wear-you-down kind of offense," said Norris.
To achieve this, Damien Logan, then an assistant alongside Norris, taught him the offense. Logan learned this strategy while coaching under Don Markham, the so-called "guru" of the double-wing.
"Danny hated it when we played against it," said Logan, who is taking over as head coach at North Pointe. "Then we implemented it in our program, and we started to see the potential."
Logan said the reason it worked for them is that you can put any athletes into it. The size or speed isn't as important as the understanding of the concepts.
This came true for North Pointe when senior Joe Soriano-Garfias, who had never played football before his junior year, ran for 1,800 yards. North Pointe scored 539 points in 11 games.
The double-wing presents a new challenge for teams scheming against it. Most schools in Arizona run a spread, so when they face a double-wing they have to change their entire defense.
"When I turn the film on and I see a spread team, not a lot of changes happen on my defense," said Norris. "You may adjust to personnel from other teams but it's going to be the same defense. When you play a double-wing team, you can't play your base defense. You have to put in a whole new personnel group to play us, which takes time and at the high school level some young guys may not pick it up as quickly.
"Our offense is all about a numbers advantage. There's a lot of gaps that a team has to defend against us. We do a lot of double-teams at the point of attack, we cut block, we do a lot of different angle blocking that teams don't see on a regular basis."
Whether it's the offensive style, the charisma, the energy or the discipline, Norris has proven himself effective as a football coach. The hope is this will follow him to Gilbert Christian.
---